RMU's VETS Center looks to raise money for Emergency Fund
Every day, but especially today on Veterans Day, Americans celebrate the brave men and women who have gone across seas to defend our freedom.
Robert Morris University prides itself as a veteran-friendly university, being named one of the top 20 percent of universities nationwide to deliver the best experience for military students by Victory Media in September.
Many veteran students, like Joel Laedenslager, agree that veterans are assisted differently at RMU than other campuses.
"Well one thing that's really big on this campus that you don't have on other campuses is this very community right here. People like this, people like Heather and Dan who really guide veterans through the process," said Laedenslager.
One of RMU's unique features to make veterans feel at home is the Veterans' Education and Training Services (VETS) Center. The center is located in the lower level of the Jefferson Center and is open 24/7 to veteran students. Dr. Daniel Rota, director of Veterans' Education and Training Services, and Heather Jericho, certifying official, also have offices in the VETS Center.
Many veteran students come to the center to socialize and work on homework, according to Laedenslager.
"A lot of us simply come here to talk, to get together, talk about our problems, communicate and that's a really big thing," said Laedenslager.
Currently, RMU is holding a fundraiser through Razoo to raise funds for the Veterans' Emergency Fund. The donations raised will enable RMU to continue to provide military veterans with an education and vital financial assistance.
Charles "Chase" Thomas, who serves as the spokesperson for the online campaign, said this year is the first time the VETS Center is seeking funds from the public due to a growing need to financially assist veterans.
"Next year is going to be a big hit for us especially because we are expecting a big boom in people applying for colleges. So, we're trying to help make sure we don't get to the point where we can no longer help individuals," said Thomas.
As of Sunday, Nov. 10, the Giving to RMU Veterans fundraiser had raised $325 of its original $2,000 goal. Since the total raised so far has been fairly low, the goal has been reduced to $500. To give a minimum of $10 and support RMU's veterans, click here.
Donations will be accepted through November 15.
About the Contributor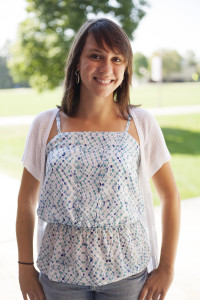 Andrea Zanaglio, Staff Writer
A senior journalism major at Robert Morris University, Andrea serves as a staff member this semester, writing and producing packages for all aspects of...