Robert Morris Holds 98th Commencement
As the academic year comes to a close, seniors donned caps and gowns to celebrate their graduation with Robert Morris University holding its ninety-eighth commencement ceremony. Family, friends, and faculty gathered at the UPMC Events Center at 9:30 a.m. on Saturday to celebrate the achievements of the undergraduate class of 2023.
The Robert Morris Wind Ensemble played a prelude, followed by the processional and the opening pronouncement given by Grand Marshal Dr. David P. Synowka. The instrumentalists returned to play the National Anthem, and President Michelle Patrick welcomed the crowd to the ceremony.
Before continuing, a video was presented showcasing the class of 2023 with interviews and clips highlighting their years, and dry eyes were few with the heartfelt messages. Vice Provost of Academic Administration, Jon Radermacher, recognized faculty emerita, and Christine Bryant was awarded an Honorary Doctorate of Business Administration before she gave the commencement address.
Bryant is the global head of Tailored Urethanes at Covestro where she is responsible for the performance of the business, which develops leading-edge, customized solutions and specialties to meet its customers' need for innovation and sustainability-driven materials. She is also a member of Covestro's U.S. Country Council. She gave the graduates some advice as they prepared to take their next steps.
"First lesson, and probably the most important, find your purpose," said Bryant. "Try asking yourself these questions; What are the things that motivate you, that you're most passionate about? What are you good at…is it helping other people? Is it solving problems…what can you picture yourself doing for the next three to five years?"
Continuing the speeches, Senior Class President Terryaun Bell gave some remarks, reminiscing on memories and speaking on behalf of his class.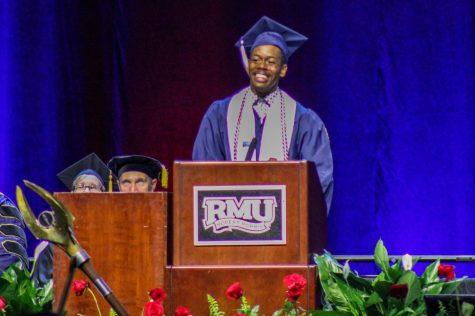 "We are more than prepared to leave, but that does not mean we are ready to leave the place that made us unstoppable," said Bell. "But alas, it's time. It's time we leave and make this university proud. It's time we close this chapter in this story, so we can start writing the next one. When writing the next one, be sure to include RMU."
Soon after, the Presidential Transformational Leadership Award was given out. This is the most prestigious undergraduate award. There were nine finalists; Mackenzie Amalia, Erin Baker, John Chaisson, Ryley Danielson, Michael Gasdick, Farah Mohamed, Maya Orlove, Sarah Parry, and the winner, Zipporah Sewell.
Sewell came to RMU from Maryland and she is a first-generation college graduate. Another emotional video was shown featuring inspiring words from her mother, her grandfather, and herself.
"I have had many trials and tribulations in my life," said Sewell. "We were homeless from about seventh grade, on and off in high school, but in that, I never used my situation as a crutch. I used it as motivation."
Following Sewell receiving the award, Dr. John Locke, Chief Experience Officer, and Dr. Tim Schlak, Associate Provost for Academic Alliances, announced the graduate candidates. Dr. Jeffrey Mitchell presented those for the School of Engineering, Mathematics, and Science. Dr. Nadine C. Englert announced those in the School of Nursing, Education, and Human Studies. Dr. Prasad Vemala Venkata Silva presented the School of Business graduates, and Dr. Frank Hartle presented those from the School of Informatics, Humanities, and Social Sciences.
Once all the graduates were presented, they moved their tassels to the right, and confetti shot into the air. The wind ensemble returned to play the Alma Mater, and graduates and audience members alike hailed RMU.
The graduates, trustees, and faculty receded and gathered with their loved ones at a reception outside the UPMC Events Center, sharing in the day's excitement.