Sexual violence normalized on college campuses
Every day a new sexual harassment or assault charge is being brought to light in celebrity, political and daily news. This fall, Robert Morris University has joined a movement in the Pittsburgh region known as Southwest PA Says No More, which is speaking out about sexual violence and harassment on university campuses.
Throughout the academic years, RMU has provided training to students, faculty and staff on how to work with victims of sexual violence. The university has worked with organizations like Green Dot and Pittsburgh Action Against Rape (PAAR) to provide training programs. RMU has also worked with advocates on campus like the Office of Diversity and Inclusion, the Counseling Center and Public Safety to help victims.
"We are well reputed in the Pittsburgh community as doing it well. So, we have events on campus like bringing movies and discussion points and Sexual Assault Awareness Month activities, so we do programmatic things to prevent," said Yasmin Purohit, chief diversity and inclusion officer. "So, we're trying proactively and episodically to respond, to make the campus safer."
Robert Morris University: What are we doing?
One in five female undergraduates and one in 14 male undergraduates report sexual assault in their few semesters of college. According to the Journal of American College Health, students are at a higher risk of experiencing sexual violence in their first and second semesters at school.
"Unfortunately sexual assault happens, and what I feel confident that when they do, we (RMU) handle it the right way," said Randy Mink, chief of RMU Public Safety.  
RMU has been one of the first universities to assist in the battle against sexual violence. One of the first steps was to show a movie called "The Hunting Ground,"  a documentary that looked into the culture of universities and challenged them to change it. This was shown in partnership with PAAR.
"I think it was very courageous of Robert Morris to be the first university to show it because it doesn't portray universities in a very favorable light," said Sue Jamison, faculty at RMU and PAAR board member. "But we had the support of Public Safety and everybody came together for this, so I'm proud of that."
Green Dot training has also been a step towards prevention at RMU. Green Dot is a program that looks at certain ages and the types of violence that accompany those ages. They develop different approaches to recognizing that violence.
"I think what we've done over the years…is that as a university we have gotten diligent on educating and providing places for victims to go to to report through," said Mink. "In all of the different training we have on campus – the Green Dot, the Campus Clarity, Title IX, FYSP – all those things we try to talk about sexual assault."
Recently in the fall semester of the 2017-18 academic year, Robert Morris has participated with 12 other universities in Southwest PA Says No More, a program in Westmoreland and Allegheny Counties that is addressing the issue of sexual violence on college campuses.
RMU's process dealing with sexual violence 
RMU has two types investigations into sexual assault. There is the criminal side when Public Safety works with Moon Township Police on an investigation. The criminal investigation involves retrieving all physical evidence. The police look into if the assault was forcible rape, non-forcible rape, fondling, statutory rape or incest. This can later lead to a criminal court case. PAAR also provides training for police, hospitals and other professionals on how to respond to trauma.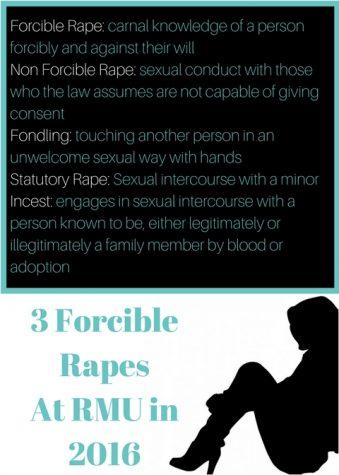 Brittany Mayer
"So, if you're one of those professionals, we might talk to them like, 'You might really be in the role of the first responder. You might be the first person that this victim discloses too, or you might be the tenth, and then you're dealing with all of the responses that they got from those other people.'" said Megan Schroeder, supervisor of crisis intervention services at PAAR. "So what we really push with them is that we want victims to have a supportive and respectful response as early as we can."
The other type of investigation is by the Title IX unit in the Office of Diversity and Inclusion. This is a civil investigation, which the school is held responsible for. Universities are required to come up with policies and the Title IX investigation looks into those policies when a sexual assault occurs.
"So, sexual assault or sexual misconduct on campuses can always be investigated criminally, but I think in order to make campuses more safe Title IX, which is a 50 plus-year-old law, was creatively applied or interpreted to include sexual assault and misconduct," said Purohit.  

One investigation does not replace the other. Even if a sexual assault is being criminally investigated by the police, Title IX must look into the situation as well. The office will contact both students and do a diagnostic to see if a Title IX investigation is needed.
"I think the way we have been doing things at Robert Morris have been consistent and fair," said Purohit.  
In 2017, Betsy Devos, the United States secretary of education, changed the Title IX policy from the one Barack Obama, former president of the United States, issued in the 2011 "Dear Colleague Letter." Some of the changes to this policy can be found in the graphic below.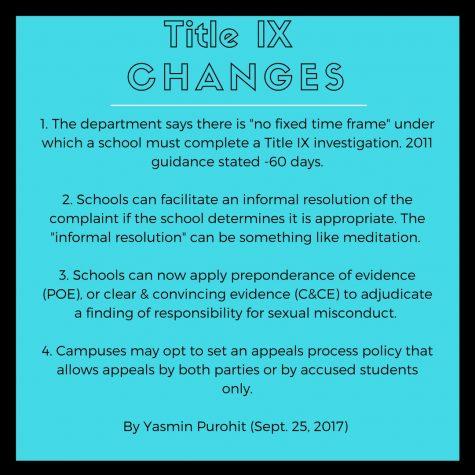 Brittany Mayer
Why have there been six incidents of sexual violence in 2015-16 at RMU?
In 2015, there were three forcible rapes on campus property. In 2016, there were again three forcible rapes on campus property.
Many professionals at RMU feel that it is not an increase in crime, but an increase in reports.

Brittany Mayer
An article from Campus Safety says, "Numerous studies have found that the vast majority of victims suffer in silence. The fact that more rape victims are coming forward means that this issue is no longer being swept under the rug by colleges…and more victims are getting the help they need."
Professionals at RMU think that these programs have given sexual assault victims more opportunities to get help.
"I think it's just really given the students a bigger avenue to go out and have the opportunity to report. And I think because of all of those they're feeling more comfortable doing it, a little more confident that things are going to be done the right way," said Mink.
While some of these rapes have been reported to RMU Public Safety, some have been reported to the Title IX office for an investigation.
"As the campus has gotten more educated, students see this as an option that could help them cope and manage," said Purohit.
PAAR and others at Robert Morris University agree that there are many places for help on campus.
"I think honestly just that we can normalize sexual violence, like it happens all the time whether you choose to see it or not, it's there," said Schroeder.
Seeking help on and off campus
There are many advocates on the Robert Morris University campus that use programs and other means of talking about sexual violence. Some of those advocates include:
"We have so many allies on this campus. We have a lot of allies, male and female on this campus who really care about this issue," said Jamison. "And you know how Robert Morris is a very kind of close, friendly community – kind of family – and that's how we feel about our students. And so, a lot of people are concerned about this problem."
Robert Morris has approximately 5,400 students compared to universities like Duquesne University with close to 10,000 and the University of Pittsburgh with close to 40,000. Mink feels the size of RMU allows it to create a stronger message.
"I think we have the opportunity because of the size of our university here that we're able to get it across the board to everybody," said Mink.
Schroeder believes that there is a way to work with victims of sexual assault and everyone should know how.
"Just be kind, which sounds simple, but being supportive to people. I think especially on the college campus it's knowing that if you're someone who has experienced sexual violence you are not alone," said Schroeder. "Nothing is wrong with you or with your experience and there are people out there who really will support and help you. And for everybody else just to see their experience and that it's real."
PAAR has a 24-hour hotline for all victims of sexual assault. For more information on sexual assault, visit paar.net.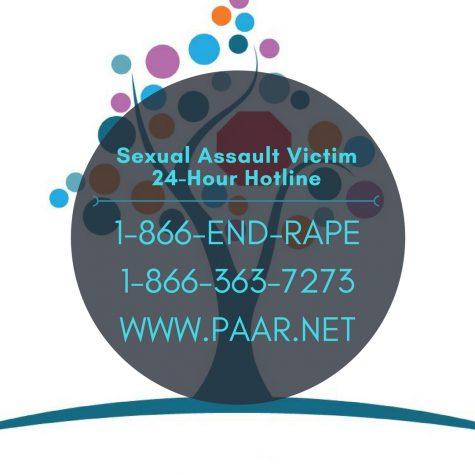 Brittany Mayer