Students bear the cold to advocate suicide prevention
Mike Evans
Over 200 registers huddled in circles on the sidewalk of Nicholson Front Lawn, preparing to walk a 5K as part of a widespread effort to advocate suicide prevention.
Dozens had already made their way through the 39 degree weather on Saturday to attend Robert Morris's Out of the Darkness Walk, an event intended to raise awareness about suicide and mental illness and to increase students' willingness to seek counseling. The walk, hosted by the RMU Counseling Center and THRIVE Program, officially began at 11:30 a.m. on Saturday, April 1.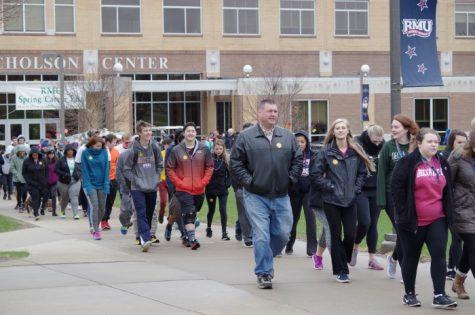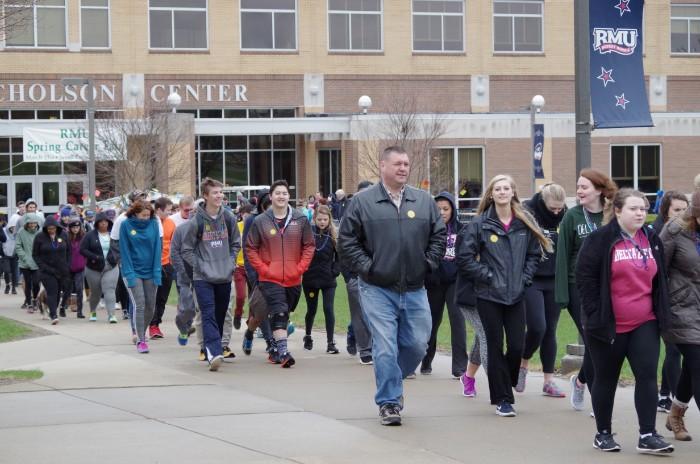 "It's important to know that suicide is the second leading cause of death among college-age students," said Diane Dahm of the Counseling Center.
Dahm said that the center decided to work with AFSP, the American Foundation for Suicide Prevention, to host the walk in order to raise money for the foundation and for RMU suicide prevention efforts.
Registration opened on the sidewalk of Nicholson Front Lawn at 10:30 a.m. When the rain drove the registration table indoors, new registers packed into the lobby and leaked outside as they finished signing in, a process that included a Greek swipe-in station. Delta Tau Delta member Vince Russo said that he participated in honor of a brother who had taken his own life, Jordan Willis.
"I'm walking because it's a cause that's near and dear to our chapter," Russo said. "(Jordan) was my role model in the fraternity."
Russo said that he feels the efforts of the Counseling Center and THRIVE Program have had a positive effect on campus, noting that he and his brothers utilize the Counseling Center often.
"I think every student should take advantage of it," Russo said. "There's no college student that couldn't use some professional person to talk to."
Jordan Willis helped found Delta Tau Delta at RMU alongside Russo and others. This January marked a year since his passing, and his friends and brothers still work to celebrate his life while spreading awareness.
"We try to do a lot to make sure he's never out of our minds for too long," Russo said. A crowd of Delta Tau Delta brothers joined Russo in forming the front of the walk.
Walkers could pick up buttons that allowed them to write whom they walked for. Nursing student Christian Mittica wore a button that said, "I walk for everyone."
"No one likes to talk about their problems, but everyone has problems," Mittica said. He also talked about the mental health problems that he has witnessed himself.
"I know personally, my mom struggles with depression," Mittica said. "I have a lot of friends that struggle with it as well."
Mittica raised $130, helping to exceed the fundraising goal of $5,000. As of April 1, the event nearly doubled its goal by raising $9,343.
Tables along the sidewalk included one with THRIVE Leaders Kimberly Smith and Jessica Gazzola as well as one with Active Minds co-founder Sydnee McKeever. Smith said that the THRIVE Program — only a year old — develops student leaders to help others better connect with the Counseling Center. Gazzola said the program is working.
"More people have been openly talking about the Counseling Center and going to the Counseling Center," Gazzola said. Smith added that the center's Therapet, Violet, played a role in making visits more comfortable.
"If you don't want to say you're going to the Counseling Center you can just be like, 'Oh, I'm going to see the dog.' And people go in, and that just makes them more comfortable too," Smith said.
McKeever said that Active Minds is RMU's chapter of a national organization that seeks to raise awareness about mental illness.
"Suicide is 100 percent preventable," McKeever said, adding that if students don't want to go to the Counseling Center at first, Active Minds members and THRIVE Leaders will listen.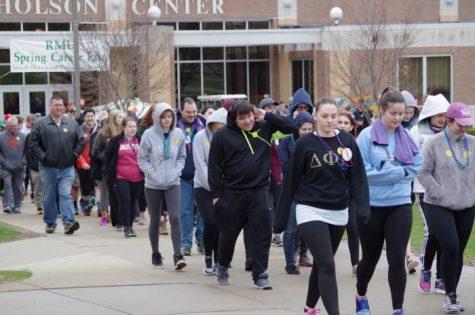 "I think as the years progress with THRIVE Leaders and Active Minds and the Counseling Center doing different activities and such, that it'll actually get better," McKeever said. "It's just going to take time to get rid of the stigma surrounding mental illness."
Delta Tau Delta wrote in an Instagram post following the walk, "Remember, regardless of what it may seem, things can, and will, get better."
[Best_Wordpress_Gallery id="161″ gal_title="Out of the Darkness Walk"]