Campus Drive to close in front of UPMC Events Center beginning in March
MOON TOWNSHIP — Campus Drive will close in front of the UPMC Events Center for the entire month of March.
University officials notified students, faculty and staff of the closure via email on Thursday.
The closure will begin on March 1 at 5 a.m. and remain in effect through the end of April, according to university officials.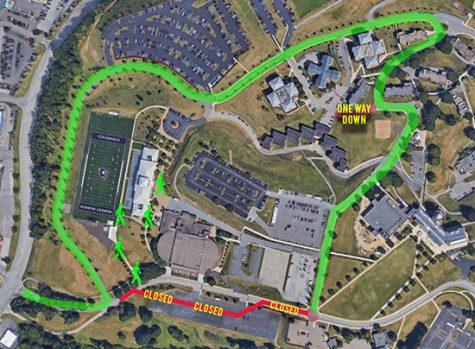 Detour signs will be posted throughout the campus to aid incoming and exiting travelers.
The detour to enter campus is:
Enter Robert Morris University via Campus Drive
Turn left on Colonial Way
Turn right on Massey Way
Drivers wanting to exit campus will take the following detour:
Travel on Massey Way until junction with Colonial Way
Turn left on Colonial Way
Turn right on Campus Drive
Exit Robert Morris University onto University Boulevard
Officials said in the email stating that they recommend drivers to allow extra time during their commute and use extreme caution due to the amount of pedestrian traffic along the detour route.