UPMC Events Center to host part-time employment job fair
MOON TOWNSHIP – The UPMC Events Center will be hosting a part-time job fair to fill positions needed to get the venue up and running.
On April 6 and April 13, OVG facilities will be looking for applicants interested in working guest services, box office, security and house-keeping. The venue will also be looking for people to work as ticket takers and conversion staff.
"The UPMC Events Center will change the way people see Robert Morris University and the surrounding corridor," said OVG Facilities' Scott Zimmerman, general manager of the UPMC Events Center. "Therefore, it is important for us that we seek excited and motivated applicants to join our growing team in delivering a high-quality experience for our guests."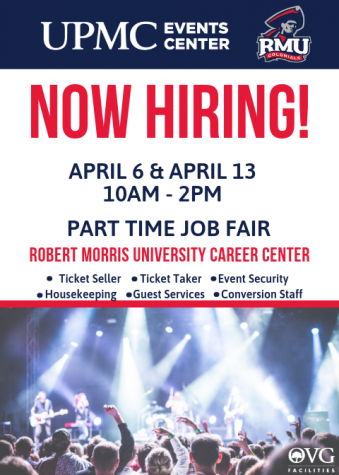 The event will be held at the Robert Morris University Career Center and run from 10 a.m. to 2 p.m. for both dates.
Five concerts have already been scheduled at the UPMC Events Center, with the first being Evanescence, scheduled to play on May 12.
The facility is also expected to host games RMU men's and women's basketball teams, alongside the women's volleyball team. Other events such as commencement, which will be held on May 11, will also be held at the venue.
The UPMC Events Center has been considered the largest capital project in RMU history.
The 4,000-seat facility will open on May 10, the day before commencement.
Those interested can fill out an application at https://www.upmceventscenter.com/about-us and are encouraged to bring a resume along with at least one form of identification.
Anyone who can not attend the fairs is asked to access an application from the website and submit it via email to [email protected].