"Warrior Mike" fights on with unbreakable support
**EDITORS NOTE: We apologize for some errors initially made in this article. Upon notification of these mistakes, we promptly fixed them.** 
Life can change in an instant, by complete accident, and it can happen to anyone. It's been just over two months since Mike Fraser, student at Robert Morris University, injured his neck in a swimming accident, changing his life in more ways than imaginable. The accident may have happened months ago, but Fraser clearly recalls it and shared what was going through his mind.
"I was awake the entire time, from the initial break to the halo being screwed to my skull with no medication. I had one thought going through my head…I need Courtney." said Fraser as he recounted his memories of the accident that happened 1:00 p.m. on Jul. 6.
"I was in California at the time and received a phone call from Mike's friend while I was on a hiking trip with my family.  I have never been so scared in my entire life. I immediately booked a ticket and flew to Pennsylvania the next day.  By that point, Mike had already been through two surgeries and was in the ICU," said Courtney Hegeman, Fraser's girlfriend of almost two years.
These types of changes can not be prevented, but how they are faced is in the control of the individual. Every day since the accident, Fraser has been working hard towards his recovery. He is currently in Shepherd Center in Atlanta, Georgia for rehabilitation from the vertebrae damage done back in July.
Even though he's thousands of miles away, it still feels as if Fraser is on campus and his name is heard everywhere. Part of the reason that his presence is still so strong is because of the support from his fraternity brothers in Alpha Chi Rho (AXP).
"Alpha Chi Rho is a men's collegiate fraternity whose purpose is to enhance the lifelong intellectual, moral, and social development of its members," notes Alpha Chi Rho's RMU chapter, Pi Phi, Vice President Daniel Dum.
Fraser was not only a member of this fraternity, but was described by the fraternity's fundraising chair, junior Dave Limbacher, as "the energy behind this fraternity."
That energy must have been transferred to his brothers all the way from Georgia, as they have exhausted much of it preparing and funding to help Mike in any way that they can since they first heard about the accident.
"We decided to hold a 5k on campus on Sept. 29 at 11 a.m. to embody Mike's athletic nature.  We also figured that since Mike had touched and helped so many people all over campus, that a 5k run/walk would be a fun way for them to give back."
The brothers have titled the run the "Warrior Mike 5k" in honor of how hard he has been fighting and will continue to fight. The efforts do not stop there however.
"We have also set up a raffle where the winner will receive a pair of Sperrys.  People who want to participate can either buy tickets, or they can donate a pair of shoes  for the shoe drive and receive tickets," added Dum.
In addition, candles and bracelets are being sold soon, and a Gala is in the works from Hegemen herself.
Though Fraser has been down a long, challenging road so far, he said he cannot help but feel blessed by the support going on at RMU.
"My family, close friends, and Courtney have not treated me any differently. They have been amazing and perfect through this whole process. I cannot explain what a blessing it is to have Courtney. She was the person I was asking for when I first got out of the water and the first person I woke up to…..I am so proud to call everyone in AXP my brothers. They have stuck with me through thick and thin in this accident. Their support is truly like a family, and I love them." said Fraser of his unbreakable support group.
Such optimism carries over when Fraser looks to the future.
"In five years I see myself starting a family living a normal life with Courtney. I know that I may not be completely healed as this takes time, but that is no reason to put my life on my hold. Courtney told me the perfect thing one day when I was having a bad day, 'If our biggest problem is you sitting down, we are in a good place.'" said Fraser of his still very bright future.
When discussing what they wanted to tell the public in light of this adversity, both Fraser and Hegeman stressed living life to the fullest and taking nothing for granted, expressing how grateful they are now and days for what they do have.
"I want the public to know that Mike is still the same goofy, fun-loving, amazing guy that he was before the accident.  I also want people to know how grateful Mike, his family, and I are for the kind messages, support, and most importantly prayer that has been surrounding us since the accident occurred.  I want to ask everyone to continue praying for Mike's recovery and healing.  It is a slow process, but Mike will come out on top of this situation.  I have no doubts in my head about that." said Hegemen.
All students at RMU are encouraged to keep Fraser in their thoughts, as well as participate in as many of the events and fundraiser's as possible to show support. When united for a fellow student, even a small campus can accomplish big things.
Registration for the 5k can be done in the cafeteria from 11 a.m. until 1 p.m., or on the Nicholson center front lawn the morning of the event, which begins at 11 a.m. The cost is $10 per student, $20 for non-students, and t-shirts will be sold for $10. The Sperry shoe raffle tickets are 1- $1, 7-$5, and 10 with any shoe donation.
About the Contributor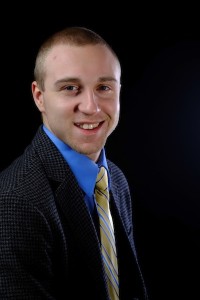 Vince Russo, Assistant News Editor
Vince Russo, a freshman communications major with a focus in journalism, is the Assistant News Editor of the Sentry, RMU's student-run newspaper, where...