Watch one game at Charles L. Sewall Center and you'll immediately understand the amount of energy and passion head coach Andy Toole has for his men's basketball team.
This passion is rooted in a belief in the ability of his players and the potential of the program. In last week's game against Saint Francis this passion was taken to the next level when Coach Toole broke a clipboard over his knee in the second half. While immature, this was not done in frustration with a lack of talent in his players, but rather a frustration with their inability to play to their potential.
It was just two years ago the Robert Morris Men's Basketball team was in the NCAA tournament playing Duke in their fifth consecutive winning season. However, since then they have taken a turn for the worse as a program. They are currently on the rebuilding track and a lot of work will have to be done to return to their previous greatness. The journey back to the tourney is going to be uphill, but if the players have faith in Coach Toole and perspective on how far they have already come from last season, then they are going to be able to return to the tournament.
While the focus is on the future for the Robert Morris Men's Basketball team, in order to understand where the team is currently, we must look back to last season.
Story continues below advertisement
Heading into the first game of the 2015-16 season expectations were as high as ever. The team was one of the favorites in the conference, and another historical year for the Colonials was foreseeable. However, the reality was that the team was nowhere near where everyone thought they were.
If last season was not enough of a let down, one of the best players to ever come through Robert Morris, Rodney Pryor, transferred to Georgetown.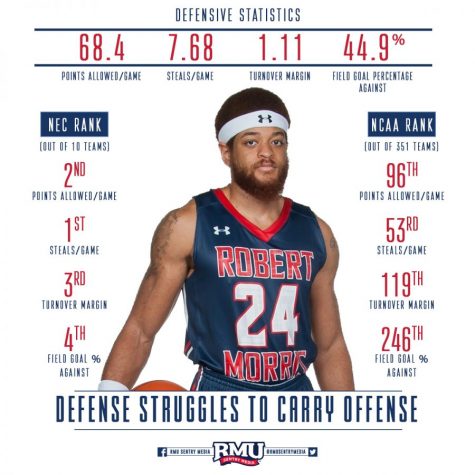 After last season's performance, I had little hope that the team would have any success. Let me be the first to tell you that the Colonials are on their way back to the tournament in the coming seasons.
I feel that they have an opportunity to win multiple conference titles; the key to their improvement will be the players buying into Toole's vision.
Being a relatively small private university, it is difficult for Robert Morris to bring in the level of talent needed to be able to compete immediately with tougher competition. Next season, it doesn't have a top-level recruiting class.
However, this doesn't mean the Colonials can't compete against better teams, like say Cincinnatti.
To beat teams of this caliber, the guys have to play together and out hustle their opponents. It's the only way RMU could upset a Power Five school.
Toole preaches these principles in every post-game press conference, along with competitiveness, desire to win and the ability to grow. These principles sparked the Colonials to five straight winning seasons under Toole.
The broken clipboards don't come from missed shots, but rather lazy plays and an unwillingness to play as a team. Tremendous progress has been made this season, but further improvement is what will enable Robert Morris to win another conference title.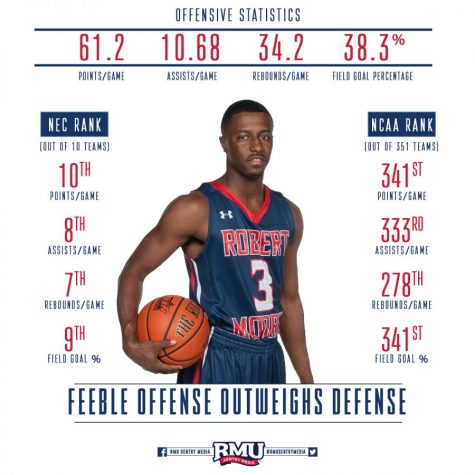 It is easy to look at the team's record this season (7-13, 3-4 NEC) and think that no progress has been made. The frustration for the fan base comes from the lack of improvement made in the win column.
However, when put into perspective of where the team was last year, there have been many bright spots if you look past the record.
The two wins at PPG Paints Arena against Duquesne and Buffalo were a great look at how talented this roster is.
Another sign of optimism this season is the continuing progression of key underclassmen. Sophomore guard Isaiah Still has increased his scoring from 9.9 to 14.6 points-per-game this season. Still has evolved into not only the leading scorer but the team's leader as well.
And he is only going to get better as time goes on.
Pair Still with two other promising underclassmen, guards Matty McConnell and Clive Allen, and the team's future is certainly bright.
McConnell has played well in the two recent contests against Saint Francis and Wagner, and I feel he is finally turning into the player Toole has talked him up to be. Allen averages 5.3 points-per-game coming off the bench, and with time he should grow into a key player.
These three guys are the future of RMU basketball, and if they continue to grow into quality scorers, the team can return to winning titles. It won't be long until Robert Morris is back to being on top of the NEC.
Ultimately, every player on the team has to trust coach Toole and believe in what he is preaching. If not, we better hope the athletic department has a lot of extra clipboards.