OPINION: Robert "one-and-done" Morris
The term "one-and-done" explains the process of premiere talent in college basketball jolting from a program after one season to pursue the NBA. This trend has created yearly waves of new talent for the NCAA's elite programs rather than maintaining familiar faces.
Robert Morris men's basketball, though not affected directly, has begun to see a domino effect from the early entries.
Since the 2010-11 promotion to head coach, Andy Toole and the RMU basketball team has been through numerous personnel changes, as many talented players left for well-established coaches and teams.
For Toole and RMU, keeping skillful players throughout their college careers has become a tough task. The past few seasons have shown the phenomenon growing.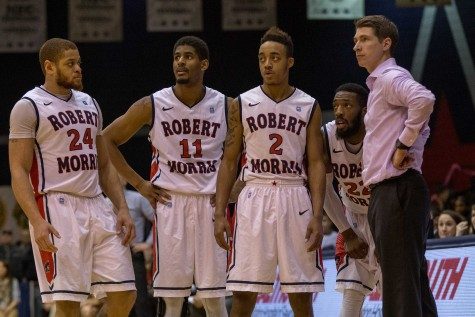 Redshirt sophomore Marcquise Reed spent his freshman season entertaining the Sewall Center crowd before taking his 6-foot-3 frame to the ACC with his transfer to Clemson. In his first year of eligibility as a Tiger, Reed is contributing substantially — with 20.2 minutes off the bench while adding close to 10 points per game this year.
Despite an overtime defeat early in January to ACC front-runner North Carolina, Reed showed poise against experienced UNC guard Joel Berry II. He shot 5-of-9 from the field and 5-of-6 from the foul line, totaling 17 points with four rebounds and a steal in 34 minutes of work (led all bench players).
It should be noted: this was his second encounter with the Tar Heels, as the Colonials faced off against the powerhouse in Reed's second career game in which he finished with 24 points.
Clemson currently sits at 13-9 (3-7 ACC) with Reed seeing legitimate time in the backcourt.
Reed's ability was on display long before his ACC arrival. His rookie season was measured by the intriguing stat-line: 14.9 PPG, 1.9 steals per game and 42.4 percent shooting beyond the arc — that earned him NEC Freshman of the Year honors, along with an All-NEC second team award.
But, Reed was just one of the standouts after his first go-around as a Colonial.
Rodney Pryor has traveled many different roads when it comes to basketball. An Evanston, Ill. native, Pryor was a junior college product who spent time at Kirkwood (Iowa) Community College — followed by two injury-plagued seasons at Cloud County (Kansas) Community College. Despite not witnessing his abilities there, the Colonials awarded Pryor his first Division I opportunity.
Pryor's two-year stint in Moon Township included an All-NEC second team selection to match former teammates Lucky Jones and Reed in the 2014-15 season. Pryor also received NEC tournament MVP honors after RMU clinched a NCAA tournament bid in 2015.
Off-season moves and the hope to repeat as conference champions fixed Pryor in a more dynamic role. After nearly doubling his output on the boards in 2015-16, a first team All-NEC accolade and an offer from Georgetown awaited Pryor.
Thanks to a NCAA rule, Pryor was able to play immediately as a graduate transfer.
The Hoyas (13-12, 4-8) have been inconsistent so far this season, but the credit for success shifts towards the newcomer. With a team-leading 18.2 PPG, Pryor makes Georgetown wish it had pursued his lengthy frame much earlier.
Reed and Pryor are on the top of the list when discussing transfer talent, but what about others: 2010-11 freshman center Deion Turman, four-year guard Coron Williams after 2013, even Elijah Minnie after last season's sudden dismissal?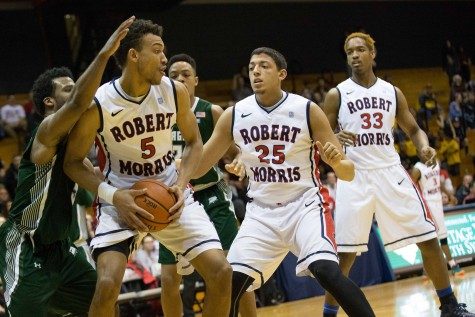 Robert Morris has been expected to establish consistency following key losses each year. Very few of Toole's top athletes have committed to four years with the program like former stars Karvel Anderson and Jones.
Williams headed for Wake Forest after his redshirt-junior outing, and Minnie vanished abruptly to land at Eastern Michigan. Minnie will be eligible for two more years after sitting out this season.
"
A staggering 18 players during Toole's head coach tenure with the Colonials have left prior to the end of their eligibility."
The concern is not with talent leaving, but with numbers leaving. Sure, the athletic program is saddened to see the likes of Pryor, Reed, Williams and company pursue other opportunities. However, the main objective is to keep others long term.
A staggering 18 players during Toole's head coach tenure with the Colonials have left prior to the end of their eligibility.
Six new members of the Robert Morris men's basketball team have suited up this year. This young and relatively tall lineup is what RMU would like to build on for the upcoming seasons, though recent history has created a question.