Carney's Corner: The state of Robert Morris football
November 3, 2017
Earlier in the season, I predicted that the Robert Morris Colonials would finish within the top three in the Northeast Conference. I cited their strong defense, seemingly improved offense and the weak NEC as reasons for this prediction.
I definitely did not think that they wouldn't even finish around .500. It's safe to say that, even though they can still win out and finish at my predicted record of 5-6, I was wrong.
So, what is the current state of the program of Robert Morris football?
Should improvement over the coming years be expected?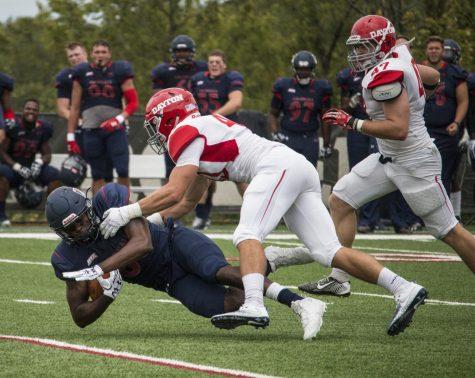 Will these guys get a chance to contend for an NEC title here at RMU?
Will a team finally step up and play like those who were under the great Joe Walton?
Sadly, I can not clearly see the answer to any of those questions.
Robert Morris needs to win out for this season to not consider this another lost campaign. It is difficult to see them doing that.
Looking at the schedule ahead, the team has two very winnable games against Bryant and Wagner. The team should be able to win those, but they also should've beaten Sacred Heart. Robert Morris fell to Sacred Heart by a score of 21-14 on a pick-six touchdown in the game's final seconds, back in their most recent home game on Oct. 21.
My usually positive self still sees this team defeating Bryant and Wagner. At the very least, one of the two.
It is Central Connecticut that is concerning. After the Sacred Heart loss, it is difficult for me to see the Colonials defeating the Blue Devils on the road. Maybe they prove me wrong and win that game. That's asking a lot, though, and it is clear that Robert Morris will need a combination of talent and good luck to win out this season.
But how does the future look? You can't tell the overall health of a program without looking at the future. Will they regress, improve or stay the same?
The team should improve next year. Quarterback Jimmy Walker and his top target in Warren Robinson will both be returning as seniors and leading rusher Harrison Dreher will only be entering his sophomore year, as he was redshirted last season. Those are the three biggest, and one might say only, playmakers that Robert Morris has had on the second-worst offense in the NEC.
Then we look at by far the biggest issue on the team, the offensive line. Now, I do expect improvement in that area, as lack of talent isn't the issue with them. The issue is too much youth.
Three of the five listed starters from last week's game are freshmen or redshirt freshmen. The other two, Conner Mundy and Rene Rodriguez are both sophomores. As they get older, it's fair to expect improvement.
Now, the defense should continue to be a strong point of the team. Despite never winning more than three games in a season in his tenure, head coach John Banaszak has done a good job recruiting for his defense.
Now, the team will be losing star defender Gerald Ferguson as he graduates, but they will return leading tackler Adam Wollet. Furthermore, Robert Morris should not be worried about the defense.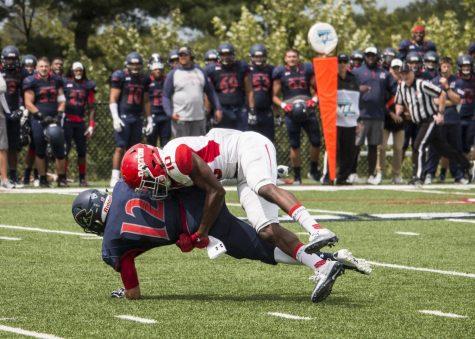 As I stated, the best thing Banaszak has done during his short tenure was recruiting for the defense. When Coach Banaszak became the head coach for Robert Morris, they had the worst scoring defense in the NEC. Since that first season, they have finished third twice and now are currently fourth in the NEC.
Banaszak has been under a lot of fire recently, but it's unfair to overlook how significantly he changed the defense. I completely trust him to keep the defense competitive in the short turn.
But I've been wrong before.
The offense could continue to struggle, as they went down in scoring average this season from 11.1 to 9.2. 9.2 is the lowest scoring average that Coach Banaszak has had in his entire career at Robert Morris University.
The defense could get worse after the loss of Gerald Ferguson. The team is already letting in three more points per game than they did last year. That may not seem like a lot, but three points a game is what separates Robert Morris from allowing thirty points a game.
That all being said, we get to the big question that Robert Morris Athletics will be facing this off-season. Will Coach John Banaszak return next season?
Going through the coaching carousel is never a good time for a program. That's obvious. That being said, Robert Morris may be going through that this offseason.
I would like to specify that I am not advocating firing Coach Banaszak. I'm just trying to be unbiased and logical here.
These next three games may determine Coach Banaszak's fate. After not winning more than three games in his first three seasons, if Robert Morris fails to eclipse that three-win mark for the fourth season in a row, then expect him to be on the chopping block. However, if Robert Morris wins out, expect him to be back at least one more season.
A college coach typically gets three to four years to fix a program. If improvement is not there in that time frame, then that coach is usually gone. Even though the win totals have not changed much, the team has improved from last season. Not saying they're dominating now by any means. Considering, though, that the offense averaged about 150 yards last year and now averages 215 yards per game, improvement is there. However, the scoring offense did go down, but that's partly due to some shutouts against some extremely good teams like North Dakota State and Youngstown State.
And let's not forget how quickly he fixed the defense from his first season to now. Going from the bottom of the NEC to a consistently top-three defense is impressive.
Whether Coach Banaszak is back or not, the fact that we're talking about this mid-season shows the health of the program. At the end of the season, we can better judge how healthy this program will be moving forward. If they win out, get excited about next season. If they don't, then the uncertainty following Robert Morris football will continue. This is currently an unhealthy program. However, I'm not giving up on the future, and neither should you.