Carney's Corner: Was Dayton a culture-changing win?
Last week, for the first time in 17 years, Robert Morris defeated a great FCS program in Dayton by the score of 13-10.
Only head equipment manager Ray Butter was on the staff the last time this team beat Dayton.
Some people don't want you to think too much into the first game of the season.
I, however, am going to stress the opposite. I want you to view this game as what it could have been.
A culture-changing victory.
It's crazy to think that the first game of the season can be this big of a statement. It's crazy that I'm ready to go shout, "Robert Morris football is back!" from the top of Nicholson after a 13-10 victory. But that's what these wins do. They make you excited.
That's because a culture-changing game win is different, and you know it. This isn't just a switch from bad to good. No, it's so much more than that.
These wins need their signature moments. It's simply not Robert Morris beat Dayton. It's the special moments and performances you get out of it.
Moments like head coach John Banaszak, a man who some questioned to be brought back for a fourth year, was fighting back tears as the game ended.
Performances like Cole Blake who, after coming back from an ACL injury that sidelined him all last season, led his team in rushing during his very first game back. Like the turnaround of tight end Reggie Green, a player who couldn't catch a cold last year, helped set up a crucial halftime field goal.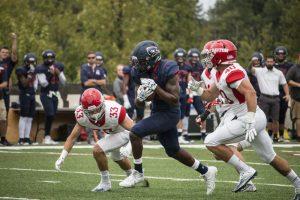 These are multiple events that anyone who saw the game will remember. This is what makes it special.
Moments are important in a signature culture-changing victory, but one game won't just cut it. People will remember this game because it was a great game.
I want to remember this game because it also started off a great season. I want to remember this game because it made me want to pay attention to Robert Morris football again, and I don't end up regretting it.
Make no mistake, this Dayton victory can be that signature culture-changing victory. They just need to build up a winning culture from here on out. And I think they will do that.
There were a lot of things to like from the game.
The defense gave up only ten points to a team that hasn't been shut out since 1976, a college football record.
On the other side of the ball, the quarterback play was exactly what you want with this type of team. While Jimmy Walker's stat line of 198 yards, 14-29 passing, one touchdown and one interception doesn't blow anyone away, that doesn't matter. An elite quarterback can be the face of his team, but sometimes just being decent and putting up solid numbers while taking a back seat is the way to go.
Running backs TJ Neal and Cole Blake averaged 5.2 and 4.3 yards per carry. Walker's quarterback play was a perfect supplement to an impressive rushing attack and great defensive play against a team like Dayton.
That type of offense, along with an improved offensive line and strong defense, could lead the way for a season that changes the football culture at Robert Morris. I truly believe that. This team is something to be excited for. You can witness something that only fairy-tale fans get to see. You can witness our Cinderella story.
So, I urge you Robert Morris fans to not ignore this football team. Don't ignore what could be the first time since 2010 we see a winning football team.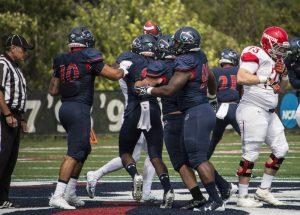 You don't want to miss the game that could signify the change of culture here.
Like I said, that culture-changing win could have been that Dayton game. But, what if it wasn't the Dayton win? What if they have an even more impressive victory down the road? What if they manage to win the NEC?
While Colonial football is going to have a tough time in at least two of the next three weeks when they face perennial powerhouse teams Youngstown State and North Dakota State.
I urge you to keep watching.
If this team manages to finish around 6-5, you won't forget it. It sounds crazy, and almost sad, to be rooting for a team to finish .500, but that would signify a changing culture. A 6-5 team would be fun to watch, but it could be more than that. It could be a playoff team, a Cinderella playoff, so much more than what meets the eye.
Every game will feature more surprises and more hope for a bright future. Who knows, maybe Dayton wasn't the culture-changing win. Maybe we'll get to see that real signature culture-changing game this season. It looks possible, and that's why I urge all of you to not take this team for granted. If you do, then you just might miss it.