Carney's Corner: What to expect from the Bernard Clark era
After a coaching search that included 160 candidates, Robert Morris football has found its man in former Albany defensive coordinator Bernard Clark.
Given the hire seemed to come out of nowhere, the question that should be on everyone's mind is, was this a good hire for Robert Morris?
If you have the feeling that this hire came out of nowhere, you're not alone. A hire out of nowhere, or in this case Albany University, is not always a bad thing.
He's another defensive-minded head coach, but also a Mr. Outside Hire. After the depressing end of the Joe Walton era and the horrid four-year stretch that is the John Banaszak era, the program needed someone on the outside to mix things up.
The definition of insanity is trying the same thing over and over again and expecting a different result. Giving the program to a coach who is not an outsider would not of put them in the right direction. The program clearly needs a mix-up, and an outsider like Bernard Clark is the best way to get that.
But how good of an outsider is Bernard Clark?
He's had success at everywhere he's been, and he's been everywhere, to say the least.
That should both excite and worry the fanbase. While his defenses, especially those at Albany which consistently ranked near the top in its conference, he has never stayed at a place for more than three years. It seems like he is always looking for a bigger and better job. That means if he fixes Robert Morris, he might be prone to leave if a bigger and better job comes calling.
Or maybe he will be committed to his first head coaching gig after spending the majority of his career bouncing around different programs as a positions coach. Really, that is the biggest worry that should come with Clark.
The only other red flag that I can possibly see is that the university hired a defensive coordinator when the problem for Robert Morris has always been the offense. The Colonials already have Scott Farison, who is a very smart defensive mind. But one could argue that his defenses have been overrated by conference rankings by looking at its actual numbers.
An example of that is 2016's average of allowing 24.2 ppg, which is average in terms of the entire nation but ranks third in the NEC that year. One could also argue that the defensive stats are driven up by the offense's inability to keep them off the field. That's why it seemed like every game this past season ended with the opposing team blowing up the scoreboard in the fourth quarter. Eventually, that defense will get tired of constantly being on the field.
Clark, though, is an even better defensive coordinator than Farison was here. Granted, Clark was able to land better recruits for his program at Albany because it is, at the moment, a better overall program. That being said, his defense in 2016 was not just amongst the best in his conference, but amongst the best in the entire country. That year, the Great Danes averaged under 20 points allowed per game, 18.8 to be exact, and led the nation in turnover margin (1.25) and fumble recoveries (20).
I think it is fair, though, to question hiring a defensive-minded head coach when the defense for Robert Morris has really not been an issue.
It is the offense that has consistently been near the bottom in the whole country. It is the offense that averaged under 10 points a game in an entire season twice in the past four years in the worst conference in college football. It is the offense that almost doubled its total yardage from a year ago and somehow managed to go down in average points. It just seems a little counterproductive to hire a defensive-minded head coach when the offense has been the major flaw under former head coach John Banaszak.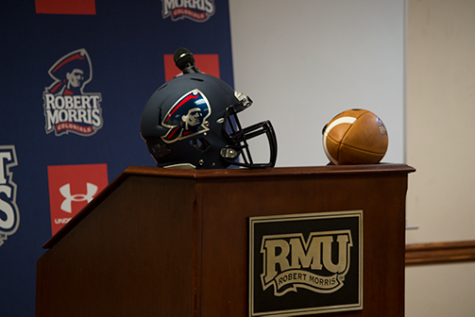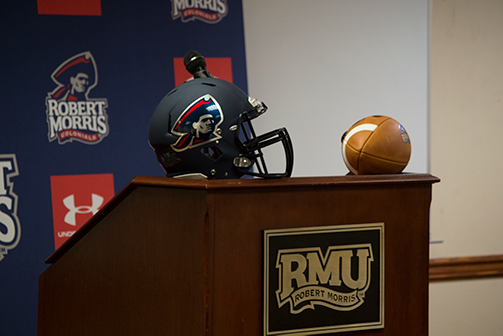 So, what is there to make of this hire?
Clark has been an excellent coach at all the places he's been. He was a position coach for one of the top defenses in the country back in 2010 at the University of Pittsburgh under Coach Dave Wannstedt when that team finished in the top 10 in defense in FBS and was ranked as high as ninth during the season.
His Albany defenses have been strong and he was a great linebacker at Miami before heading to the NFL for a couple of seasons. That's just an extremely small sample size of the experience that he has.
That all being said, this hire does little to excite me as a fan as there's no evidence of commitment from him and he is not the offensive-minded coach that Robert Morris needs.
But Clark can still be the coach that Robert Morris fans have longed for the past seven seasons.
Keep in mind, this was a long process with a lot of candidates. Craig Coleman and company clearly did their homework and they think have found the right man for the job.
I remember of another local college that hired a defensive-minded coach, only to see him fix the offense and turn it into one of the top ones in the country until this season. Keep in mind, Pitt and Pat Narduzzi are completely different than Robert Morris and Bernard Clark, but we've all seen defensive minds become offensive minds as soon as they get the big role of being a head coach.
Is this an exciting hire for Robert Morris?
No, it is not.
Is it the right hire?
Only time will tell.