ACHA Division I pulls out OT victory against Lehigh
The Robert Morris University ACHA Division I hockey team played to keep their 2013-14 recorded spotless Friday night, and did just that with a 5-4 overtime victory over the Lehigh Mountain Hawks at the Island Sports Center.
Eddie Sarin started the scoring for RMU at the 4:31 mark of the first period, with Lucas Chiala and Zach Homitz assisting the goal.
In return, Scott Mogerley scored the first goal for Lehigh, making it 1-1 at 8:54.
Their tie was lost less than a minute later when Wes Heinle responded with a goal for the Colonials at 9:42, which gave RMU a 2-1 advantage.
Boyer began the second period by scoring his first goal of the night just 1:42 into the period, putting the team up by two. The Mountain Hawks would then cut the lead, courtesy of a goal from Joseph Lodato at the 12:53 mark.
Heinle scored with 38 seconds left in the period, giving the team a 4-2 lead before heading into the third. This also gave Heinle his second multi-goal game this season.
Lehigh made a comeback in the third period, scoring two goals, which didn't shock head coach Mike Joseph.
"You could almost see it coming, so it wasn't a big surprise to me because we weren't playing that well," he said.
Even though the team's performance wasn't their best, the Colonials were able to pull through, and eventually claim the game just before the end of overtime thanks to defenseman Joe Boyer.
Boyer came up with the winning goal with 10.7 seconds left in the overtime period, which was also the sophomore's second tally of the night.
"I just saw he cycled the puck behind the net, and then when Wes [Heinle] came out of the corner, I just kind of stuck behind the [defense] and buried the puck," Boyer said.
"We won, that's just about the only good thing I can say about it. We played a very sloppy hockey game tonight, probably both teams did," said Joseph. "Sometimes their ugly, but a [win] is a win, and we'll take it."
The club will return to the Island Sport Center next Friday evening to take on rival Slippery Rock at 9:05, with the hopes of continuing their season on a strong note.
About the Contributor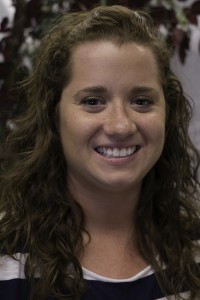 Brooke Smith, Editor-in-Chief
A senior journalism major at Robert Morris University, Brooke serves as the Editor-in-Chief and a staff writer for RMU's student-run newspaper, "The...