Anderson anchoring RMU's run through the NEC
Karvel Anderson's twitter handle is @ThaBestKeptScrt, but because of the way he's been playing of late, the Northeast Conference is taking notice.
Which means he isn't a secret anymore.
"He [Anderson] is making tough shots, but he's working for them. The percentages that he's shot to this point is an indication that obviously he can score and he can shoot it at such a high clip," Saint Francis (Pa) head coach Rob Krimmel said after his squad's five point loss to RMU on January 16. "Those are things that, as a defender, you do everything right, you do everything that we told our guys to do and he still makes the shot so you have to give credit to the kid. He's a good player."
Despite being the Colonials' leading scorer throughout their first 15 contests by netting nearly 17.3 points per game, Anderson and Robert Morris found themselves with a subpar record, five games below .500.
But after beginning league play with three consecutive victories in which he is averaging over 30 points per game, the 6'2 guard is proving why RMU is still a top contender in the conference.
Although he has exploded for 36, 32, and 24 points against Sacred Heart, Bryant, and SFU, respectively, Anderson, who is ranked eighth in Division I in three point field goals made per game, admits that as a scorer, he has to have a short memory.
"Missing shots happens. I have very good confidence in myself and in my shooting ability, and you're going to miss shots, but I always tell myself the next one is going to go in," he said. "As a shooter or a scorer, you can't get down on yourself when you miss a couple shots. It takes away from your game, your aggressiveness. It doesn't bother me when I miss shots because I feel that the next time I shoot it, it's going to go in."
And most of the time they do, which is the main reason why Anderson knocks down 52.8 % of his shots, good enough for fourth in the league in field goal percentage.
Because he is such an accurate scorer, RMU head coach Andy Toole believes that Anderson's outstanding ability aids not only his personal statistics, but his teammates on the floor as well.
"He [Anderson] is obviously shooting an incredible percentage. He makes tough shots," the fourth year skipper said. "Whether the rest of our guys want to believe it yet, I think that not only him making shots early opens up a lot of things for other people because they have to put so much attention to him and we're able to kind of get other guys going based off him making some shots. I think that's important for some other guys that need some help to score."
About the Contributors
Nick Buzzelli, Sports Editor
Nick is a senior communication major with a concentration in journalism at Robert Morris University and is the Editor-in-Chief of RMU Sentry Media.

In...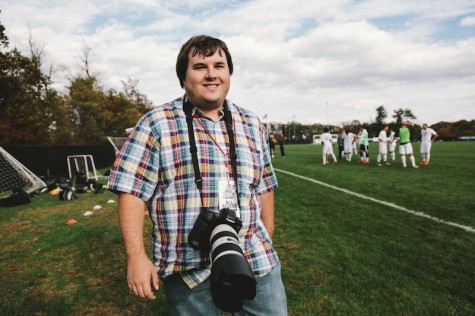 Kyle Gorcey, Freelance Sports Photographer
Kyle is a senior Communications major with a concentration in journalism at Robert Morris University who is a writer and sports photographer for The Sentry. The...