Artemis me when I'm gone
Northeast Conference Player of the Year, RMU rebounding record holder, and now, the NEC rebounding record holder, along with a FIBA gold medal are among the distinguished compliments of senior forward Artemis Spanou over her career at Robert Morris.
What else can the Greece native really accomplish that she hasn't already?
Maybe a NEC Championship for that matter. But that's beside the point.
Monday night, in front of a home crowd at the Charles L. Sewall Center, Spanou grabbed her 1,296th rebound to mark first all-time within the NEC, solidifying herself as one of the best women's basketball players to ever sport the RMU colors. But what's really amazing has been her consistency along the way.
"It's an example of someone who really worked hard for four straight years at this school," said associate head coach Charlie Buscaglia. "Nobody's outworked her when it comes to putting in extra time, coming to the gym, strength and conditioning. Artemis has earned everything she's got, and that rebounding record is a testament to her work ethic."
Spanou's career began in Moon Township in the fall of 2010, an extremely talented but raw recruit of head coach Sal Buscaglia's recruiting class. However, from the minute she stepped on the floor for the Colonials, her game did the talking, posting 16 points and eight rebounds in her freshman debut.
It had to be about that time when the RMU coaching staff realized this freshman was for real.
since then, Spanou has gone on to have an outstanding career at Robert Morris, sprinkled with award among award. She's continued to break strides and eclipse expectations, developing into an exceptional leader in the process.  Her game is a complete product of pure hard work and dedication.
"She's a great player," said fellow senior Kelly Hartwell. "I've seen her work countless hours and so many times. It's definitely well-deserving and I'm both happy and proud of her. She deserves it."
The only thing she's missing on her accomplished résumé is a conference title, along with a NCAA tournament berth. And she knows that time is slowly running out. This year is now or never for her.
"I want a ring," said Spanou. "It's the only thing I haven't got, and it's a team sport, and we need to win it this year." 
She's playing like it, as well. She currently leads the nation in rebounding with 14.2 boards per game, and is averaging a double-double every night. Will Spanou, along with her teammates, accomplish the ultimate task and claim the NEC hardware to cap off an illustrious career?
Only time will tell, but her finish will be memorable regardless.
About the Writer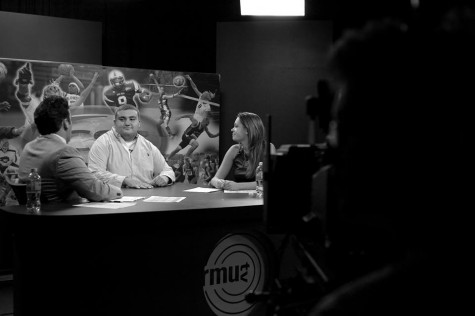 Chris Mueller, Sports Reporter
Chris is a junior Communications major at RMU with an applied concentration in journalism. He is Sports Editor for RMU Sentry Media.  As current Sports...