Artemis Spanou: Greek goddess of RMU basketball
In ancient Greek mythology, gods and goddesses were immortal heroes that ruled over the land and developed the origins of the time period, acting as religious models to Greek and Roman civilization. One of the most famous goddesses was Artemis, who ancient Greek myths described as, "goddess of the hunt and wilderness."
RMU's Greek-born forward Artemis Spanou just completed her junior season, in which she claimed rule over the wilderness of the Northeastern Conference and further pursued 'the hunt' for a record-shattering career.
The Colonials' star was recently named Northeast Conference player of the year after she put up monster statistics this season, averaging 19.1 points and 15.6 rebounds per contest. She led the league in minutes played, playing 39 out of a possible 40 minutes a night for the squad during their injury-ridden campaign.
"I was ready to play forty minutes every game," she said. "I knew I would have to [play every minute] this year with not having any subs. Playing a big role on the team made me fatigued and it was definitely an issue, but my teammates helped a lot and made it easier for me."
Not only was she amongst the top of her conference in rebounding, but Spanou also led the entire NCAA in boards per game with 15.6.
Spanou's outstanding play also set school-records at RMU. Her 451 rebounds shattered the previous mark of 367 that dated all the way back to 1984. Finishing the season on a streak of 24-consecutive double-doubles, she reached the feat in 26 of a possible 29 games this year to give her 58 for her career. The forward credits a lot of her success to work she did in the offseason with head coach Sal Buscaglia's staff.
"In the offseason, it definitely helps to work on individual things that will make you better in the season," said Spanou. "I knew I would face double and triple teams, so I worked with our coaches a lot with being able to pass out of them and be stronger in the post."
Spanou is the fourth player in Buscaglia's tenure to be named conference player of the year, and reams serious discussion about the possibility of his best ever.
"Artemis certainly is very deserving of player of the year honors," explained the 10-year head coach in an interview with the RMU athletic department. "Her statistics and play speak for themselves. Surrounded by freshmen and first-year starters due to our injuries, as well as being double and triple-teamed, Artemis was amazing."
The Colonials skipper has impacted his Greek prodigy throughout her three-year career in Moon Township.
"Coach Sal was a different coach than I was used to before I came to RMU," Spanou stated. "He's pushed me all the time, getting my mind and frustration level better. He's done a great job and I am very thankful, but also am excited to still work with him next year."
Arte, as she is referred by on campus, was also a member of the Greek national team last summer, where she gained valuable lessons facing the world's best competition.
"I get a lot of experience with my national team," she said. "It makes me better playing against great players that are usually older than me.  I then am able to bring what I learn to help improve myself and my teammates."
The forward's stellar play also led to her becoming the 18th member of the school's 1,000 point club, and earning a spot on the NEC-all conference team for the third year in a row. With all of the accolades raining in for the 6-2 swinger, it is hard to believe she still has one year left playing at the Charles L. Sewall Center.
"Next year I want to play as hard as I did this year. I want to get to the NCAA tournament as a senior. I really want a [conference championship] ring in my four years."
Despite her remarkable numbers, Spanou continues to remain humble and preach the importance of her teammates to her recent success.
"Without my teammates, as I told them, I wouldn't be here," she stated.  "If I didn't have Ashley [Ravelli] and Lou [Mataly] as my shooters, I wouldn't be able to pass out of the double team. If I didn't have Randi [Jackson] as my point-guard, I wouldn't be able to get the ball down the floor. They all have a role, and I'm thankful for what everybody's done."
With four of five starters returning next season, the Colonials will once again call upon their Greek-goddess leader to guide them through the wilderness of next seasons schedule, witnessing history taking place as one of the greatest players to put on an RMU uniform finishes her final season donning the red, white, and blue.
About the Contributor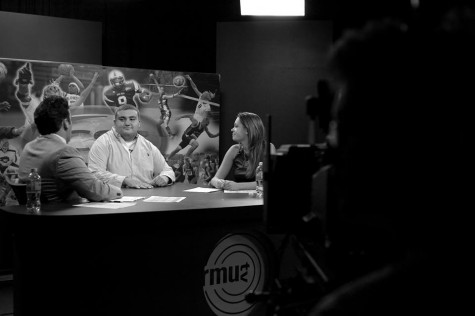 Chris Mueller, Sports Reporter
Chris is a junior Communications major at RMU with an applied concentration in journalism. He is Sports Editor for RMU Sentry Media.  As current Sports...