Banaszak reflects on 2014
John Banaszak's office in the Robert Morris football complex sits high above and overlooks the Joe Walton Stadium field. There may not be a better sight on campus than when the sun sets over the stadium and illuminates the skyline of the west hills of Pittsburgh.
Banaszak has experienced a ton of success over the course of his career. Just shake his hand and you'll see the lustrous, oversized super bowl rings from his days on the Steel Curtain.
His first year at the helm of the program was a learning experience, though. Ten losses, five of which came on that very field so visible from his office. The view serves a bit of a harsh reminder of it.
"It would be very easy [to] report all of the adversity that this team had to overcome. All of the suspensions, all of the academic problems, all of the other things that happened to this football team. Never once did we use that as an excuse," Banaszak said. "No excuses, no losers. We got beat ten times, and that's the way I'm going to look at it."
As rough as 2014 was, there's a lot more that can be attributed than solely just a poor record. It was a year of growth for a team with 27 first-time starters still trying to adjust to FCS football, while attempting to play at a high level simultaneously.
"I look back to the 2011 season after graduating 26 seniors off a championship team, and we struggled the following year going 2-and-9 playing freshmen and sophomores," he said. "We kind of forgot that. I was in a position this time to be at the helm and say we can win anyway. I think that's probably what I re-learned."
The team showed short-term promise in its first appearance, a 29-10 loss to Eastern Kentucky. Luke Brumbaugh threw 51 times without an interception in his first-career start. Linebackers Nic Lamica and Mike Stojkovic combined for 27 tackles alone. Things were still looking up.
But the following week sparked the birth of a stretch that caused the current season to spiral out of control. Something Banaszak places directly on himself.
"I thought I handled the loss after North Dakota pretty well, but I didn't. It really had an effect on our football team not winning that game," he said. "The next week against Lafayette, we go out there and get crushed from the opening kickoff to the final whistle. That was directly attributed to the loss at North Dakota. I didn't do a good enough job of getting over the loss. At that point, I think our team had a hard time believing that they could win."
There's a bad taste left in the mouths of the entire program. As sour as it may be, it adds fuel to the fire. Robert Morris football teams of the future will remember the tough times endured while laying a foundation this year for success later in years to come.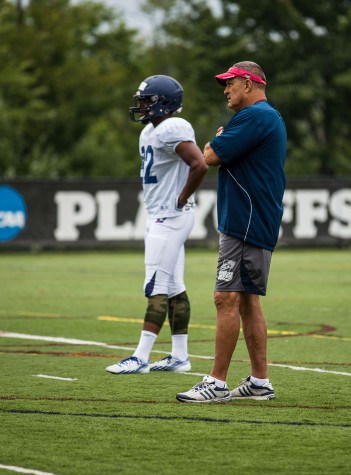 Kyle Gorcey
They'll remember it in winter lifting. They'll remember it during spring ball, and then again come August in preseason camp. Banaszak anticipates only three senior starters next season, so they'll be young again.
However, young with experience. Young, but improved. The blueprint is already in place.
"We've got to improve on a daily basis if we want to be better. It's easy for me to sit here and say we'll be better than 1-and-10 next year. I can clearly anticipate that, but I just don't want to be better than 1-and-10.
"A year ago, with two games remaining, we're first place in the Northeast Conference. After that season was over, we talked about that. We talked about being in that position again. I'm going to shoot for that to happen this coming year in 2015. That's the way I am."
It's an important offseason for the coaching staff in terms of recruiting. Offensive line coach Andrew Richardson has taken over recruiting coordinator duties from assistant head coach Scott Farison. A large emphasis will continue to remain on post-graduate recruits. Banaszak didn't rule out the option of junior college players, either.
He called the previous two classes very strong. They've produced contributors along the likes of Rameses Owens, Nic Lamica, Gerald Ferguson, Drew Allen, Ryan Richards, Blake Chambliss and the list goes on. All of them have the fortune of significant years of eligibilty left, a ton of upside and continued development. They're proof of the future.
He also referenced several others that spent the year redshirting and haven't even seen the field yet. Combined together, they've certainly become the new foundation, helped built by the graduating seniors. The offseason goal is to build on it.
"Hitting the recruiting trail, I've got to be a better coach being able to recruit better players. Our coaching staff believes the same thing. In our final meeting on Monday, we talked about it," Banaszak said. "It's a team effort. There's no question about that. Every recruiting meeting we've had has been a very good meeting.
"We've identified the kids we want to go after. There are some very important areas that we need sured up. One of those is speed on offense."
Offensive coordinator Darrin Hicks received a large amount of criticism as the season dragged on. A lot of it was fair. The Robert Morris offense was among the worst in all of FCS football. The Colonials probably would have won a few more games had his unit been able to put up more points. No, they definitely would've considering the way the defense played.
Inability to move the ball consistently really restricted Hicks from a playcalling standpoint. He'll retain those duties next year without any interference from Banaszak.
"[Coach Hicks] has been at a lot of places and he's done a lot of things. He's a very intelligent football coach. His scheme is one that relies on a lot of parts, speed being one of those parts. There's no question that he struggled. He was closer to jumping off the bridge than I was," Banaszak said. "But, with everything that happened to us offensively, I still saw more than a glimmer of hope that what we're doing is the right thing."
Despite the offensive woes, keeping Hicks on board is the right move. He did lose his initial starting quarterback, a perfect fit for the offense, in the summer before training camp started.
He started a majority of underclassmen, however seniors Duane Mitchell and Ryan Thermil could have held larger roles in the offense. Four quarterbacks played throughout the year, with Marcus Prather starting the final game after playing receiver the entire year.
Changing offensive coordinators after just one full season would not serve purpose in the current situation. Laying the foundation can be labeled as a rebuild, right?
Robert Morris has six home games on the docket for next season. Six Saturday's the student body has something to come out and enjoy, according to Banaszak. Some could be night games, and with a better product on the field for the fans to watch, he believes the student body and RMU community will be back on board.
Year one of the Banaszak era was certainly a dark time, though not because the sun was setting over Joe Walton Stadium and the program. It's only just begun to rise.
About the Contributors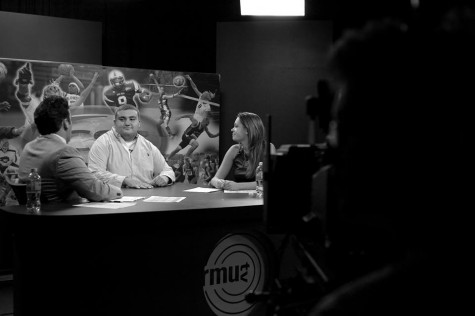 Chris Mueller, Sports Reporter
Chris is a junior Communications major at RMU with an applied concentration in journalism. He is Sports Editor for RMU Sentry Media.  As current Sports...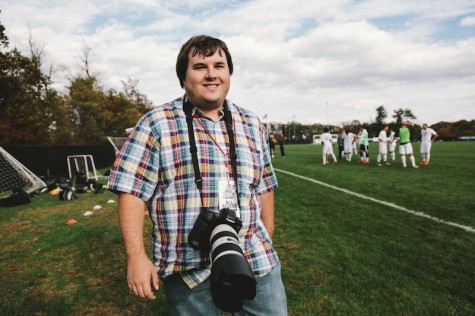 Kyle Gorcey, Freelance Sports Photographer
Kyle is a senior Communications major with a concentration in journalism at Robert Morris University who is a writer and sports photographer for The Sentry. The...