Brett, Robert Morris rout George Washington in battle of the Colonials
On an unseasonably cold Sunday afternoon in Moon Township, the Robert Morris Colonials (5-5-1) defeated the George Washington Colonials (4-5-0) 4-0 in both squads' final non-conference game.
Early on in the contest it was George Washington, who were visiting Robert Morris for the first time since 1992, in complete control. GW momentum early led to a golden opportunity in the 21st minute as a handball was called in the RMU penalty area, resulting in a penalty shot for the visiting Colonials.
However, RMU goalkeeper Brenden Alfery stood tall in net and made a great save on what was a poorly taken penalty from GW's Angel Valencia.
For Alfery, in his first season in net for RMU after transferring from Grove City, it was a last moment tell-tale sign from Valencia  that helped him stonewall the penalty shot.
"It was definitely easier then I thought," he said. "[Valencia] started walking up straight towards me and I saw his hip open up at the last second again like the first one (against Hartwick) and I figured it was just going to go. But then it took that nice hop off the ground and I almost over dove it and it just rolled into my chest and it was really nice."
Following Alfery's second penalty save of the season, the RMU offense started to get into gear and finished the second half with a very strong final ten minutes of play. Going into halftime, the usually very vocal RMU head coach Bill Denniston decided to send a different message to his team at intermission.
"No yelling or screaming at halftime," Denniston said. "I just talked about how disappointing it is after such great practices and obviously they woke."
Robert Morris heard their coach's message, and it was forward Neco Brett who busted the gates open six minutes into the second half with an incredible 18 yard chip that found its way over George Washington goalkeeper Jean-Pierre van der Merwe into the net for Brett's ninth goal on the season.
Six minutes later, Brett once again found the back of the net on a highlight reel goal. Van der Merwe, who was playing as a sweeper keeper, hesitated and Brett caught him out of position. Brett was running down the right wing about 35 yards from goal, and with the wind at his back, let go a perfect shot that beat van der Merwe into the net, easily his finest goal of his career at RMU.
Brett finished with four goals on the day, just one short of the RMU record for most goals in a game set by Troy Fabiano in 1993.
"I was watching him (van der Merwe) in the first half and he was always off his line," said Brett. "So I said I'll have something for him in the second half."
Brett's four goal performance, and 12th goal of the year, has tied  him with Pat Flynn of Bowling Green for the NCAA lead.
Robert Morris will start NEC conference play this weekend with a two game road trip, starting at Bryant on Friday followed by a visit to the Fairleigh Dickinson Knight on Sunday afternoon.
About the Writer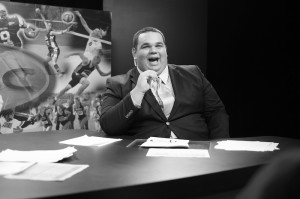 Dante Verme, Talent
A senior Communications with Applied Journalism major at Robert Morris University, Dante is an anchor for RMU's Colonial Sports Center. In addition to...