Browning excelling on the links for RMU men's golf team
After graduating from West Allegheny Senior High School in 2012, Garrett Browning had the opportunity to golf at various collegiate programs, but ultimately chose Robert Morris for its academics over athletics.
"It [RMU] is a good business school, which is my major and that was a deciding factor. My parents were real big on academics and that helped me make my decision," said Browning, whose high school sits nine miles south of the entrance to campus. "It doesn't bother me that I'm so close to home. I had some other opportunities to go places, but I thought this was the best fit, so here I am."
Browning, a sophomore, finished his freshman campaign with a 79.4 average and recorded three top 20 finishes in seven tournaments last year. This season however, he has stepped into a leadership role for a Robert Morris club that lacks senior experience.
"I try to set a good example since we have a pretty young team. We have a couple of young guys who are looking to contribute," said Browing, who also played varsity basketball at West Allegheny. "I've played competitive golf since I was little, so it's kind of an experience factor to set an example for everyone and we're just kind of working together."
RMU head coach Jerry Stone liked what he saw from Browning in high school and ultimately offered him a scholarship.
"I've known Garrett for a long time, being from the same area I saw him grow up, as a five, six, seven year old kid playing golf, I've known his family quite a while, and it doesn't help that he won the state championship two years in a row in high school," said the 12th year skipper. "He's a great player and I thought it was a good fit for the university and also a great fit for the team. He was a kid I wanted."
The local product admits that having a successful career at West Allegheny has enabled him to carry his experiences over to the collegiate game.
"I was always looked to as a leader because the competition at high school is a little bit lower and I helped the younger kids try to get better," he said. "Obviously being successful in high school carries over a little bit of confidence, but I'm in college and I know I could play with these guys."
"He works hard, he continues to work to get better, strives to get better, and hopefully that rubs off onto the younger kids and even some of the older guys on the team as well," said Stone, the Northeast Conference's Men's Coach of the Year for the 2009-10 season. "He wants to be number one, that's important to him and that would be nice for us as well."
In the Colonial Classic, RMU's only home match of the season, Browning captured the tournament crown, knocking off Saint Francis's Shane Crampton in a playoff round by shooting one-under par.
Although Browning has accomplished his ambition of golfing at the Division I level, he believes that his work on the links for Robert Morris isn't done yet.
"When I was in high school I was just trying to get to the next level. That was the goal, and it's nice [to see the hard work pay off]," he said. "We had a tough year last year, we didn't really play well as a team. It's a tough game and it will beat you up if you let it."
About the Contributors
Nick Buzzelli, Sports Editor
Nick is a senior communication major with a concentration in journalism at Robert Morris University and is the Editor-in-Chief of RMU Sentry Media.

In...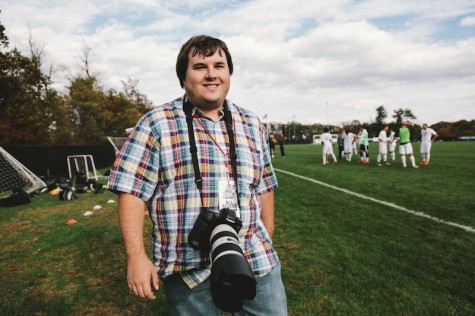 Kyle Gorcey, Freelance Sports Photographer
Kyle is a senior Communications major with a concentration in journalism at Robert Morris University who is a writer and sports photographer for The Sentry. The...