Colonial Talk: Breaking down RMU's OT thriller in Rochester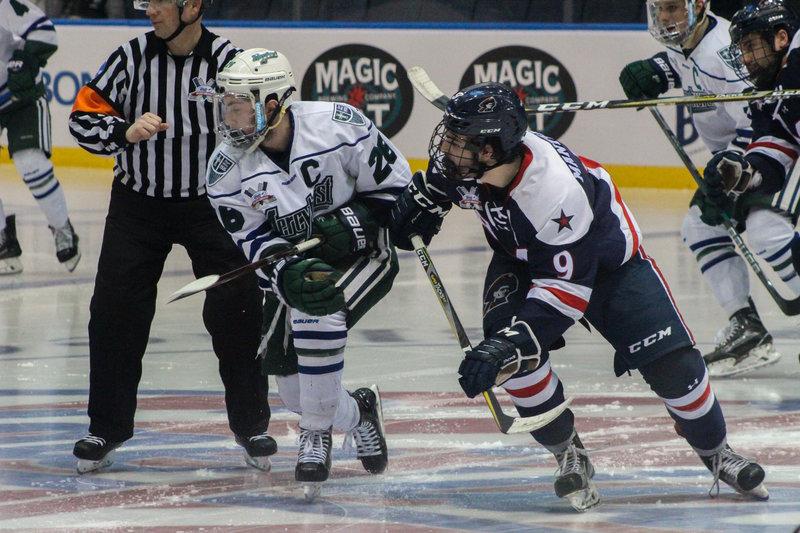 Samuel Anthony
March 16, 2018
It was a game that kept everyone on their toes. The action only increasing as the clock continued to wind down. In the end, The Robert Morris Colonials walked away with a 5-4 overtime victory over the Mercyhurst Lakers off the stick of Michael Louria. Here's a breakdown of the keys to how RMU has found themselves in the Atlantic Hockey Championship.
The Brady Ferguson show: Brady Ferguson continued to prove today why he is the most valuable player on this RMU team. Ferguson started with his power play goal to even things up for the Colonials but went one step further to give them the lead going into the game's final period with his second.
But that wasn't even the best part.
Finding themselves down 4-3 with 44 seconds left in the game and potentially in his career as a Colonial, Ferguson put in perhaps one of the greatest goals of his career in terms of significance, the game-tying goal to keep RMU's season alive. Without Ferguson, Louria doesn't even have a chance to score his game-winner.
The team is now 9-1-0 in the past 2 seasons when Ferguson scores three or more points.
Power play magic: Again, all of this sort of circles back to Brady Ferguson. With his first and final goals being power play goals, RMU finished the day 2-for-5 on power play opportunities. This was in part to the really great puck movement RMU had on those opportunities, creating many open shots and a lot of chaos around the crease.
And in the end, those power play goals off the mistakes of the Lakers were what made the difference in an incredibly tightly contested game.
The struggles of Francis Marotte: Alright, this title may be a little misleading, Marotte did make some absolutely incredible saves in this game. But the ones he didn't make, left a lot to be desired. Three of the four goals let in by Marotte were some that really could have been stopped. Between his inability to control rebounds and use his glove, Marotte saw a knucking puck sail past him, a goal bounce off his shoulder pads, and a missed puck leading to a wide open net for the Lakers. Those mistakes could cost RMU in the championship game.
Here comes our savior Michael Louria: The transfer from UMass-Lowell has been a player who has been consistent for the Colonials but hasn't quite met the expectations of filling the scoring void left by Daniel Leavens last season. But man, did Louria pick the right time to put one in the back of the net. This goal was certainly the most important score of the season for the Colonials and it was a truly great moment for Louria who just barely remained onside to make the great move and keep the Colonials in Rochester for just one more day.