Colonials and Irish set for St. Patrick's Day battle
Robert Morris (22-10) is set to battle the number one ranked team in the Lexington Bracket, the Notre Dame Fighting Irish (30-3) in South Bend, Ind. this Friday, March 17, 2017, in the first round of the NCAA Basketball Women's Tournament.
The NEC champions, the Colonials and ACC champions, the Fighting Irish have previously met in 2014 in the NCAA Tournament. It was not the outcome the Colonials were looking for in a 93-42 defeat.
A freshman at the time, guard Anna-Niki Stamolamprou led the Colonials with 12 points. Fellow freshman Rebeca Navarro finished second in scoring for Robert Morris with 9 points. Senior sensation, Artemis Spanou led the Colonials with 6 rebounds.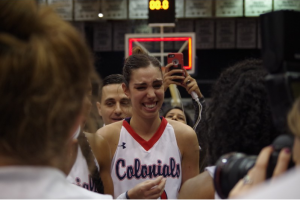 However, three seasons later, RMU is a different team. Back in 2014, the team leaned on Spanou. This season's team does see a large impact from their NEC Player of Year, Anna-Niki Stamolamprou's long-range shot and offensive play, but she's far from the only player that contributes to the Colonials' success.
Robert Morris will come into this game with three seniors, Stamolamprou, Navarro and potentially Janee Brown who is nursing an ankle injury. But Robert Morris doesn't just rely on the seniors to take charge and do everything on the court. RMU has seen a lot of their successes come from the depth of their lineup.
Junior forward Megan Smith has put up great numbers this season, averaging 10.8 points per game and holds second place on the team with a 48 percent field goal shooting percentage and first on the team shooting 49 percent from beyond the three-point arc.
Fellow classmate, Mikalah Mulrian, leads the team with a field goal shooting percentage of 54.1 percent. Junior guard Shakema Dashiell comes off of the bench and bullies her opponents on the perimeter. Dashiell is currently shooting 32 percent from the field and 36 percent from downtown.
Robert Morris has also gotten stellar play from freshman Nneka Ezeigbo in her first year in the program. Eziegbo has averaged 6.9 points per game and holds a 48 percent shooting percentage from the field, primarily in the paint.
Robert Morris has their fair share of scorers but Notre Dame has its own go-to scorers.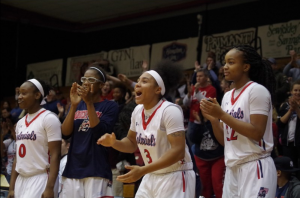 The Fighting Irish have three players who have scored over 400-points this season and all three of those players average at least 14-points a game.
Junior forward Brianna Turner has totaled 514 points and averages 15.6 points per game, Sophomore guard Arike Ogunbowale has scored 498 points with an average of 15.1 points per game and sophomore guard Marina Mabrey so far has totaled 470 points, averaging 14.2 points a contest.
Both teams have their offensive threats, but for Robert Morris, defense has been a huge part of head coach Charlie Buscaglia's success in his first year at the helm.
After Sunday's NEC tournament Championship Game, Buscaglia emphasized his team's defense and how its defensive play keeps them in games when the offense is struggling.
"We've had games where we've really set the tone defensively and that's when we're at our best," Buscaglia said.
"
We've had games where we've really set the tone defensively and that's when we're at our best,"
— Charlie Buscaglia
RMU has a strong defensive presence on the perimeter with Stamolmprou, Navarro and Brown to shut down Ogunbowale, who leads the Irish in three-point shooting with 56 long-range buckets, shooting 45.2 percent from beyond the arc.
However, if the Fighting Irish do not have anything going along the perimeter and have to go inside, the Colonials have Mulrain and Ezeigbo who have done a good job all season off shutting down the opposing team's offense in the paint. Mulrain has 31 total blocks and 70 defensive rebounds. Ezeigbo also has good numbers defensively with 24 blocks and 93 defensive rebounds. Additionally, Stamolamprou who has 158 total defensive rebounds and Megan Smith with her 110 defensive corrals can wreak havoc on this Notre Dame team down low. Especially if its shots don't fall early.
RMU's non-conference schedule this season consisted of only two games against top-major schools. The Colonials suffered a 75-59 defeat at Vanderbilt and were defeated 81-60 by Iowa. Vanderbilt finished 4-12 in SEC play and Iowa completed their season an even 8-8 against conference opponents.
In terms of records, it looks like the Fighting Irish will run away with this contest but when you consider the Colonials leadership and mental toughness, it could be difficult for the number one seed in this game to break the Colonials.