Women's basketball rolls into NEC championship game
The Robert Morris Colonials are one game away from their second consecutive NEC title after their 70-62 win over the #6 seeded Central Connecticut State Blue Devils.
The last time RMU faced off with CCSU, it walked away with a blowout 62-39 victory.
After Sunday's runaway 62-48 win over Fairleigh Dickinson, this game started off much differently for Robert Morris.
The offense struggled to find a rhythm with a slew of missed shots. The typically consistent players like Anna-Niki Stamolamprou and Rebecca Navarro appeared to be forcing shots and nothing was falling. Meanwhile, Central Connecticut shooters like Andi Lydon were finding open looks in what is traditionally very stout RMU man defense.
Head coach Charlie Buscaglia would confer with his team after squeaking out a 16-15 lead through one-quarter with his team shooting a mere 7-for-18 from the floor and just 1-for-5 from three-point range. The offense was going to need to step it up.
The senior guard Navarro seemed to continue her ice cold shooting through the postseason thus far, going 1-for-4 to start including an air ball that sailed wide right of the net, as the ball rolled towards the exit of the Charles L. Sewall Center.
Central Connecticut's offense continued its torrent pace with two quick baskets to start the second, giving them the early 19-16 lead.
But once again the story line remains the same it has all season.
This team starts and finishes with the incredible play of Stamolamprou.
After a sluggish 2-for-6 start in the first quarter, the NEC player of the year put up five quick points and along with some tough physical baskets from Freshman Nneka Ezeigbo, the Colonials saw their lead extend to six.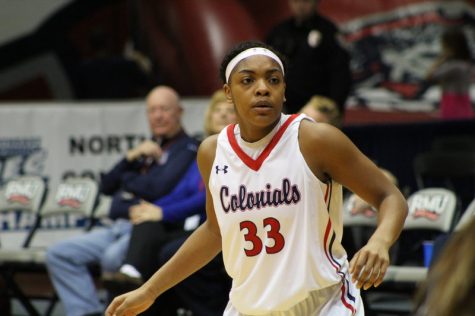 Both Ezeigbo and Stamolamprou would lead the team scoring going into the half with nine points each as the Colonials heard the halftime buzzer sound with a 33-29 lead.
In the second half, RMU's defense was back in form and not letting anything get past them. The Colonials took advantage of Senior guard Aleah Epps' absence due to foul trouble and absolutely shut down everything the Blue Devils were pulling out of their playbook.
Robert Morris forced Central Connecticut into six turnovers in a span of four minutes in the third quarter, allowing the Colonials to extend their lead to double digits for the first time with a 47-37 lead.
"I got after them a little bit [at halftime] because I thought we were not playing the kind of defense we could play," said Buscaglia. "We had to start getting in there and start getting stops."
Blue Devils senior Giocelis Reynoso, who had a combined five turnovers in CCSU's two matchups versus RMU this season had already brought her total up to six turnovers on the night as the frustration for CCSU mounted.
On the offensive side of the ball the story remained constant, Stamolamprou and Ezeigbo continued to be a force, by the end of the third, both players bringing their point total up to 14 with Ezeigbo also bringing down four offensive boards.
Robert Morris was sitting much more comfortably going into the fourth quarter with a 53-40 lead and the NEC title game in sight.
But the Blue Devils were not about to let that happen so easily. A high-pressure defense forced sloppy RMU turnovers as the Colonials had a hard time even getting the ball past half court on some possessions.
Stamolamprou could be seen pleading with the referees for any sort of call that could go their way while Ezeigbo slammed the floor in anger after failing to pick up an offensive rebound.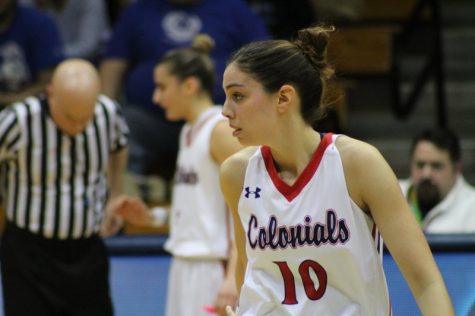 Despite the 13-point lead to start the fourth, it certainly did not feel that way after an Andi Lydon three brought the score to 53-45 with seven minutes still left in regulation.
"We were having some mis-communications," said Robert Morris head coach Buscaglia. "They were getting too comfortable and we needed to turn it up a little bit."
The Blue Devils would get as close as five points of a totally different ball game, but it was Robert Morris who held tough down the stretch to end the night with a 70-62 win and an NEC championship match-up against the Bryant Bulldogs at home on Sunday.
Ezeigbo may have been the player of the game for RMU, leading the scoring with 18 points along with 5 rebounds and 2 steals. While not far behind was an always steady Stamolamprou with 15 points 5 rebounds and 2 steals of her own.
The Blue Devils gave RMU everything it could have bargained for in this tightly contested semifinal match-up. But again the number one seed emerges victorious to fight another day.
"This team keeps overcoming adversity and it's been a joy to watch and I am very proud," said coach Buscaglia.
[Best_Wordpress_Gallery id="146″ gal_title="Womens Basketball: NEC Semifinals"]