Colonials extend winning streak against Duquesne with 91-69 rout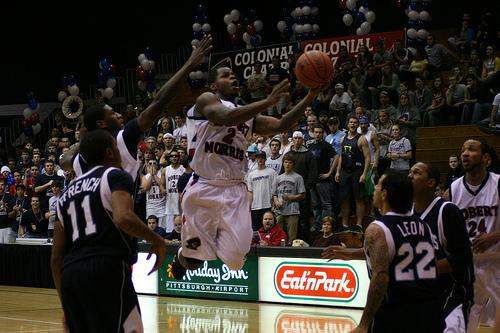 The last time Duquesne skipper Jim Ferry coached inside the friendly confines of the Charles L. Sewall Center, his Long Island Blackbirds suffered a 75-66 setback against Robert Morris. Although he came into Saturday night's contest with a new program, the ending result was the same.
Redshirt senior Velton Jones netted 22 tallies, including a perfect 6-6 performance from the charity stripe, and guard Coron Williams added 16 points en route to RMU's third consecutive triumph over its crosstown rival.
"It means a lot to beat these guys three times in a row," said Jones, who also dished out six assists. "For me to be able to beat Duquesne three times out of my four years here is an accomplishment that I'll definitely be proud of when I get older."
The Dukes jumped to an early 4-0 advantage courtesy of Andre Marhold's dunk at the 18:51 mark and held a lead for much of the first half, until Lucky Jones connected on a layup late in the period, which gave RMU a one point advantage heading into the break.
Despite holding a slim lead at halftime, Robert Morris head coach Andy Toole stressed the importance of sustaining energy for the remainder of the contest.
"At half time we talked about not relaxing at all because in the first half, a couple of our rotations were a little bit slow and we talked about making sure we were back every single time and playing with all-out effort," Toole said. "Obviously it helped that we scored as many points in the second half as we usually do in an entire game, but it was a product of us really moving the basketball."
After using an 11 point run to start the last 20 minutes of play, the Colonials were able to pull away from DU, and racked up 60 points in the final frame.
Every RMU player contributed to the victory, including fan favorite Treadwell Lewis, who served up an assist on Vaughn Morgan's dunk with 29 seconds remaining in the game.
"It was a very good pass by Treadwell. We actually thought he was going to shoot," said Jones with chuckle. "I was actually surprised that he passed it, but it was a great pass by him and a great finish by Vaughn."
Ferry said that his club's 25 turnovers killed their momentum and allowed RMU to take control of the contest.
"The game came down to turnovers. We played well for the first ten minutes, but Robert Morris absolutely dominated this basketball game," he said. "They started the second half with a sense of urgency and you have to give those guys credit. I've had success against Robert Morris, but we just turned the ball over too much."
Williams, who chalked up 14 of his 16 tallies in the second half, believes that the Colonials had better scoring opportunities in the final frame.
"In the first half, we missed shots that we usually make. We struggled to take great shots, but in the second half, we moved the ball and were able to make our shots," said the native of Midlothian, Virginia.
Although Toole believes that the Colonials' December 1 victory against Ohio University will generate more notoriety throughout the college basketball world, he said that, in Western Pennsylvania, knocking off Duquesne three consecutive years is a tremendous achievement.
"I told our guys that it's the first time that it has been done in school history, and although it means nothing to them right now, at some point in the future, it's an accomplishment that they will be really proud of," he added.
The Colonials begin a two game road trip Tuesday night against Louisiana-Lafayette and Arkansas respectively before beginning Northeast Conference play on January 3 versus Bryant.