Colonials fall to Lakers, focus on playoffs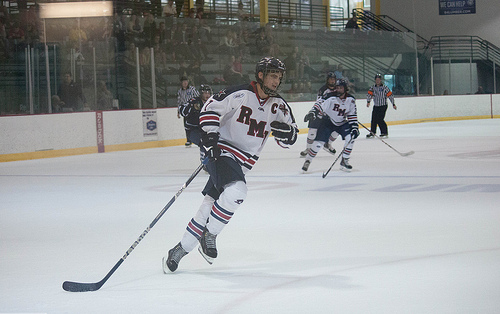 After skating to a 5-5 overtime tie against Mercyhurst last night, the RMU men's ice hockey team was looking to be victorious on senior night.
But the Lakers had other plans, defeating RMU, 5-2, Saturday night at the Island Sports Center.
Quite opposite from the night before, the opening 20 minutes of play were scoreless. The teams seemed to be at a stalemate as neither could maintain control of their offensive zone. RMU would have the shot advantage with 11, while the Lakers would collect seven.
"They're just a physical team and they're a fast team, too. They're highly skilled," said assistant captain Cody Wydo of Mercyhurst's play. "Their D played well in their zone. They pack the house in, too, so it's hard to get chances on them."
Mercyhurst would chalk up the first two goals of the night in the second period. At the 6:17 mark, Kyle Just would tally a shorthanded goal after the puck bounced off of Terry Shafer's side into a wide open net. A short while later at 7:51, Daniel Patrick would send the puck over to Daniel O'Donoghue who was waiting at the post to send it in on a power play.
RMU would make their mark a little over halfway through the middle frame as captain Colin South would deflect a shot from Jeff Jones for the first Colonial goal. South would have sophomore David Friedmann back on his line tonight, who was suspended for last night's game.
"I played with Daniel Leavens last night. He's really skilled and he's going to be a great player for us in the future," noted the senior.
"But I find that Frieds, Jeff Jones, and myself had some pretty good chemistry, so to get him back, I thought we were able to contribute a little bit more offensively. We had some sustained pressure in their zone and you really can't discount his importance to our team," he continued.
Mercyhurst's O'Donoghue would strike again, this time from the outer edge of the faceoff circle on a power play to pull the Lakers ahead to three to one.
The Colonial's only goal of the third period would come courtesy of Cody Wydo, who received a pass from Zac Lynch and sent it straight to the net. The forward's goal would bump him up to the number one slot in terms of season goal, setting him ahead of Chris Margott and Ryan Cruthers.
Mercyhurst would score two more goals in the remainder of the game, one from Nardo Nagtzaam and one from Trent Frey.
This year's senior class was honored at tonight's senior night game. The class of 2014 is an accomplished one, setting a program record for winningest class with 66 wins.
"We've done a lot of good things. They made sure that they do everything the right way," said head coach Derek Schooley of the graduating class. "They brought this team back from somewhat of the dead and now we've got to go into the playoffs."
Tonight's loss eliminated the team's chance for an Atlantic Hockey playoff first round bye, but to South, that isn't necessarily a problem.
"[We] would've loved the week off, but I love playing hockey so one more week's not a terrible thing," said the forward.
Next week, the Colonials are set to face Army at home.
"Not getting the bye is pretty upsetting, but we've just got to be ready for their hard work," said Wydo.  "They play really hard. They're physical, they're tough, we've just got to come out ready to play. We can't take anything off for them."
About the Contributor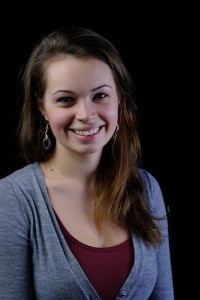 Haley Sawyer, Assistant Sports Editor
Haley is a junior communication major with a concentration in journalism.  She is involved in both print and broadcast journalism at the Academic Media...