Colonials fall to Quinnipiac, now 0-4 in NEC play
The RMU men's soccer team lost its fourth straight contest on Sunday, falling to Quinnipiac by a 2-1 final. The Colonials are now winless in Northeast Conference play, and have only six more games remaining on the schedule.
Prince Samuels scored the lone goal for RMU just eight minutes into the match. The Bobcats converted the equalizer in the 41st minute, and the game remained tied at one headed into the half.
Quinnipiac capitalized on a penalty kick in the 79th minute, which proved to be the game winner.
"We had plenty of chances to win the game and didn't," said head coach Bill Denniston. "They got a penalty kick which was ridiculous, and we lost again; very frustrating."
"After we scored the first goal, our effort level dropped a little unfortunately and we allowed Quinnipiac to get back into the game," said junior defender Sam Colosimo. "They also got a generous penalty kick in my opinion, so despite our effort we were a bit unlucky."
"Unfortunately, luck wasn't on our side and we came out on the losing end," said junior goalkeeper Toba Bolaji. "Nonetheless, we did put in the effort to win."
Moving forward, the Colonials now have to start winning games to have a chance to reach the NEC tournament in November, and their leader offered up some encouraging words after Sunday's defeat.
"After the game, I told the story of the CCSU team in '07," said Denniston. "They had one point in their first four games, and the day they played us we helped them turn it around. We were winning 1-0 at halftime and shouldn't have been, and they ended up beating us that day 2-1. They won five in a row after that and went to the Final 16.
"We certainly have the ability, the soccer gods just aren't on our team right now," Bolaji shed some light on the mood of the team after their fourth loss in as many games.
"You can imagine that no one is happy that we have started 0-4 in conference," said the Vaughn, Ontario native. "At the same time, we try to keep a positive environment because being negative will not help us. It is very tough, but it requires everyone to put their egos away and come together as a team."
Coming together will become an essential element for the squad with only a handful of regular season matches remaining.
"I think we as players need to dig deeper and find a way to be winners; we need heart and we need to believe," said Colosimo. "Everything that can be said to motivate us has been said, we just aren't getting it through our heads for whatever reason. And there's nothing Coach Denniston can do about it; it's on us."
Notes:
The Colonials head to the Big Apple this weekend to face St. Francis (NY) and Long Island, before returning home on October 21st as they meet Bryant to kick off their final home stand of the campaign.
About the Writer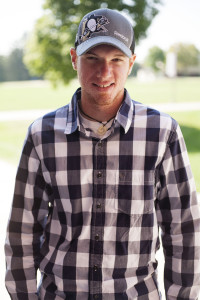 Brooks Bratten, Staff Writer
Brooks is a senior communication major with a concentration in sports journalism. He is currently the lead anchor on RMU-TV's Colonial SportsCenter (CSC),...