Colonials hang tough, knock off CCSU for first win of Banaszak era
Who would've thought it'd take almost eight weeks for John Banaszak to be celebrating win number one as head coach of Robert Morris?
After the Colonials erased an 18-point deficit to defeat Central Connecticut State (2-5, 0-2) 27-24 at home on Saturday, the timing of Banaszak's first win was heavily overshadowed by how it was accomplished—through a gutty, complete team performance.
"Obviously, the emotion was very high. Even in the first half, we came out and did some good things but again fell behind," Banaszak said after the win. "Boy, it sure was nice to see these kids fight all the way back and pull it out in the end."
Robert Morris (1-6, 1-1) was down 24-to-9 to begin the fourth quarter, but opened the final frame with a 16 play, 91 yard drive that ended on a 25-yard strike from quarterback Derik Abbott to Nic Lamica. The touchdown came with 12 minutes remaining.
After the defense forced CCSU to another three-and-out, Robert Morris then marched all the way to the CCSU six yard-line, but after three straight runs were stuffed at the goal line, Banaszak sent his field goal unit out with under six minutes to go.
"We're fourth and five, and I've got to kick the field goal there and put points on the board. If we come out of that empty, I didn't think we'd have a shot so I kicked the field goal. We had a great kickoff, held them down to the 14, and get the ball back on the fumble," said Banaszak. "The ball bounced our way today, and it's about time."
The fumble came on a sack-and-strip from defensive end Forrest Mason, which he also recovered. The Colonials took over inside the CCSU 15 yard-line. Mason and fellow defensive end Ryan Lewis had wreaked havoc all day.
"We were in nickel. We had all of our fast guys on the field," said Lewis. "Our coaches just said to blow them up. I put [CCSU offensive lineman] into the quarterback's lap, and that was the play right there."
Mason's turnover set up the game-winning score, an 11-yard slant to senior Duane Mitchell with 03:49 left to play. The two-point conversion made it 27-24, defensive back David Taylor intercepted CCSU on the next drive to get the ball back.
After the offense stalled, Tony Lamancusa's punt was blocked, giving the Blue Devils the ball back at the RMU 21 yard-line with potential to steal the game.
But on CCSU's final possession, four false starts killed any chance of a comeback and the win was sealed.
"It had to be the energy in the stadium," Lewis said. "It had to be. They couldn't hear each other. He was snapping the ball when the quarterback didn't say 'hut' yet. It had to be the energy in the stadium. Our Colonial fans came out today and it was great."
The Robert Morris offense put up the most points it has all season, thanks in large part to 113 yards on 32 carries from fullback Ryan Thermil, a career high. The senior was forced to carry the load after tailback Rameses Owens exited the game in the third quarter with a knee injury.
"I had so much comfort, the most comfort I've ever had on the field. Even times when I was hurting, I knew [Derik Abbott] was always keeping me up. All the guys, [Duane Mitchell] was always keeping me up," he said. "Just to step into that role and do that for my teammates was an awesome opportunity."
Abbott finished 18-of-28 for 215 yards with the two touchdowns. He showed a lot of improvement from his previous two outings, and was extremely calm in several high-pressure situations. Lamica led all receivers with eight receptions for 112 yards, but the biggest impact at the position came from someone unlikely.
Junior Luke Centofanti caught five passes for 62 yards, including a pair of big receptions in the second half that extended Robert Morris drives. He started at slot in place of an injured Sean Gavin, and made the most of his opportunity.
"I feel like we really clicked," he said. "We really started playing like we're brothers out there, like we're all family, which we needed to all year. [The team] helping me out in my first start, so you know I'm nervous, they made me feel like there was nothing to worry about and I could just play. They were behind me all the way."
Linebacker Mike Stojkovic led all RMU defenders with nine tackles, and played a big part in containing CCSU running back Rob Hollomon. Hollomon finished with 164 yards and two touchdowns, but didn't find the endzone in the second half.
Robert Morris now heads to Rhode Island next weekend for a matchup with Bryant. Kickoff is set for 1 p.m.
About the Contributors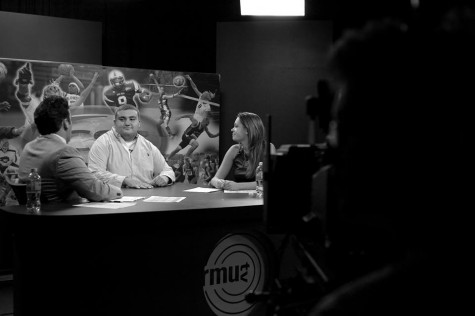 Chris Mueller, Sports Reporter
Chris is a junior Communications major at RMU with an applied concentration in journalism. He is Sports Editor for RMU Sentry Media.  As current Sports...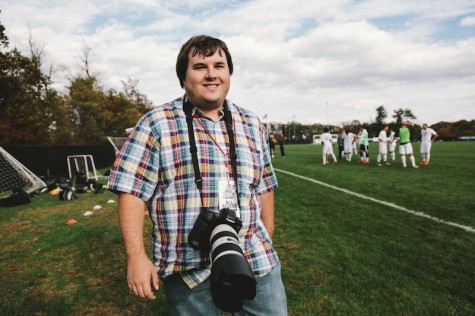 Kyle Gorcey, Freelance Sports Photographer
Kyle is a senior Communications major with a concentration in journalism at Robert Morris University who is a writer and sports photographer for The Sentry. The...