Colonials hold off Lake Superior State in home opener
The Robert Morris men's hockey team (1-0-0) began its Atlantic Hockey title defense Friday night with a non-conference matchup against Lake Superior State (0-1-0).
The Colonials started the night off hot as the first line trio of Cody Wydo, Scott Jacklin and Zac Lynch teamed up to score the first goal of the season. Jacklin was able to get the puck pass Lake Superior's goaltender Gordan Defiel.
Four minutes following Jacklin's goal, Greg Gibson blasted a shot from behind the red line that somehow found its way past Defiel to give RMU an early 2-0 lead.
Both teams had trouble staying out of the box, combining for eight total penalties in the match. The Lakers made Robert Morris pay in the first period when Andrew Dommett struck on the power play after a gorgeous tic-tac-toe set up by Ian Miller and James Roll.
It left Dommett wide open on the back door and RMU goalie Terry Shafer out of position.
The second period saw no goals, but a lot of offensive possession from both sides.
For Shafer, who was playing in his first game since being sidelined by injury in game three of the Colonials first round AHA matchup against Army last season, there was a lot of positives to take away from the win.
"We really battled hard out their today, in the first real game of the season," he said. Definitely some areas we got to clean up, but all in all you can't fault our teams effort. We went out there we went out there and gave 110% the whole way though. So that's something to hang our hats on."
Robert Morris head coach Derek Schooley had high praises for the junior goaltender.
"I can't say enough about how good Terry Shafer was in the second period," he said. "I thought Terry was outstanding tonight."
Late in the third period, Ben Robillard converted on a top shelf shot to make it a 3-1 lead and seal Robert Morris's first opening game victory since 2010. For Shafer, it was his first opening day victory as a Colonial.
"To come away with a win for the first time since I've been here is big for us," he said.
"This is a new season, new team and new work ethic. We just have to make sure that we can't be satisfied, we have to be greedy. We have to make sure we go after it tomorrow," said Schooley. "Because if we don't, this (LSSU) is a hockey team that's hungry, they're a bunch of freshman that work hard, and there schedule gets extremely difficult as they move on. So I expect they'll be hungry to get a win in Pittsburgh before they get into a very difficult stretch of their schedule."
Robert Morris concludes their two game series with Lake Superior State tomorrow evening. Dalton Izyk will start in net. Puck drop is at 7:00 PM at the 84 Lumber Arena
About the Contributor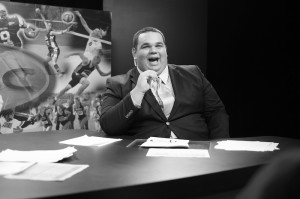 Dante Verme, Talent
A senior Communications with Applied Journalism major at Robert Morris University, Dante is an anchor for RMU's Colonial Sports Center. In addition to...