Colonials keep their head in the game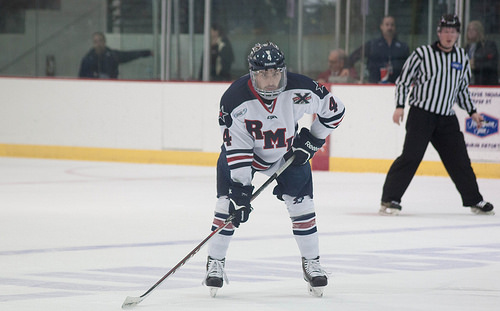 A team can practice day in and day out. Drills after drills can be completed. X's and O's can be drawn. There is one element, however, that cannot be sharpened with mere instruction.
Mentality.
Going up against a number one seed can seem daunting, but without the right frame of mind, the game can be over before the clock even begins to tick.
No one knows this better than the RMU men's hockey team. They've achieved underdog status, which can be an advantage or a hindrance. While the Golden Gophers are well-acquainted with the NCAA tournament, the Colonials are just being introduced.
One mental advantage that RMU has is the fact that they have played on NHL ice before. In the Three Rivers Classic, the team skated on Consol Energy Center ice, a stage that is by no means small. (CHANGE THIS) Although the physical venue itself should be no challenge, the atmosphere might prove to be. The Gopher nation is strong.
To deal with such challenges, the Colonials' captains and seniors will have to hold things down for the team.
"Colin [South]'s been very consistent with his message with the team and with the staff. I give a lot of credit to our seniors—Evan Renwick, Andrew Blazek, our captains in [Colin South]—our assistant captain in Cody [Wydo] and even our junior upperclassmen to really keep this together," noted head coach Derek Schooley.
"Our leadership has been outstanding. It could have been really easy to waver and shift and go off on your own page and question things, but they stuck with the plan and the process and it's got us to where we are right now," he continued.
Another obstacle for the team is that this is the first time they will ever face off against Minnesota. Film can be studied and research can be completed, but realistically, a team's playing style and capabilities cannot be completely understood until skating against them.
"We exchanged video, so we have their last couple games. We've been able to watch, break them down. You look at what they've been able to do the second half of the season. They've won 17 games. They've scored a ton of goals here this second half of the year," said Minnesota head coach Don Lucia.
"They certainly had to play their way into the Tournament by winning six playoff games in the league. One thing that we've seen over the years is that whoever has come out of that league has played awfully well," added Lucia.
And of course, the title of Atlantic Hockey champions is something that the team is still riding high off of. There is newfound confidence within the team that can give them some needed confidence.
"Earlier we had a mentality going into games that we were playing not to lose games," said South. "Now we have the expectation going into games, no matter who we're playing, that we're going to win that game, we want to win that game."
Although the confidence of being tournament champions can be a help, the Colonials need to focus on today.
"Winning the championship put a huge boost of confidence into our team, especially the way we started off, but that's all behind us now," concurred Wydo. "Even though we won a championship, we have to put that all behind us and just focus on Minnesota and coming in confident against them and just play the best that we can play."