Colonials preserve perfect conference record in win over Wagner
Kavon Stewart celebrated his 20th birthday on Saturday at the Charles L. Sewall Center and his team delivered the best gift of all.
A victory.
Stewart, who was 10 of 12 from the charity stripe, helped ice the contest for Robert Morris by draining two free throws with 13 seconds remaining to give the Colonials a 74-70 win over Wagner and a 6-0 start in Northeast Conference play, the best mark in team history.
"He hasn't been a very confident, consistent free throw shooter. He just hasn't had much confidence at the free throw line, but you seen it today, he just played free, even at the line," said Karvel Anderson. "He told us before he walked to the line that he was going to make them. You don't hear that out of him much. I feel like we've seen him maturing. He's growing up a little bit."
The Seahawks, who were the preseason favorite to win the NEC title, and the Colonials, who were tabbed to finish second in the coaches poll, were evenly matched during the duration of the game.
Both teams complemented each other shot-for-shot, but a layup by Wagner's Mario Moody, a second cousin to RMU forward Lucky Jones, cut the Colonials' lead to two heading into halftime.
But a Latif Rivers trey 26 seconds into the second half gave the Seahawks a one point advantage.
It took nearly ten minutes until Robert Morris pulled ahead, courtesy of a three pointer by Anthony Myers-Pate. Wagner would never regain the lead.
However the Colonials, who held a six point advantage at the 7:36 mark, let their lead evaporate down to one, before Stewart was fouled on the ensuing inbound.
Though with eight seconds left, Wagner had an opportunity to knot the score up at 73, but Kenny Ortiz's shot from beyond the arc caromed off the rim and right into the hands of Aaron Tate.
Tate, a transfer from Dodge City Community College, was fouled with five seconds remaining and missed the first free throw before sinking the second one thanks to a lucky roll.
"That was my first time being in a position like that, shooting big free throws," Tate said. "But I'm just glad that the second one bounced in and gave us a four point lead to close the game."
Andy Toole was pleased with the energy his team exerted against the Seahawks.
"I thought both teams played incredibly hard, I thought both teams executed at times really well," the fourth year head coach said. "The emotions and the intensity that was in the game was terrific and our guys, the last seven minutes or so, were talking about how much fun it was to be out there competing and I'm really proud of the effort that they gave."
Anderson concurred.
"This one meant a lot to us. Coming in, they were the preseason favorites, to be number one, it's a good statement for us," said Anderson, who led RMU with 21 tallies. "I'm just proud of the fact that we fought and we stayed together through all the adversity because it was a lot of it throughout the game and we were fortunate to come out on top of it."
Despite having a bench that only consisted of three players, Myers-Pate believes that he is closer to his teammates as a result.
"I think it [having eight players] has brought us together tremendously. We know what was going on on campus and us losing our players," he said. "We just stick together, with the eight guys we got, we're going to go to war no matter what."
About the Contributors
Nick Buzzelli, Sports Editor
Nick is a senior communication major with a concentration in journalism at Robert Morris University and is the Editor-in-Chief of RMU Sentry Media.

In...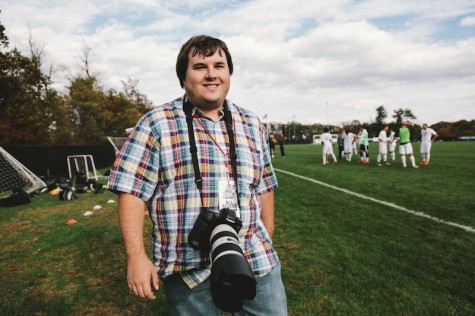 Kyle Gorcey, Freelance Sports Photographer
Kyle is a senior Communications major with a concentration in journalism at Robert Morris University who is a writer and sports photographer for The Sentry. The...