Colonials pursue perfect defensive formula
The last time the Robert Morris men's basketball program implemented a zone defense into its game plan for the majority of a contest, Andy Toole was an assistant at Lafayette and Mark Schmidt was at the helm of the Colonials.
Fast forward six years.
Amid a five game losing streak, Toole wanted to alter his defensive strategy and, as a result, utilized a 2-3 zone December 7 against Toledo for the first time during his tenure in Moon Twp.
"I'm trying to figure out a way to be creative and hide some of our warts and that might be a way that we have to kind of do it, with some mix in defenses and mix in lineups and depending on game to game situations, figure out how we're going to play," said the fourth year skipper. "Maybe it's something we can get better at if we continue to work at but we do have to figure out a way to try to stop people."
During the skid, Robert Morris has surrendered an average of 83.6 points per game.
"There's nothing really to complain about playing the zone. We can't really play man to man defense so we had to figure out something that was going to help us out to try to get stops. It was working for us, we just started it a couple of days ago and we're just going to get better at it," said Lucky Jones, who has netted 89 tallies in his last five contests. "It's just something we're going to try to stick with and go back and forth. Whatever works during the game, I guess that's what we're going to stick with."
Due to the NCAA's new hand-check foul, which was instituted at the beginning of this season, it is now virtually impossible to come into contact with an opponent who is driving the lane without having a foul called.
Because of this, Robert Morris has had to change the way they defend players who attempt to progress toward the basket.
"To be a good defensive team now [with hand-check rule] you have to be a quick thinking, well positioned, urgent team. When you are out of position now in man to man defense, you get exposed," Toole said after his squad's three point loss to Toledo. "If you are late on a closeout, you can no longer just grab on and hold on for the ride. And a lot of times in the past, that's what we would do."
Playing zone defense is something completely new to senior Anthony Myers-Pate.
"Since I've been here, we've never played zone, but obviously we were having some difficulties guarding people and with the new foul rule he [Toole] thought that would help a little bit," the Washington, D.C. native said.
Jones, who played high school basketball under legendary coach Bob Hurley, Sr. at St. Anthony High School in Jersey City, New Jersey, has experience with the zone, but said it wasn't quite like the style coach Toole is employing.
"I [played zone in high school]. It wasn't a zone like this, it was kind of similar," the 6-6 forward said. "At the end of the day, the zone is to prevent people from getting easy baskets and just forcing them to make tough shots. We played it as a fallback."
The zone was somewhat efficient against a high-powered Toledo offense that is averages 90.5 points per game, but in Karvel Anderson's mind, it wasn't enough.
"It [the zone] was effective, but we give up 80 we lose, so regardless of what they average, our defense gives up 80 points and we lose," he said. "I feel like we've lost too many games in a row. But I feel that we've improved every one. At the same time, a loss is a loss."
Even though Toole isn't sure if the Colonials could become a zone team in the future, the one thing the 33 year old is certain about is the fact that he's going to play around with various defensive systems until he finds one that is suitable for his team.
"I'm not sure they're going to let us play with six people on the court to start stopping people," he said. "So I don't know what the answer is in terms of being able to continually get some stops, but we're going to continue to search."
About the Contributors
Nick Buzzelli, Sports Editor
Nick is a senior communication major with a concentration in journalism at Robert Morris University and is the Editor-in-Chief of RMU Sentry Media.

In...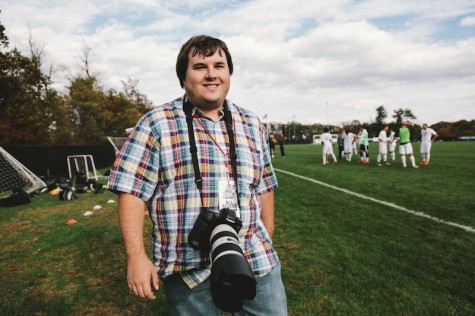 Kyle Gorcey, Freelance Sports Photographer
Kyle is a senior Communications major with a concentration in journalism at Robert Morris University who is a writer and sports photographer for The Sentry. The...