Colonials rally after Austin's injury
The Robert Morris women's soccer team improved to 2-0 Sunday afternoon, matching their wins total from last year.
The Colonials defeated the Niagara Purple Eagles, 2-1, at the North Athletic Complex on sophomore forward Madison Kozlowski's first career goal. Her clutch tally came in the 87th minute when she headed the ball into the right side of the net on an assist by Leah Prentice.
Prentice also netted a goal, which tied the game up 1-1 in the 58th minute. Her goal came after a Niagara defender was called for a hand ball in the box. Prentice went on to drill the penalty kick passed Niagara's Claire Feiertag and into the left corner of the goal.
Niagara's lone goal came early in the game during the 12th minute. After a valiant effort by Colonial goal keeper Becky Schoenecker, blocking one shot off the cross bar, Hallie Price got the rebound and scored. Price was able to sneak the goal in before Schoenecker could get back up after her incredible diving save.
In addition to her goal and assist, Prentice made a great play defensively. In the 83rd minute, while the game was tied 1-1, Niagara almost took the lead back from the Lady Colonials when a deep direct kick from around 22 yards out hit the wall of RMU defenders and trickled into the middle of the penalty box. A second chance shot off the foot of Niagara's Danielle Kennedy was headed right towards the right side netting when Prentice was able to boot it away keep the game locked up at one.
RMU edged Niagara in total shots on goal 15-12. They also had seven corner kicks compared to the Purple Eagles one, however the Colonials were unable to score on any of those seven opportunities. Both teams were even when it came to saves, at 3-3.
Through out the entire contest, the physical play was evident. Niagara had 14 fouls while Robert Morris had 8. The physicality did not keep RMU from winning, but it did perhaps hurt them in the long run.
Just moments after Prentice's goal in the second half, Colonials' star senior Katie Austin went for a steal and landed awkwardly. She immediately cried out in pain and was down for nearly a half hour with what appeared to be a serious knee injury.
She was taken off the field by an ambulance after being put on a stretcher.
After the multitude of injuries last year, RMU knows how hard wins are to come by when players go down left and right.
About the Contributor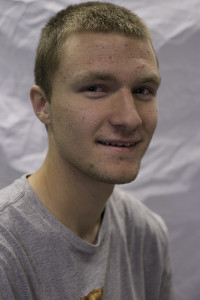 Jarod Johnson, Staff Writer
Jarod, a freshman majoring in communications, enters his first year with the student-run newspaper, "The Sentry." As a sports writer who played baseball...