Colonials suffer fifth setback in a row
It was a tale of two halves for the Robert Morris men's basketball team. Attempting to snap a four game losing streak, the Colonials fired on all cylinders in the first half, shooting 73.9% from the floor.
However during the final 20 minutes of play, even though RMU (3-7) managed to knock down 53.8% of its field goals, it was not enough to overcome Toledo (8-0), falling 80-77 Saturday afternoon at the Charles L. Sewall Center.
"Obviously a disappointing loss. I thought we did a lot of good things and put ourselves in position to win the game. Unfortunately it always comes down to a handful of plays that either they make or you make and in this case, I think they made some of the plays," said head coach Andy Toole. "Every time we made an error, they capitalized on it. That's what good teams do."
Lucky Jones led all scorers, netting a career-high 25 points, while Karvel Anderson added 23 tallies, including a 5-6 performance from beyond the arc.
"We fought hard so it's just telling us that a couple of games ago we were losing by double digits and our past two games we lost by single digits," said Jones, who has scored 49 points in his last two games. "We just have to keep continuing to fight, continuing to pull it together and just get stops."
Robert Morris struck first after Mike McFadden converted a layup 39 seconds in, but moments later, Julius Brown buried a trey, giving UT a 3-2 advantage.
RMU and the Rockets matched each other shot for shot, but the Colonials used an 11-4 run to take a four point lead into the locker room.
Both squads kept the score tight in the second half and every time the Rockets attempted to pull away, Robert Morris answered with a bucket of its own.
Coming out of a timeout down by three with 25 seconds remaining, Anthony Myers-Pate gained control of the ball and was looking to drive the lane for an easy basket.
But the senior guard was called for a charging foul.
Though on the next possession, while the Rockets were trying to run out the clock, Jones stole the ball and called a timeout to set up a play to possibly net the tying basket.
Guarded at the top of the key, Anderson struggled to get a shot off, but before he could, Toledo fouled him, sealing the victory.
"That was a mental lapse on my part, I should have thought time to score in that situation and realize that that was coming," the Elkhart, Indiana native said. "In my head I was going to let the clock run down and take that shot at the end. If you think about it now, you could see it coming so that's in me."
Robert Morris faces city rival Duquesne next Saturday at the A.J. Palumbo Center before returning to the friendly confines of The Chuck December 18 to take on Campbell.
About the Contributors
Nick Buzzelli, Sports Editor
Nick is a senior communication major with a concentration in journalism at Robert Morris University and is the Editor-in-Chief of RMU Sentry Media.

In...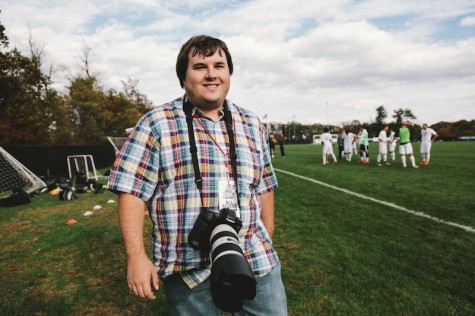 KYLE GORCEY, Freelance Sports Photographer
Kyle is a senior Communications major with a concentration in journalism at Robert Morris University who is a writer and sports photographer for The Sentry. The...