Colonials survive scare from Dowell, UTA
After dropping its first two games in the Keightley Classic, a five point loss to Eastern Michigan, followed by an 87-49 trouncing to the Kentucky Wildcats, the Robert Morris men's basketball team thought that they could cruise past the University of Texas at Arlington.
And the Colonials were well on their way to doing so, but then Reger Dowell caught fire.
Dowell scored 21 of his 26 points in the second half, but the Mavericks (2-4) were unable to complete the comeback, and as a result, fell to the Colonials (3-2), 88-81, Thursday night at the Charles L. Sewall Center.
"We definitely find ways to make it interesting," said RMU head coach Andy Toole. "[We] obviously got off to a great start, would have liked to have stayed a little more urgent defensively as the game continued to progress, but glad we were able to get the win and make enough plays at the end to pull it out."
After struggling to score points against the Wildcats, RMU began the contest by knocking down its first five shots from the field, taking a 14-0 lead 2:32 in.
The early run was due, in large part, to senior sharpshooter Karvel Anderson.
"I've been putting a lot of extra work in, getting a lot of shots up and my wrist is feeling good," said Anderson, who was 8-10 from downtown. "I really can't take credit for anything, it was just one of those nights."
Anderson netted nine of the Colonials' first 14 tallies, but the high scoring offense of the Mavericks, which is averaging 87 points per game in 2013, began to crawl back into the contest from that point forward.
As a result, RMU clung to a 10 point advantage heading into halftime.
During the final 20 minutes of play however, Dowell led UTA's charge, sinking five treys in the half, which eventually enabled the Oklahoma State transfer to tie the game at 67 with 3:20 remaining.
Every time Robert Morris would attempt to extend its lead to double digits, Texas-Arlington responded.
Toole believes that, because of the NCAA's new hand-check rule, which is designed to promote offensive outputs, UTA was able to keep it close.
"It's really hard to stop dribble penetration now. Some of those drives unfortunately, maybe in the past where guys would have bumped or hand checked or whatever, you can't do it," the fourth year head coach said. "And when you're playing against a team with very good, aggressive, athletic guards, it's hard to guard on the perimeter."
The Mavericks would pull within two with late in the half after Dowell's layup rattled in, but Anthony Myers-Pate had other plans.
The senior guard was perfect from the charity stripe on the night, closing the door on the UTA resurgence and sealing the victory for RMU.
"My job is to keep my team happy so everyone else can be successful. If they're successful, I'm successful," said Myers-Pate, who dished out nine assists. "Coach Byrnes told me toward the end of the game 'this is your team now, it's your time to step up and take control of the game.'"
The Colonials begin a four game road trip Saturday by traveling to the Wolstein Center to take on Horizon League foe Cleveland State before returning to The Chuck December 7 to host Toledo.
About the Contributors
Nick Buzzelli, Sports Editor
Nick is a senior communication major with a concentration in journalism at Robert Morris University and is the Editor-in-Chief of RMU Sentry Media.

In...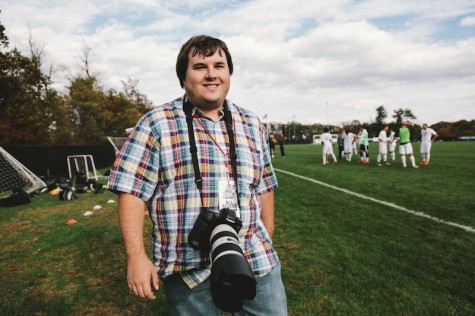 Kyle Gorcey, Freelance Sports Photographer
Kyle is a senior Communications major with a concentration in journalism at Robert Morris University who is a writer and sports photographer for The Sentry. The...