Colonials, Syracuse battle to 3-3 tie
In any sport, athletes typically strive to acquire personal accolades and team success, but often times, they're only able to attain one or the other.
However throughout her stint with the Robert Morris women's hockey team, Thea Imbrogno has been able to achieve both.
Before Friday's matchup against Syracuse, Imbrogno's Robert Morris resume included being a member of the Colonials 2011-12 College Hockey America championship team.
But now the Etobicoke, Ontario native can add one more honor to that list.
Despite Imbrogno's two assist performance in which she set a program record with 69 career helpers, it was not enough to lift the Lady Colonials (21-5-3) past the visiting Orange (15-11-3).
"Coming into your freshman year you're not really looking to break records so I was fortunate enough that since I got here, I've played with really talented players," the senior said. "At the end of the day, I just want to win, I don't really care how many points I have. Even today, we tied, which is good, but I'd rather not get a single point and us win, so hopefully tomorrow, regardless of who scores, hopefully we win."
Katie Fergus got RMU on the board at the 17:43 mark of the first frame and 1:03 later, Brittany Howard gave RMU a two tally cushion courtesy of her 14th goal of the campaign.
But two straight goals by SU's Melissa Piacentini knotted the score in the second period.
Though as Robert Morris gained momentum heading into the third, the Orange ultimately answered back, forcing the contest into overtime, where it ended in a draw.
Despite facing 43 shots by Syracuse, RMU freshman goaltender Jessica Dodds stood tall in net to preserve the tie, something Kylie St. Louis is grateful of.
"Dodds is always awesome. She's always on her game, she's a huge part of our team and a huge part of our [defensive] core," she said. "Everything she does we appreciate so much and without her always being on her game, we would have a lot tougher of a time performing against teams like Syracuse."
According to Imbrogno, if the Lady Colonials hope to go undefeated against SU on the season, they will have to maintain puck possession throughout the duration of Saturday's series finale.
"I think we just need to break out the puck a little cleaner. I thought in the first period we did a really good job and we kind of went away from it in the second and in the third and I think it hurt us," the forward said. "Hopefully tomorrow, if we have more control over the puck, I think that we'll be more successful and get more offense off of it."
About the Contributors
Nick Buzzelli, Sports Editor
Nick is a senior communication major with a concentration in journalism at Robert Morris University and is the Editor-in-Chief of RMU Sentry Media.

In...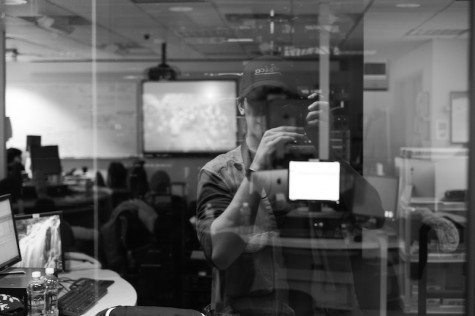 Paul Wintruba, Contributor
Paul is a junior photography major, and is a photographer for RMU Sentry Media.