Colonials tame Lions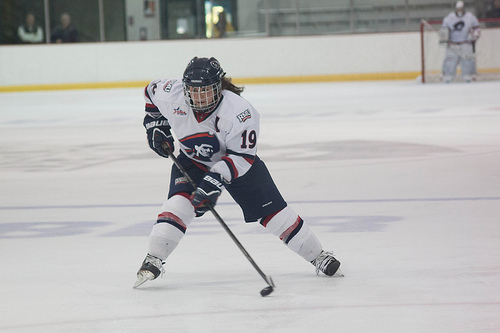 The RMU Colonials lit up the Lidenwood stage last night with a 6-1 victory in Wenztville, Mo.
The onslaught began with a quick strike by junior forward Rebecca Vint in the third minute of play.
This was not the last time that Vint would score and certainly not the last time the Colonials would make the Lions pay.
In the second period, junior forward Katie Fergus broke into the net, during the thirteenth minute of play. Brittany Howard and Ashley Vesci assisted on her goal.
The Colonials were beginning to tame the Lions by taking a 2-0 lead into the locker rooms at the end of the second period.
By the third frame, the Colonials were skating circles around Lindenwood. It looked as if the Lions did not show up as they gave up four third period goals, two by Rebecca Vint, one by Brittany Howard, and one by Ashley Vesci.
By the end of the day, the Colonials showed the crowd that Lions are simply little kittens on the inside, scoring six goals by four players.