Composure, experience key to a Robert Morris turnaround
With Dayton approaching on Saturday, Robert Morris has been getting back to the basics in practice this week.
A rough 0-3 start to 2014 has slightly dampened the excitement surrounding the new era of RMU football, but head coach John Banaszak is certainly not ready to give up on this team or season.
"I'm not going to make any excuses for our 0-3 start," he said. "But if you take a look at our roster and see how many freshman and sophomores are starting for us, it's very difficult to win in the FCS."
The talent from some of the younger players is there, especially in guys like Rameses Owens and even Luke Brumbaugh. Their record isn't due a lack of ability by any means, nor does it reflect the quality of players being recruiting into the program.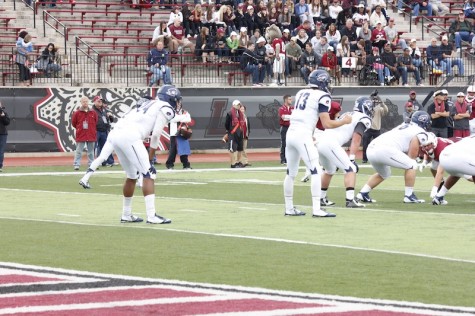 But the Colonials have fallen into trouble this season the minute adversity strikes, a problem that could potentially fix itself with continued game experience. They need to hold their composure when things go wrong; not spiral out of control the way they did against Lafayette.
"I still believe in these kids that we're going to win, and I think North Dakota is evidence that we can win playing freshman and sophomores," said Banaszak. "That's going against the tide having to do that, but those are the cards we're dealt with and those are the players we have."
Now hitting the road for the third consecutive week, Robert Morris is once again facing a bit of adversity, however this time from a broader aspect. The Colonials have lost eleven straight games to Dayton, and the last three meetings were decided by a touchdown or less.
Grinding out a tough win on Saturday could prove to be very important for the mental side of the team heading into a bye week. Momentum can't be taken for granted.
"It's definitely bigger. We're practicing even harder because we haven't really beat Dayton," said Brumbaugh. "Even though I haven't been here for a while, I still know that this is a team we want to beat and haven't beat in a while."
The redshirt-freshman put last week's loss to Lafayette behind him. A higher emphasis on reads and decision-making in practice this week has been his main focus.
"In football, you can't get too high, and you can't get too low, that's the biggest thing I've learned," said Brumbaugh. "People are going to make mistakes. The biggest quarterbacks throw four interceptions in a half. You've just got to bounce back. That's the biggest thing, confidence."
Limiting early mistakes will be extremely important in order to earn a win this weekend. Dayton does a very good job of taking advantage of opportunities.
Last year at Joe Walton Stadium, it was a 7-7 game at the end of the third quarter. Coming out of the break, the Flyers connected on a quick 41-yard touchdown pass to make it 14-7. Robert Morris then fumbled the ensuing kick return, which led to another Dayton touchdown and ultimately cost them the game.
"That's a Dayton football team," said Banaszak. "You make a mistake, they're going to capitalize on it. I hope our upperclassmen remember it and I hope it still hurts."
If history repeats,  it should be a close one without a doubt. Both teams match up. Dayton lost 33-13 last week to Duquesnse, and gave up a lot of big plays to the Dukes. Look for players like Duane Mitchell and Antwan Eddie to make significant impacts in that aspect.
Adversity will most likely reveal itself again on Saturday, and the outcome for Robert Morris depends on how they handle it.