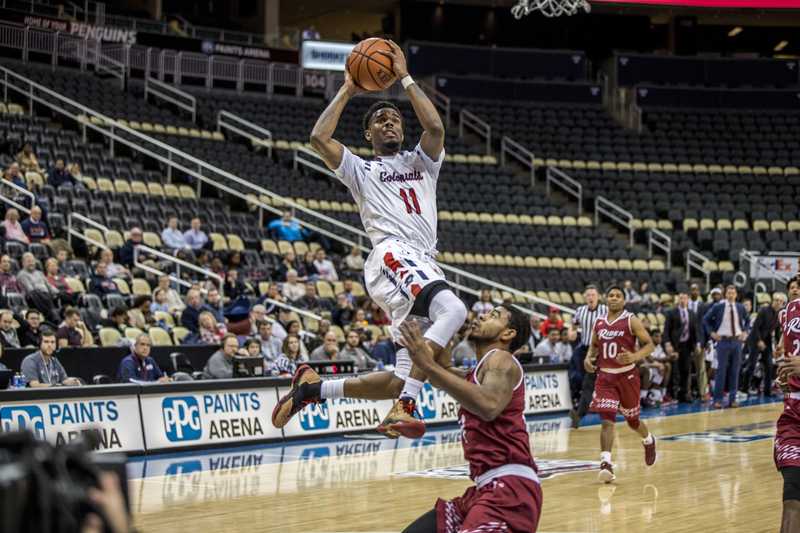 Dachon Burke: An in-depth look at RMU basketball's most valuable player
February 27, 2018
Despite Robert Morris's struggles this season, there has been a consistent presence in the lineup in the form of sophomore Dachon Burke.
After being a bench player for almost all of last season, Burke has come alive this season. Dachon has averaged 17.7 points a game, with an 18.6 average in conference play, both of those are the best on the team. Not to mention, all 10 of his career 20 plus point games have come this season. Robert Morris is 7-3 in those games.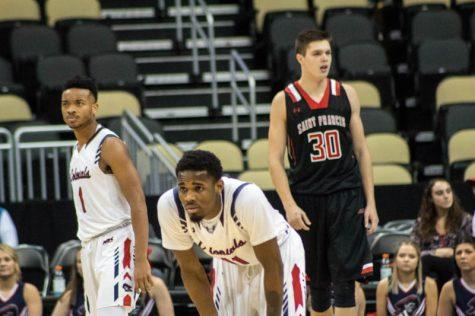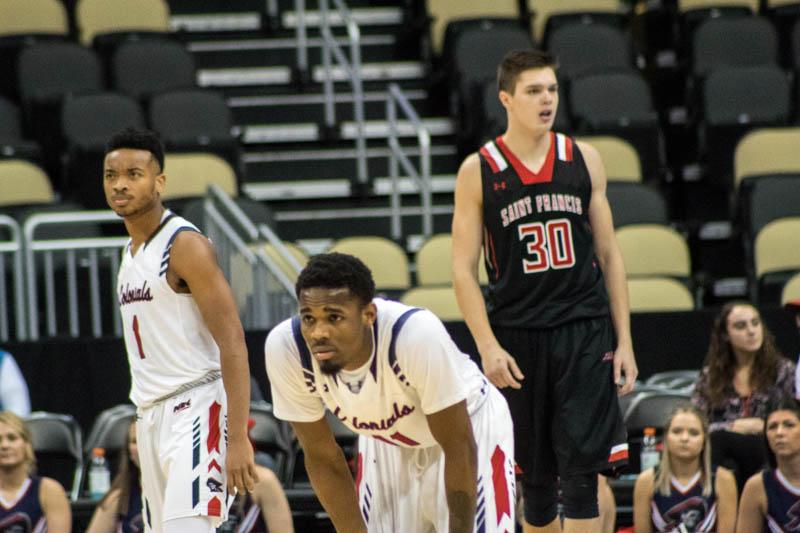 He has value in more areas than just shooting though. Burke averages 5.9 rebounds per game, second on the team, and third in assists with an average of 2.4. Furthermore, he was fourth in blocks with 13 and led the team in steals with 63. The common statistics have been strong for Dachon Burke, but what about the numbers that lie deeper?
His offensive efficiency rating is the best on the team with a 103.4 rating. Matty McConnell is the only other Colonial to have an offensive efficiency rating over 100 with his being 100.7. In the entire NEC, Dachon Burke is the 4th best offensive player according to Kenpom's offensive efficiency ratings.
Burke though has also been by far the top shooter on the team, completing 46.4% of his total shots, which is the best on the Colonials (minimum 100 shots). When splitting up the shooting percentage in terms of two pointers and three-pointers, Burke has been incredibly valuable from inside the arc. He is has made more than half of his two-pointers, 51% of them to be exact, and has only shot 34.5% from three-point range. His two-point shot percentage in NEC games also ranks 14th in the conference at 54.3%, but his three-point percentage has dropped since conference play has started. He is only shooting 32.1% from three-point range in NEC games.
That type of shooting combined with the rest of RMU's offensive troubles have led to Burke becoming their go-to guy. Dachon Burke has shot 29.9% of the shots for Robert Morris this year, which is the 99th highest percentage in the entire NCAA. His 31.2% in the same category, but only in NEC games, ranks third in the conference. It is evident that Dachon Burke is the most valuable offensive player for Robert Morris and the team views him as such.
But how good is Dachon Burke on defense?
Like stated above, Burke is fourth on the team in blocks with 13 and leads the team in steals with 63. Burke is also able to generate a steal on 3.7% of his opponent's possessions. That number is 40th best in the entire country. While that percentage drops slightly to 3.5% in NEC games, he is still in the top three in the conference, coming in at number three.
Dachon Burke stats show that he is an all-around player, but that is also because coach Andy Toole has used him as such. This season Burke has played four different positions on the floor, seeing time at every position except for center. Although in the last five games, Burke has spent most of his team at the three position, spending 55.4% of the last five games as the team's small forward.
Dachon Burke has proven to be Robert Morris's top player this past season. If the Colonials are to win in the NEC playoffs, Burke is going to have to continue to play at the level that he has been this season.