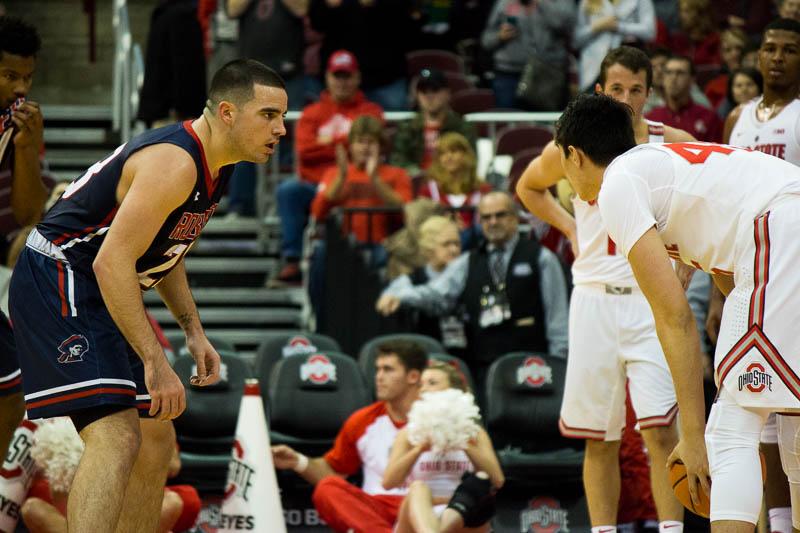 NEC Tournament quarterfinals preview: Robert Morris vs Mount St. Mary's
The Robert Morris Colonials (15-16, 9-9 NEC) are heading to Maryland to take on the Mount St. Mary's Mountaineers (18-13, 12-6 NEC) on Wednesday in round one of the NEC Playoffs. Here is all you need to know about this week's upcoming game.
Previous Meetings:
The previous two meetings this year have not gone in favor for Robert Morris. The first one took place on Feb. 1 at PPG Paints in which the Mountaineers won 67-42. The second one took place this past weekend at Mount St. Mary's in which Robert Morris fell 72-53.
The Colonials have also lost the past seven matchups against Mount St. Mary's, losing by an average point differential of 14.7. Their last win against the Mountaineers happened on Jan. 2, 2015. In that game, Robert Morris won in overtime 63-59 in the second game of the season sweep against Mount St. Mary's. The overall series has been almost even with Mount St. Mary's leading 34-32.
Robert Morris by the Numbers:
The Colonials offense has struggled this season. Robert Morris finished the 2017-2018 season with a kenpom offensive efficiency rating of 95.6. That is number 332 out of 352 in NCAA men's basketball. Furthermore, the team only converted 47% of their shots this past season. That ranks 321st in the country. The team also turned the ball over on 20.7% of their possessions this season, which is good for 300th in the country. Lastly, the team has also only converted 66.6% of their free throws which is 315th in the NCAA.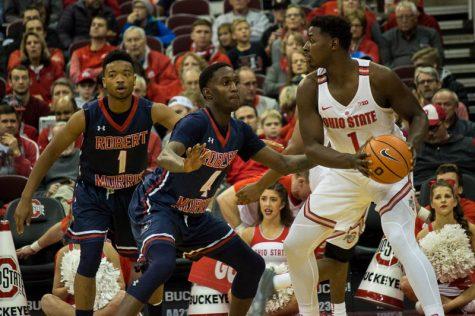 The defense though has been just as good as it has been in years prior under Coach Andy Toole. The team had a 103.3 kenpom defensive efficiency rating this year which ranked 120th in the country and in the top 50 amongst mid-major schools. When breaking things down, even more, the team grabs a turnover on 22.8% of their opponent's possessions. That sits as the 11th best in the country.
Opponents also only shoot 32.1% from the three-point range against Robert Morris, which is 35th in the country. Robert Morris is also 29th best at generating steals, of which they have done on 10.9% of their opponent's possessions. All of those numbers are in the top three in the conference.
Mount St. Mary's Scouting Report:
The Mountaineers were a well-balanced team this season. Their kenpom offensive efficiency of 112.0 is number one in NEC games this past season. Furthermore their shooting percentage of 54.3% and offensive turnover percentage of 16.4% both rank right around the top teams in the country at 53rd and 42nd. They accomplish this with a slow pace tempo that averages 18.6 seconds per possession, which is the 45th slowest in the country.
The defense of Mount St. Mary's is not a strength, but it's by no means a weakness either. Their kenpom defensive efficiency is 110.6, which is not strong as it ranks 268th in the country. That being said, in terms of conference play Mount St. Mary's ranks in the top three in almost every major defensive category. This includes turnover percentage (21.2%) which is second in the conference as well as opponent's shooting percentage (49.7%), which is third in the conference in NEC games.
Players To Watch: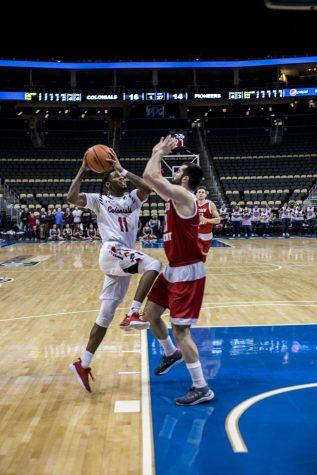 Dachon Burke (RMU)- Burke has been the only consistent performer for Robert Morris this season. While players like Matty McConnell, Koby Thomas and Leondre Washington have all had strong stretches, it's Burke who has consistently been there in almost every game, win or loss. He currently sits as the 4th best player in terms of offensive efficiency in the NEC. Burke also leads the team in scoring, averaging 17.7 points per game. Furthermore, after only scoring more than 10 points in 10 games last year, he has scored at least 20 points in the same amount of games this season. The Colonials are 7-3 in those games. Defensively he averages 5.9 rebounds per game and leads the team with 63 steals.
Junior Robinson (MSM)- The senior Mountaineer is the number one NEC player in terms of offensive efficiency this season. He is also the favorite to win NEC player of the year. Robinson averaged 22.2 points a game this season. He also averaged 4.9 assists per game, which leads Mount St. Mary's. Robinson is seemingly never off the court, averaging 36.2 minutes per game. His usage rate is 31st in the entire country, playing 90.1% of the team's total minutes this past season. He's also their main go-to guy, taking 31.7% of the team's shots which is 60th in the NCAA.
Matty McConnell (RMU)- From an offensive perspective, McConnell has struggled mightily this season. He has attempted the most three-pointers on the team with 166 attempts but has only made a measly 28.3% of them.
Defensively he has been incredibly valuable to the Colonials as he averages 4.1 rebounds per game. McConnell is also second on the team in blocks with 14, as well as steals with 58. In fact, only McConnell and Burke have more than 22 steals on the Colonials.
Chris Wray (MSM)- While he isn't the type of player to light up a stat sheet every night, Chris Wray has quietly been one of the more valuable players in the NEC. The senior center averages just 9.9 points per game, but he's similar to McConnell in that his value is felt everywhere else on the court. Wray is a prolific rebounder, averaging 8.3 rebounds a game, furthermore, he is second on the team in assists with 3.8. He also is the team leader in steals per game (2.0) and blocks per game (2.1).
Robert Morris' two keys to victory
1. Shut down Junior Robinson– Like stated above, only 29 guys in all of D-1 basketball have played more minutes than Robinson. He also takes almost a third of the team's total shots and the team averages just 51.3 points per game outside of Robinson. While it's an incredibly difficult task to accomplish, if Robinson is rendered ineffective for much of Wednesday's game, then a Colonial victory should be expected.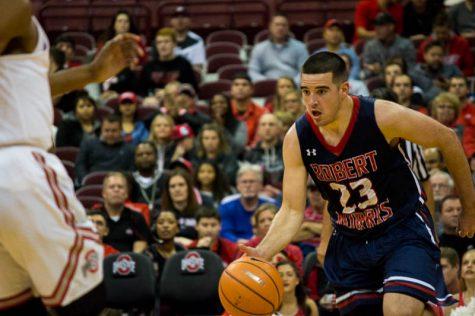 2. Koby Thomas and Matty McConnell show up offensively– Two of the more important players for Robert Morris, outside of Dachon Burke, of course, need to be relevant on Wednesday if the Colonials want to upset the Mountaineers. McConnell shot well in their most recent matchup, finishing with 14 points and 5-10 shooting, but Thomas didn't. Thomas finished with just nine points in the contest. Those two need to play up to their potential as just a strong performance from Burke won't cut it.
Mount St. Mary's 2 Keys to Victory
1. (Insert non-Junior Robinson player here) steps up- Someone other than Junior Robinson needs to step up, whether it is Chris Wray, Jonah Antonio, Greg Alexander or another Mountaineer, someone needs to put together a solid game. In their previous match against Robert Morris, six players scored at least 10 points. Also, Junior Robinson only had 11 points. If Mount St. Mary's wants to move on to the next round then that type of production needs to continue.
2. Play strong defense- A team can't win if they can't score. Robert Morris has struggled on offense all year long and still managed to put together a strong season. In their two previous matchups, The Mount held them to 53 and 42 points. That type of defense against a team struggling to shoot will get them a victory.
Fun Facts: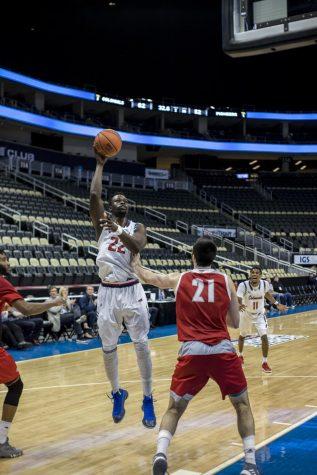 The Colonials made the NEC playoffs despite having the third-least experienced team in the country behind only the Kentucky Wildcats and Duke Blue Devils. The average amount of experience of the Robert Morris players is 0.72 years and they feature only one senior in Ronnie Gombe.
The game is the 15th consecutive NEC playoff appearance for Robert Morris. That is the longest active streak in the NEC.
During their 15 consecutive playoff appearances, Robert Morris has lost in the first round just three times. Those games were 2005 against Wagner (69-65), 2007 against Mount St. Mary's (78-61) and 2016 against Wagner (59-50).
During their 15 consecutive playoff appearances, Robert Morris has faced off against Mount St. Mary's eight times. The Mountaineers have won five of those eight games, but the teams are 1-1 in the two occasions that they met in the NEC title game.
The two teams met in the NEC semifinals last year. Mount St. Mary's won that game 75-66. In that game, Elijah Long (MSM) was the leading scorer with 22 points. Junior Robinson (MSM) added 18 points while Matty McConnell (RMU) and Isaiah Still (RMU) both had 19.
The two teams also met in the conference championship in 2014, after meeting in the semifinals the previous season. In that championship game, Mount St. Mary's won 88-71.
Furthermore, they faced off in the 2009 championship, Robert Morris won 48-46 in a low scoring game.
The last time Robert Morris won the NEC tournament was 2015. That year, they defeated Wagner (91-68), Bryant (66-53) and St. Francis NY (66-63) in the NEC Championship Game. Robert Morris would go on to defeat North Florida by the score of 81-77 in the NCAA Tournament, before falling to Duke 85-56 in the next round.
Skip to content