Jimmy Spagnolo makes it bigger than just basketball
February 13, 2018
When cancer affects one person, it affects everyone around them.
Battling a tumor requires help from the outside — in the form of medicine or a life-changing moment for a child with a life-threatening disease.
Jimmy Spagnolo, who goes by Jimmer after former BYU star player Jimmer Fredette, was diagnosed with an optic nerve glioma brain tumor at just four months old. It is a rare form of cancer usually found in children and rarely found in people older than 20 years old.
Lacie Spagnolo, Jimmer's mother, said that her family discovered the tumor after they noticed his eyes shaking and that his head was bigger than normal. They took Jimmer to the neuro-oncology unit when in a two-day span, they learned that he had an optic glioma brain tumor.
After that, Jimmer began a long fight that led to him completing his fourth and final round of chemotherapy in January 2017.
Jimmer became a viral star by ringing a bell at UPMC Children's Hospital to celebrate after conquering the chemotherapy treatments. The bell ringing is a tradition at the hospital, and Jimmer's video led him to interviews from different places worldwide — the most notable being an interview for a morning show in Australia.
Lacie Spagnolo
"From day one, since the kid's been born we felt that my kid is here for a reason," said Jimmer's father Jimmy Spagnolo. "When the international news cycle started of that video clip, that was one of those moments where we felt, this is why he is here."
The bell ringing also signifies Jimmer getting the upper hand in the battle with his tumor. While he is not in remission, Jimmer's tumor has been stabilized. This means that if he does not go into remission, Jimmer could have a normal life expectancy as long as the tumor stays how it is.
Jimmer and his family have been able to fight through this difficult battle with the help of great experiences given to them by organizations such as Make-A-Wish and Friends of Jaclyn. The latter set the Spagnolo family up with Robert Morris University. Both Lacie and Jimmy Spagnolo are alumni of Robert Morris. It was this connection, with the help of Friends of Jaclyn, that led the family to a new experience at Robert Morris.
But what the family did not know at first was that the men's basketball team had been looking to help someone for the past few years.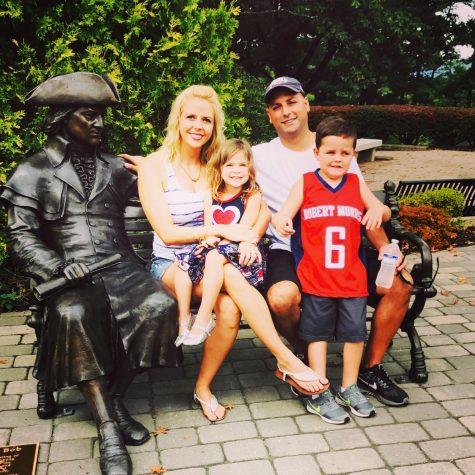 "The Friends of Jaclyn program…we reached out to them a couple years ago with potentially adopting someone here in the Pittsburgh area," said Robert Morris basketball head coach Andy Toole. "Thankfully there weren't any candidates at that time."
"About two or three months ago we got an email from them that they had a kid, Jimmer, who was interested in becoming part of the program…They emailed us and I called her immediately and said, 'What do you need us to do?'"
Jimmer has been a key part of the team ever since. Jimmer does absolutely everything, including practicing with the team, going to the locker room during games with the team and even signing a national letter of intent to join the team. The Robert Morris cheerleaders also have made his sister an honorary member of the squad while his family can be seen sitting behind the bench at games this season.
"From here on out he's apart of this team," said Toole. "We want him to be around as much as he possibly can be. Whether it's practices or game situations, even with any of the other events that we have going on, we want to be around him as much as humanly possible. Not only is it exciting to get him to have some of the experiences that he's had, I think it's awesome for our players to give back a little bit and understand how fortunate they are."
And while the whole team has had an enormous hand in shaping this experience for Jimmer, it is junior guard Matty McConnell that has developed the most meaningful connection with him. This is exemplified when Jimmer is asked who his favorite player is. "Matty," he says, "because he's the best."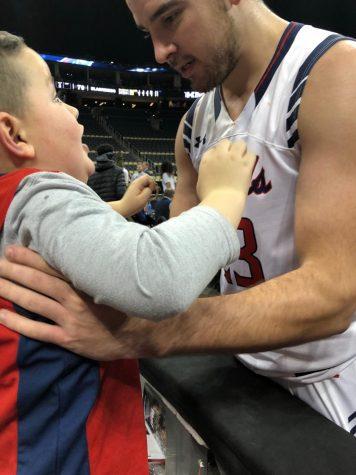 Their relationship goes beyond just a favorite player and fan. McConnell has turned into a true role model for Jimmer, and a close friend.
"The kid means a lot to me," said McConnell, "after everything he's been through he's still enjoying his life the best that he can. It pushes me every day to never give up and just to keep doing what I'm doing. I'm fighting for him right now and he's one of the reasons that I play hard. He really motivates me."
McConnell's leadership has been a big reason to why this RMU squad with 11 new players is right in the thick of the Northeast Conference race. Now he has the chance to lead a new teammate, one that has already fought tougher battles than anyone else on the team.
Everyone is affected by their own cancer. A person like Jimmer and a family like the Spagnolos, who fight their cancer the way that they do inspires those around them, including the men's basketball team, to always be positive despite their cancers.
"I think it's helped us both out," said McConnell. "I think it's helped him just to really see what we do every day and just let him enjoy life. For us, it makes us enjoy what we have and embrace what we have and the lucky lives that we live and makes us more appreciative of what we have."
It has been a whole team effort in giving Jimmer the experience of a lifetime. Furthermore, his battle is inspirational to people on and off the court. That is because he and his family have not let the tumor destroy their spirits.
The Spagnolo family is one of the kindest and happiest families that a person could meet. And it's this attitude that makes the family not one to feel sorry for, but one to root for.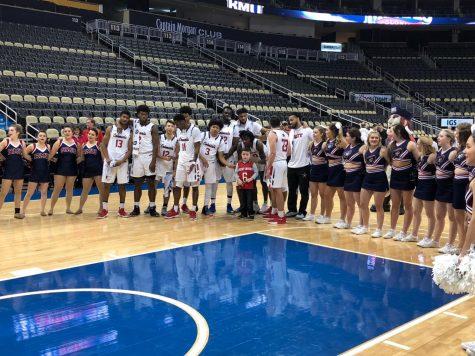 If you see a kid dancing on the sideline at a game, chances are it's Jimmer. If you see a little girl screaming like a cheerleader, chances are it's his sister Lily. If you see two proud adults sitting near them, it's Lacie and Jimmy Spagnolo. The family who loves each other, as they would say, "to the moon and back" has inspired confidence in this Robert Morris team.
The family and the team continue to inspire each other while also giving one another the experience of a lifetime.
"It's not about getting to the end game," said Lacie Spagnolo. "It's about the journey and how you deal with the journey as you go through with it. Jimmer is just that prime example. Yeah, we're not done and we may not be done, but we're going to celebrate every minute that we get. This is just one example of him celebrating his life."