Defensive communication key to success of RMU basketball
Over the course of the previous five seasons, the Robert Morris men's basketball team has prided itself for its stringent defense, holding opponents to an average of 65.2 points per game during that time.
But because of six players who are new to the Division I level this year, the Colonials need to lay down the foundation of defensive dissemination in order to make a run in the Northeast Conference playoffs.
"I don't think the new guys understand how important it is to communicate on every situation because one little mess up, and it could be an easy bucket for the other team. I feel as though, even with the returners, we weren't really 100 percent with our stuff either, we were just as bad as the new guys and that put us in a bad situation," said center Mike McFadden. "Everybody is understanding that communication is key to any DI basketball game."
Since RMU has three community college transfers on the roster this season, Anthony Myers-Pate believes that it's difficult for the new players to mesh with the veteran on the court.
"With the game speed being a little faster, with the new guys and with us, it's kind of hard to talk about some stuff you don't really know like the back of your hand," said senior Anthony Myers-Pate.  "When somebody is sprinting down the court, you got to worry about stopping the ball, then you have to screen right."
After a shaky start to the season in which Robert Morris narrowly outlasted Division II foe California University of Pennsylvania, McFadden, a senior, noted that communicating when the Colonials don't have possession of the basketball is imperative to their success.
"Hands down it's the defense. The offense, that flows well, we're a pretty good offensive team this year, and everyone can score. It's more the defense," the native of Newark, New Jersey said. "In high school and [Junior College] you really don't communicate that much. That split second you're late with it, or if you just don't say anything, that could be a foul, or two points for the other team."
Head coach Andy Toole agrees.
"A lot of those things aren't judgment calls anymore, they're absolutes and what people are going to have to do and what we've been trying to do forever is teach defense," said the fourth year head coach. "People are going to have to be really proactive, well positioned, and they're going to have to have great technique to how they do things."
Guard Desjuan Newton, who attended Central Arizona College before arriving in Moon Township earlier this year, said he'll do whatever it takes in order to get his teammates to talk on defense.
"At my JUCO, we communicated, but the arena wasn't as big, so you could hear. Here, we don't have the biggest arena, but it's still a big atmosphere," he said. "Communication is going to be big here. We have to project our voice, so whatever we have to do, jump, swing some hands, or something to get our message across, we could become a better defensive team."
About the Contributors
Nick Buzzelli, Sports Editor
Nick is a senior communication major with a concentration in journalism at Robert Morris University and is the Editor-in-Chief of RMU Sentry Media.

In...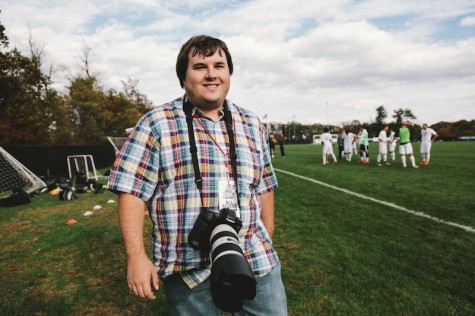 Kyle Gorcey, Freelance Sports Photographer
Kyle is a senior Communications major with a concentration in journalism at Robert Morris University who is a writer and sports photographer for The Sentry. The...