Delaney nominated for Hockey Humanitarian Award
Robert Morris University women's hockey senior assistant captain Cobina Delaney is an official finalist for the Hockey Humanitarian Award, one of college hockey's most prestigious awards.
In a world where media tends to focus on the less-than-admirable antics of athletes, the Hockey Humanitarian Award is designed to honor players who exhibit the qualities of a true role model. Nominated athletes are not only skilled, but also respectful and free of distasteful behavior.
"Our foundation believes there are humanitarians to be found in programs everywhere and that it is time for many in the media to reconsider their focus on the frequently destructive and selfish behavior of those athletes who often receive too much of our attention," the mission statement reads.
Every year, both men's and women's college hockey programs from across the nation send in nominations to the foundation board.  The board closely examines each player's biography, paying special attention to those who not only demonstrate the aforementioned qualities of civility, but also reach out and give back to the community.
"It is an honor to even be mentioned for this award as a Colonial," said Delaney.  "It's very surreal to be recognized when you look at the other nominees from past and present years. "I'm very grateful for this opportunity and wouldn't have been nominated without my coaches and team mates."
Delaney is one of 11 finalists. Her sister, Brianna, was nominated for the award last year.
About the Writer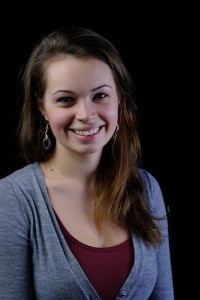 Haley Sawyer, Assistant Sports Editor
Haley is a junior communication major with a concentration in journalism.  She is involved in both print and broadcast journalism at the Academic Media...