DiCiocco takes over as winningest goaltender
Saturday's conference win against Penn State was great for all of the Colonials, but more so for one player in particular.   RMU Women's Hockey senior goaltender Kristen DiCiocco reached a new career milestone.  DiCiocco reached 32 wins, surpassing the record of 31 victories previously set by assistant coach and Olympic medalist Brianne McLaughlin.
The goalie is thrilled to have set this record, but managed to remain humble.
"It's pretty cool to reach this milestone," said DiCiocco.  "But obviously that means I've had an awesome team in front of me to help me get these wins.  So, without them, I wouldn't have anything."
It's no secret that DiCiocoo is fierce between the pipes, but little may know that she started her hockey career in an offensive position discovered her talent for stopping pucks almost accidentally.
"When I was little, my brothers both played hockey, and when my little brother turned four, he decided he wanted to play and I wanted to play, too," she recounts.  "So, I bugged my parents for a while and I played forward first, and then my goalie actually went away on vacation and then I went in net and I stayed in net for the rest of the year."
The former CHA Tournament MVP also credits her parents as some of her greatest influences in her career.
"I mean, it's stressful enough being the parents of a goaltender [laughs]…but, they've supported me and my siblings no matter what we want to do, so that's awesome."
As mentioned earlier, the former record of most wins was held by assistant coach Brianne McLaughlin, who continues to hold the record for saves, save percentage, and goals against average.  As an assistant coach, McLaughlin has had the chance to work with DiCiocco one-on-one.
"My very first practice I came out with her…she was just scrouched so low, you couldn't even see," the coach recalls.  "There was a picture of her on the website for goalie of week, and you couldn't even see the jersey because her stance was just terrible.  And so I sent it to her, and I was like, 'we'll work on this tomorrow.'"
The goaltender has clearly improved since.
"She's athletic," McLaughlin notes.  "She just sees the puck and she works extremely hard.  If I see something she's doing, I only have to tell her once.  She really works on it in practice and before you know it, it's not a bad habit anymore."
And what exactly is DiCiocco's secret to success?
"Just relax and play your game," she says.  "If you overthink it, then it's not going to go your way.  You have to be relaxed and play the way you normally play."
In the record-setting game against Penn State, the goaltender stopped 12 of 13 shots and had a .929 save percentage for the night.  DiCiocco also has 1835 career saves and a career low of 2.42 goals against average at the conclusion of the game.
About the Writer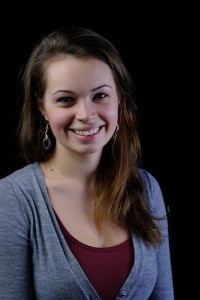 Haley Sawyer, Assistant Sports Editor
Haley is a junior communication major with a concentration in journalism.  She is involved in both print and broadcast journalism at the Academic Media...