Distance not a factor for RMU and Wagner
Rivalries are a given in collegiate athletics, but more often than not, they're based solely off of geographic location and not competitiveness.
Then again, when Robert Morris and Wagner, two schools separated by 396 miles, meet on the hardwood, it's more than just a game.
It's personal.
"A lot of guys know each other. Lucky [Jones] and Mario Moody are cousins, Lucky grew up next door to Kenny Ortiz. Kavon Stewart went to the same high school as Marquis Webb, their assistant," said RMU head coach Andy Toole. "There's so many kind of entangling alliances with our Northeast guys and their Northeast guys and they have really good talented teams who play hard."
Because both teams have players from the New Jersey area and since these two Northeast Conference powerhouse programs are familiar with each other, Karvel Anderson, Robert Morris' leading scorer, is well-aware of the strategies the Seahawks tend employ.
"We know the type of players they are. Obviously they have the two time, three time, whatever [Ortiz] is, defensive player of the year, so we know what type of defenses they have, what type of team they are," he said after RMU knocked off Wagner, 74-70, on January 25. "We were prepared for it, so just have to wait on screens and my teammates did a good job of screening for me and cutting hard so they couldn't just take me away. If they do try to take me away, we have more than enough people to hurt them."
Jones, a junior, attributes the Colonials' achievements in league play to the ranked opponents they faced early in the season.
"The difference is, I believe, that we played one of the hardest schedules in Robert Morris history," the Newark, New Jersey native said. "Like I said before when non-conference schedule was over, there is not, in my opinion and I think in the players' opinion, multiple guys in the NEC that can guard as well as the athletic teams that we guard in the non-conference schedule."
Despite the fact that Robert Morris owns an 8-3 record against Wagner since the 2008-09 season, Toole believes that the series began to be competitive after Bashir Mason took over the reins for Dan Hurley in 2012.
"It [the rivalry] wasn't always the case when I got here. There were a couple years when there wasn't much of a rivalry. Our first year here, we beat them basically for the regular season championship and then the next two years after that, there wasn't a whole lot going on," the fourth year head coach said. "And then they had a coaching change and since then, both teams compete and play hard and I think both teams are excited to play each other because they know what type of game it's going to be. I'm sure when Lucky sits down at Thanksgiving he wants to have bragging rights over Mario."
The Colonials travel to Staten Island on Saturday to face off against Wagner in their last regular season contest before the conference tournament begins. Tipoff is slated for 6 p.m.
About the Contributors
Nick Buzzelli, Sports Editor
Nick is a senior communication major with a concentration in journalism at Robert Morris University and is the Editor-in-Chief of RMU Sentry Media.

In...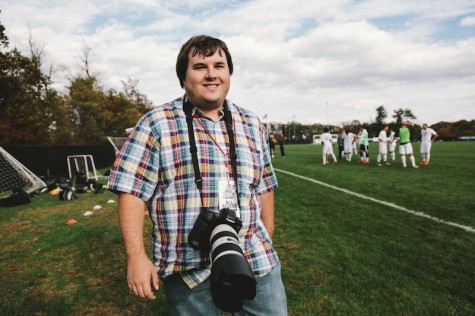 Kyle Gorcey, Freelance Sports Photographer
Kyle is a senior Communications major with a concentration in journalism at Robert Morris University who is a writer and sports photographer for The Sentry. The...