Colonials shut out by Duquesne, 1-0
The Duquesne Dukes shut out the Robert Morris Colonials, 1-0, to kick off the Dukes' homecoming weekend and end RMU's streak of wins at three.
The Colonials started out strong against the Dukes with the ball entering the zone of the Dukes' defensive unit but not passing them. The Dukes came close to putting one home five minutes in when Curran Edlund made a tackle while goalkeeper Winter Fondi was out of position.
Bayley Winkel took RMU's first shot of the game, missing high. That would be the story for the rest of the game.
The Dukes then went on a tear in the Colonials' end, getting chance after chance on Fondi. When Fondi's initial challenge centered the ball and the Duke's forward George Poppas missed high, Robert Morris sighed in relief.
Things got a bit tense 19 minutes in when two yellow cards were handed out to RMU's Jason Mendez and Duquesne's Jallah Acqui. A plethora of subs followed where big names on both side were subbed out, including Lucas Puntillo and Rafael Bruzual.
The tension didn't end there.
After the Colonials put up two chances that both missed the net, another scrum ensued in which a yellow card was dished out to RMU midfielder Kai Olguin. Twenty seconds later, another yellow card was given — this time to Zac Sherman — for getting physical with a Duquesne player on the far side of the field.
Three fouls on Duquesne followed that, and within a minute, yet another yellow card was given out to the Dukes' Cody West. RMU finally registered a shot on net to test the Dukes' goalkeeper late in the first half. The sixth yellow card of game would end the half scoreless.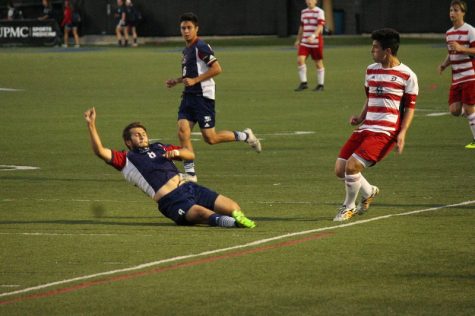 Duquesne came out strong in the second half, keeping the Colonials out of their zone. Duquesne then put a tally on the scoreboard as Fredrik Borenstein scored his third goal of the season.
The Dukes dominated for the majority of the rest of the match, holding the Colonials to just three shots in the final 19 minutes.
RMU had 11 shots in the game; however, only two shots were on net to test the goalkeeper. The Colonials will attempt to turn this loss into momentum for their next game on Sept. 25 against George Washington at the North Athletic Complex.