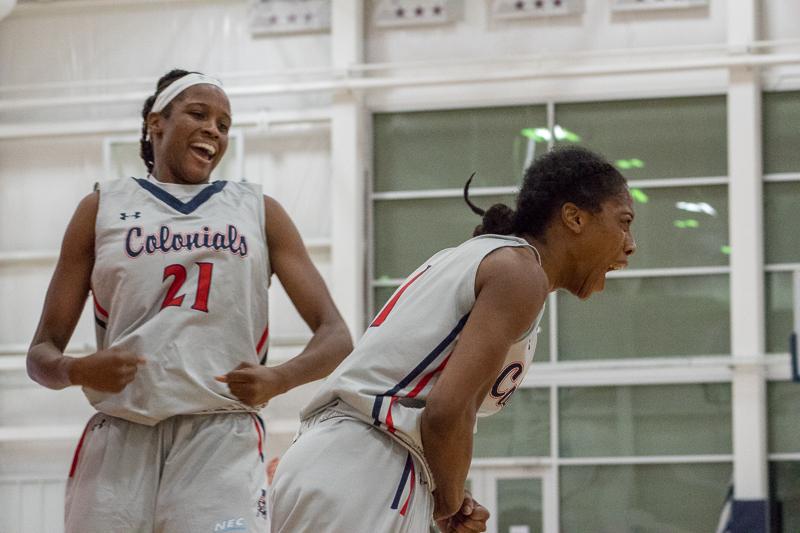 Everything you need to know: NEC quarterfinals
The Robert Morris women's basketball team moved on to the semifinals of the NEC tournament with their 60-54 win over the Central Connecticut State Blue Devils on Wednesday. Here's everything you need to know from this quarterfinal matchup.
Why It happened:
The Colonials gave up the first basket of the game. A three-pointer from Central Connecticut's Andi Lydon gave the Blue Devils an early 3-0 lead. Then the Colonials came to life. Forcing turnovers and hustling for loose balls allowed Robert Morris to ride a 13-0 run. At the end of the first quarter, the Colonials lead 20-8.
The Colonials couldn't keep the Blue Devils down in the second quarter. The Colonials couldn't get the lid off the basket only scoring five points in the second quarter. CCSU scored double and pulled the game within 7. When the buzzer sounded at the end of quarter number two, RMU was still out front 25-18.
The game got close at the end. Four points were all that was separating the two team. After an amazing hustle play from Nina Augustin, CCSU started to foul. Megan Smith, Jocelynne Jones and Mikalah Mulrain went to the line. When it was all said and done the final score was 60-54.
What it means:
This is simple. The Colonials punch their ticket to the Northeast Conference semifinals. That game will be played at the North Athletic Complex on the campus of Robert Morris. Their opponent will be the winner of the St. Francis Brooklyn and LIU Brooklyn game which starts at 7 pm.
Who starred:
Nneka Ezeigbo shined for Coach Charlie Buscaglia and the Colonials. She went on a tear in the first half. Ezeigbo posted 8 points and 3 rebounds. Both numbers were category leaders for Robert Morris. She finished with 10 points and four rebounds.
Honoka Ikematsu also made her presence known. The freshman guard also had 11 points. She dished out five assists and grabbed four rebounds.
Who is next:
The winner of LIU Brooklyn and St. Francis Brooklyn will come to Robert Morris. The Colonials are looking to make it back to the NCAA tournament while either the Blackbirds or the Terriers will look to play spoiler.
Skip to content