Football season preview: Experience brings new-found confidence
Oh, how a new season can change everything.
At the end of the 2014 campaign, the Robert Morris Colonials were a defeated football team. Beaten down. Exhausted. Frustrated.
Fast forward to now–it is simply a different team. Sure, personnel has pretty much remained constant, with a few key losses but key additions to balance. But it is not the players' ability that has changed.
It's their attitude.
"Last year, the offense and defense were kind of separate at practice," said sophomore running back Rameses Owens. "It was like two different teams going at it every day. This year, we're all uplifting one another. Even if the defense has a good play, or the offense has a good play, we're just all together now."
This was a very common sentiment.
Sophomore defensive back Cameron Sutherland described this year's squad as a team of "brothers," while redshirt senior linebacker Mike Stojkovic said they are "more of a family."
Of course, no team is perfect in balancing egos and personalities on and off the field, but that is where the coaching staff comes in.
Second-year head coach John Banaszak looks to improve on the pedestrian record his Colonials mustered in 2014 (1-10, 1-5), and he believes last season's struggles, using that experience, will help this current squad succeed.
"We're a year older, we're a year smarter, we're a year stronger and bigger, and more experienced," said Banaszak. "An experienced football player understands what's on the line every game. He understands the tempo of the game, and the way things flow during the game. Last year, playing all those young guys, I think it's a benefit for us right now."
Last season, Robert Morris boasted a team, particularly on the offensive side, that had freshmen and sophomores starting at the majority of their positions. If this team had one glaring weakness in 2014, it was their inability to deal with adversity in games. Staying in the game for three quarters was no problem, but once something went wrong, it was like quicksand.
A year growing up might be just what these Colonials needed in order to succeed this season.
                                Matt Merlino
Everyone, even a novice fan, likes to talk about quarterback battles. Who will win the starting job at QB?
A popular question no matter the level of competition, Robert Morris does not have to answer that. Because there is only one true starting quarterback on this roster. That is the freshman, Matthew Barr.
Although, this was not, by any means, a predetermined conclusion. According to coach Banaszak, it was a carousel from the beginning of camp. "Coming into training camp, we weren't set on that yet," he said. Obviously, Barr showed enough development and knowledge during camp to win the week one start.
In Robert Morris' first team scrimmage, there were a few positives to draw: first, Barr looked very comfortable in the pocket (even though he probably knew the defense was not going to hit him very hard), and when he escaped the pocket from pressure allowed by an extremely underwhelming offensive line, he glided around and even ran past a few tacklers to gain some positive yardage.
Second, the first team defense handled its own against a steady helping of read-option play-actions and runs from the offense, albeit the majority of these facing reserve and backup players.
Third, the Colonials have some athletes. Good ones. That should correlate with a significant increase in wins for this season and more to come, assuming all of these athletes are placed in the correct spots and excel.
The second scrimmage, held at a more reasonable 1 pm time slot, was more for the families and friends of the players than anything else. A few starters sat out, which would be expected the week before the start of the regular season.
Looking ahead, here is a list of probable starters: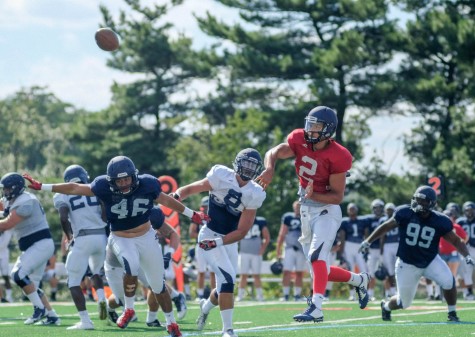 OFFENSE (Spread, read-option)   
QB – #2 Matthew Barr (Freshman, 6-foot-4, 210 pounds)
Barr enrolled early this past spring, giving him a chance to get acclimated to his new teammates, coaches and surroundings. That, along with a strong camp right from the start, was all the coaching staff needed to see to give Barr the nod.
"(Barr) had the opportunity to learn an awful lot about our offense in the spring, competed very well in that open competition," coach Banaszak said. "I've seen the development of Matt Barr, and I think he's ready to play."
Learning the offense was a big key, but so was adjusting to the speed and physicality of college football. "At first it was pretty difficult," said Barr. "Obviously, the athletes are a lot faster and stronger, and the playbook is more extensive. But just time and repetition really brings it all together."
Barr also attributed his early success to the help of some of the more experienced quarterbacks on the roster, such as last season's week one starter, Luke Brumbaugh.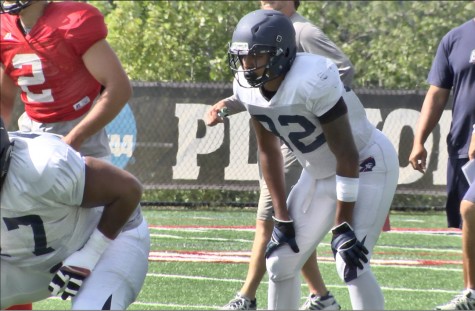 RB – #32 Rameses Owens (So., 6-2, 230)

There is a reason why his nickname is 'Ram.' Well, other than the fact that Ram is an abbreviation of his full name.
"He's big, he's strong, he's fast," coach Banaszak said. "He's our running game. We're going to give him the ball 20 to 25 times a game, there's no question about that. We think he can carry that load."
That is what he is to this football team, someone defenders fear hitting head on because of his power. Someone who can run you over or break you down in the open field.
A literal battering ram.
In an attempt to stay on the field and avoid injury, something that plagued his promising freshman campaign, Owens put in the work on and off the field. "I hit the weights very hard, a lot of leg work," Owens said. "Last season I tore my PCL, I had a lot of leg injuries, so that was a big part in the weight room."
Owens put on 20 pounds of muscle and is now taking more of a leadership role on the team. "In the position I'm in, I feel as though I have to carry the lower classmen along with the upper classmen that helped me as well."
WR – #4 Jamison Williams (So., 6-3, 205), #87 Jordan Blackmon (R-So., 6-0, 170)
TE – #8 Nic Lamica (R-So., 6-4, 220)
OL (from left to right tackle) – #77 Max Robertson (Sr., 6-4, 325), #76 Blake Chambliss (R-So., 6-5, 300), #68 Nick Faraci (R-Sr., 6-3, 290), #72 Josh Thiel (R-Jr., 6-3, 300), #66 Mike Lamb (R-Fr., 6-6, 345)
Asked about pleasant surprises on the offensive side from camp, the unlikeliest of choices immediately came to offensive coordinator Darrin Hicks' mind.
"Max Robertson, we had switched positions with him and Blake Chambliss," Hicks said. "Both those guys kind of just swapped left-side positions in what was a little bit of an experiment that's gone really well for us."
If the 9.9 points per game did not paint the whole picture of how brutal the o-line was, maybe the 35 sacks allowed for a total of 267 yards lost will. Hicks' optimism about the development and cohesiveness of the offensive line might bode well for player morale, but only time will tell if it translates to in-game situations.
DEFENSE (3-4 base)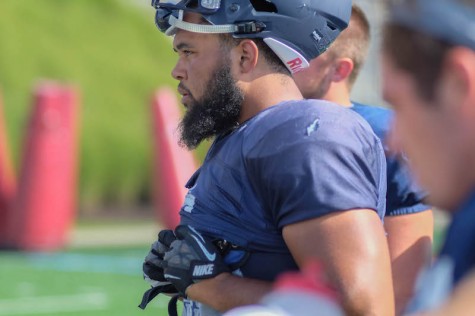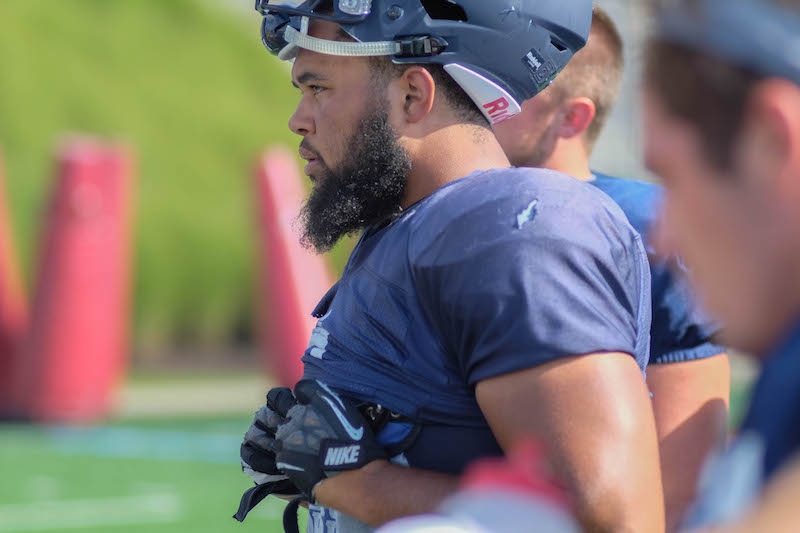 DL (from left to right end) – #90 Forrest Mason (R-Sr., 6-3, 280), #53 Zack Zamiska (R-So., 6-5, 285), #92 Ryan Lewis (Jr., 6-5, 280)
Earning All-Northeast Conference Second Team honors two consecutive years, Mason is a force at the defensive end position. More impressively, he earned the latter of the two honors after playing in just seven games last season.
He will be the focal point of the Robert Morris pass rush, along with his fellow defensive end, Ryan Lewis. The two combined for seven sacks last season, which is something they will need to continue if RMU wants a shot at the NEC title.
"I think Forrest Mason is really starting to take on a leadership role, which is great because we're fairly young on the defensive line," said defensive coordinator and assistant head coach Scott Farison.
Anchored by Zamiska at defensive tackle, this front three will be tough to contain for an entire 60 minutes.
OLB – #50 Gerald Ferguson (So., 6-2, 210), #31 Jimmy Masson (Jr., 6-0, 200)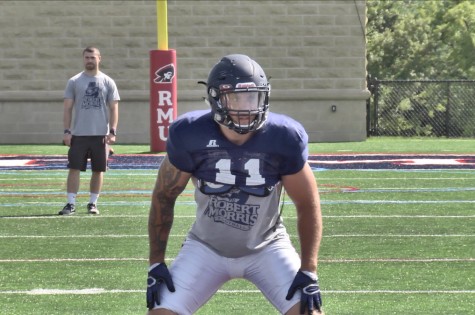 ILB – #11 Mike Stojkovic (R-Sr., 6-3, 240), #58 Jake Tkach (R-Sr., 6-0, 235)
Stojkovic (82) and Tkach (84) led RMU in tackles last season and tied for first in tackles for loss (10). They are the anchors to an experienced front seven, experience that can only benefit the Colonials.
Looking ahead, though, both players are getting some of the younger linebackers ready to step in once they graduate. "We've been staying after during camp every day with some of the younger guys, getting to know their stuff," Stojkovic said. "I told Joe (Uhatafe) once I'm gone, he basically has the keys to the Ferrari. He's got to drive it and take care of it."
As the unquestioned leader of this Robert Morris defense, Stojkovic is definitely fulfilling his duties on the field (calling out cadence, alignments) and off the field. Going into his final year of eligibility, winning is the most important thing.
CB – #1 Cameron Sutherland (So., 6-1, 200), #16 Drew Allen (So., 6-1, 185)
S – #18 Andy Smigiera (Jr., 6-1, 205), #27 Sam Woods (R-So., 6-0, 190)
One thing is certain coming out of camp: the defense will be relied upon early and often to contain opposing offenses throughout the season. And that is not a jab at the offense by any means; a season full of quick drives is merely a byproduct of running a read-option spread system.
That being said, it would be extremely unlikely to see this year's defense out on the field as much as last season. But coach Farison used last year as a focusing tool. "After you go through something like that last year, not that we didn't work hard," said Farison, "but there was a little more emphasis on the little things to do things right."
The defense was undoubtedly the better side of the ball last season, and coach Farison believes they are getting better. "We're headed where we were last year, so it's a good thing going into the season," said Farison. "As a whole, I think they're really starting to play as one, which is what we really want to see."
SPECIAL TEAMS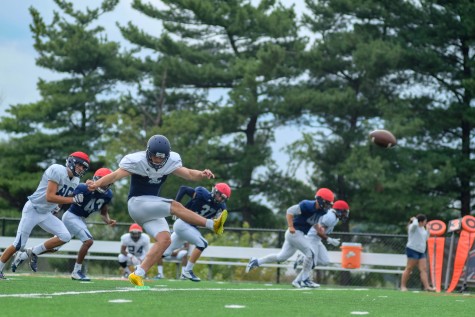 K – #47 Connor Shennan (Jr., 6-1, 205)
Let's be clear. Shennan is far and away the best kicker and (by a much slimmer margin) punter on the Colonials' roster. However, Check has gotten the majority of the first-team punting unit reps. Both players lack the consistency required for big-time FBS powerhouses, but whichever punter boots the first ball Sat. against Dayton will be able to, at the very least, flip the field.
Shennan is coming off a shorter season than he would have preferred. He suffered a season-ending injury in week four. Every indicator shows he is good to go for the Dayton game, no signs of injury to be found.
P – #40 Adam Check (Fr., 6-1, 185)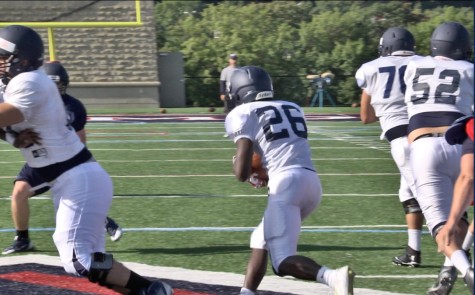 KR – #26 Dante Satcher (Fr., 6-0, 170), #7 Warren Robinson (Fr., 5-9, 155)
Satcher and Robinson are fast, shifty receivers/running backs. They are a huge part of what offensive coordinator Darren Hicks wants to do (and wanted to do last season). They'll be the featured return specialists, not to mention rotating in the offense as slot receivers.
"It's nice to be able to have a few other weapons in the arsenal," said Hicks. "Some guys that we can maybe throw the ball on a two-yard pass that can take it 80, and I think we've got a couple of those guys running around."
Although, Satcher, listed as a running back, will also line up as the third down back on occasion. While Robinson, a wide receiver, will primarily stay in the slot.
PR – #7 Warren Robinson
After three weeks of camp and two scrimmages, these guys are ready to hit someone other than their teammates. "Three weeks of training camp, hitting each other, gets a little testy," said coach Banaszak. "Fortunately, we haven't had any fights where our kids are going at it."
The message going into week one? Well, suffice it to say, beating Dayton is each player's top priority. In the minds of the Colonials, the Flyers are already finished.
"Come September 5th, at twelve o'clock noon, when the whistle blows, I think this football team is going to be ready to play."
However this season plays out, this 2015 RMU football team will look back on Sept. 5, knowing the result of that game either destroyed their confidence (along with chemistry) and sent them spiraling down, yet again, into the basement of the FCS, or justified their new-found confidence and catapulted them into the top of the NEC.
If the team takes to heart the message given by coach Hicks, that: "Every single snap is like a game in itself. The same focus that you had on play one, you need to have on play 15. No matter what happens on play 15, play 16 is a completely different play all in itself," the Colonials should make a much-needed return to being a winning program.
Where they belong.