Football wins big against Duquesne, now one win away from NEC championship
Hang on for a minute...we're trying to find some more stories you might like.
MOON TOWNSHIP — The Robert Morris Colonials football team (6-4, 5-0 NEC) defeated the Duquesne Dukes (6-3, 4-1 NEC) for the first time since 2012 in a battle for conference supremacy. It was a strong showing for RMU's defense, partly due to Duquesne being without their starting quarterback Daniel Parr, who left last week with an injury. Brett Brumbaugh started under center for Duquesne, which was the fifth-year senior's first career start.
Robert Morris's defense got off to a strong start, as they generated two turnovers with a forced fumble by Mason Gray, recovery by Izon Pulley, and a big interception return Jacob White that set the Colonials up on the Duquesne three. That second turnover led to the first score for Robert Morris, as a three-yard touchdown run by George Martin gave the Colonials a 7-0 lead midway through the first quarter.
The Colonials on-side kicked it with Nick Bisceglia, who recovered his own kick. This gave the Colonials the ball back, but they were unable to move on the drive. The Colonials did get the ball back though and extended their lead after an 11-play, 80-yard drive that ended with a Tim Vecchio touchdown catch. This gave the Colonials a 14-0 lead in the second half.
"Our young men played together," said Robert Morris head coach Bernard Clark, Jr. "Our guys did a good job executing things we set out for them. We were facing a team in Duquesne that was a champion last year. If we would've got behind on them there's no telling what could've happened, so I'm proud of the start we had."
Duquense had another three-and-out after the TD-drive. Through their first five drives in the game, Duquesne was unable to gather one first down and only had 22 yards of offense, with -2 yards through the air. This was in addition to the two turnovers generated by the Colonial defense.
After getting the ball back, Robert Morris had a 10-play, 49-yard drive that resulted in a Bisceglia field goal. This gave the Colonials a 17-0 lead over their rival. Bisceglia added another field goal with 40 seconds to go in the first half.
Duquesne finally was able to move the ball down the field as they got both of their two-first downs in the half on their final drive. They ended up going for a field attempt, but White tipped it, resulting in the miss. This gave the Colonials a 20-0 lead over Duquesne at the half. It was the first time that Robert Morris led the Dukes at half, since a 7-6 lead in 2015.
The Colonials dominated in the first half, as they didn't surrender a first down till the 22 seconds left in the first half. The Colonials had 208 yards of offense in the first half, with 77 yards coming on the ground. They only gave up 64 yards of offense, with just 23 on the ground.
Duquesne started with the ball in the second half. Both teams first drive were three-and-outs, but Duquesne managed to get their first touchdown of the game on their second drive of the half. The Dukes had a 7-play, 41-yard drive that ended with an incredible Dominic Theiman touchdown reception. This made the score 20-7.
Robert Morris did add to their lead though as a 36-yard pick-six by Mason Gray gave them a 27-7 lead. Shortly thereafter, Aniello Buzzacco had the team's fourth turnover of the game with another Robert Morris interception.
After Robert Morris gave the ball back, Buzzacco had his second turnover of the game when he caused a fumble at the two-yard line. It was the key moment in the second-half for Robert Morris, essentially making any comeback by Duquesne near-impossible.
Duquesne got the ball back though, and scored on a quick five-play, 42-yard drive punctuated by a one-yard A.J. Hines touchdown run, who was surprisingly quiet during the game.
The Dukes next drive ended in points, but for the Colonials. Gray had his second pick-six with this one being an 81-yard return. Gray's two pick-sixes were the first time since 2001 when the Colonials had two pick-sixes in the same game. This made the score 34-14 for the Colonials, and put a dagger in Duquesne's hopes to win the game.
"I read my keys and did what our coaches said to do in practice, and it showed up in the game," said Gray on his two pick-sixes. "It feels great. This whole week in practice we were striving on attacking, getting to the ball and forcing turnovers. We've been stressing that all year. To play a full game for the first time this year, it feels good."

Both teams added to their point totals in the closing minutes, but none of that mattered as the game came to an end when the Colonials recovered a fumble and they won, 41-21. The 41 points against Duquesne was the most Robert Morris has ever scored on their geographical rival.
They finished the game with seven turnovers and held the usually strong Duquesne rushing attack to under 100-yards rushing. Furthermore, Terrance Stephens, Jr. had a big day on offense for the Colonials as he finished with 122 yards rushing on 20 attempts.
"They didn't win a game in NEC last year and they've won five now," said Duquesne head coach Jerry Schmitt on Robert Morris's turnaround. "They've done a good job. I said this week, to all the interviews that I did, that coach (Clark) now, in his second year, has his system in where the guys are starting to play fast and they're starting to play hard. You knew they were going to play hard for him. His coordinators do a good, so I knew it wouldn't be long before they were playing a lot better than they had."
The win clinches the first non-losing season for Robert Morris since 2010. The Colonials will now travel to face no. 20 Central Connecticut State (9-1, 5-0 NEC) next week with the winner clinching the NEC Championship. If the Colonials win next week, that'd be their first NEC title since 2010.
About the Writer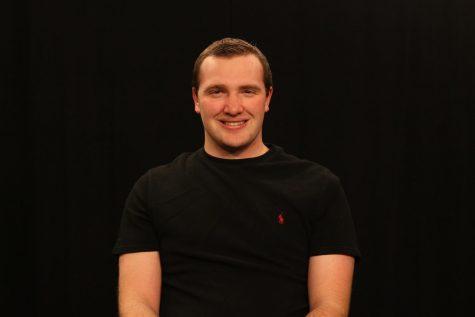 Logan Carney, Sentry & CSN Co-DCM
Logan Carney is a communications major with a focus in sports and he also has a sport management minor. He is in his fourth semester at Robert Morris....