Former RMU football great making his mark as a Graduate Assistant
Alex DiMichele was one of the best defensive players to ever go through the RMU football program.
The former Colonial linebacker left a legacy after his three-year career that is arguably unmatchable. He holds multiple records within the program and was an influential piece in the team's 2010 Northeast Conference Championship.
After a brief hiatus away from Moon Township, DiMichele returned to RMU, and is still making his mark within the Colonials, only this time, as a Graduate Assistant.
"I always wanted to coach football. I love football and I love being around it," he said. "I knew one day I'd get into it because I want to see people succeed and do good things with their lives. "
DiMichele didn't start his collegiate football career at Robert Morris. Coming out of Sto-Rox High School, the Pittsburgh native chose the other side of the state and ventured to Philadelphia to walk-on at Temple. He played in every game as a freshman fullback, something unheard of for most walk-ons. After his freshman season, due to personal reasons, DiMichele elected to transfer back to the Pittsburgh area and attend RMU.
After that, the rest was history.
His Robert Morris career started with a 2008 sophomore campaign in which he posted a team-high 116 total tackles, a school record. His junior season followed with a 109 tackle performance, and four fumble recoveries, which also tied a school record.
He ended his senior season with 105 tackles, and garnered NEC Defensive Player of the Year honors, as well as a league championship. DiMichele started 32 of 33 games in his RMU career, and left the Colonials as one of the greatest to ever put on the Blue and White.
After a career like that, it's easy to see why head coach Joe Walton, and the rest of the RMU program wanted their prized linebacker on the staff. A man of extreme passion and intensity, the Colonials new GA brings a level of excitement to practice every day that is irreplaceable.
"I expect a lot out of these guys," said DiMichele. "I want them to know their assignment and know their other guys assignments and be someone for their teammates to count on."
DiMichele finished his career in 2010, traveled oversees and played a season in Europe, and then came back to following year at the orders of defensive coordinator Scott Farison.
"The first year was a tough adjustment. I played with a lot of those guys before, so it was tough to be a coach with a lot of the guys I was friends with and played with," he said. "But I've been learning a lot from the coaching staff and I'm bringing it all together into one. I feel that my knowledge for the game of football has blown up and become more well-rounded."
He's the only member of the coaching staff who runs gassers with the team at the end of practice, and from time to time, he can be seen running the stadium steps post-practice just to get a workout in.
As assistant head coach John Banaszak explained, adding DiMichele to the RMU staff was a no-brainer.
"I think Alex brings a championship level to our young kids," said Banaszak. "He's a great role model and has an awful lot of energy. [Alex DiMichele] is going to be a very good football coach. He knows the game and is very intense in what he does, and I think it shows in the way he handles himself."
DiMichele has been working under Banaszak with the defensive line during his stint with RMU. He credits a lot of his success to the Colonials coach-in-waiting and has an increased level of respect now that he works alongside him.
"He's an intense and passionate guy. He doesn't expect anything but your 100 percent," said DiMichele. "He's very well spoken and everybody loves him, and I've really developed a relationship with him."
With Banaszak poised to move to the head coaching position next season after Walton's retirement, it seems as if DiMichele's role within the team could increase in the years to come, but one question begs to be asked: Will the Graduate Assistant help to bring a NEC title back to RMU?
About the Contributor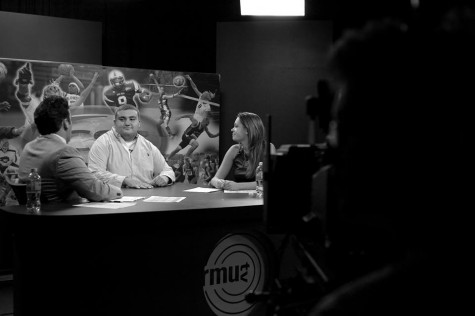 Chris Mueller, Sports Reporter
Chris is a junior Communications major at RMU with an applied concentration in journalism. He is Sports Editor for RMU Sentry Media.  As current Sports...