Frustration looming as Robert Morris suffers another setback
The dog days continued for Robert Morris Saturday afternoon,  falling to St. Francis 40-7 on Senior Day. The loss puts the Colonials at 1-9 on the year.
Robert Morris could only amount 176 yards of total offense all game, the same scenario on just a different day.
"We shot ourselves in the foot. We've got nobody to blame but ourselves," said head coach John Banaszak.
Despite several seniors honored in pregame festivities, the Colonials could not keep it close. It was a severely disappointing send-off for them at Joe Walton Stadium.
"That's probably the thing that bothers me the most, is that the seniors that came in with great expectations of having a great senior year," Banaszak said. "We didn't pull it off for them.
"When we do get this thing turned around, we'll never forget these guys for what they did for us. We are going to get it turned around, and when we do, I'll make sure everybody knows that the foundation was built by these guys."
The lone touchdown came after a St. Francis botched punt was downed at the Red Flash eight yard-line early in the first quarter. Quarterback Luke Brumbaugh, starting in place of an injured Derik Abbott, found tight end Justin Kempka on third down for a three-yard score.
The touchdown made it a 7-0 game early in the first quarter, but the Red Flash would roar back with 40 unanswered points, thanks in large part to 189 rushing yards on 34 attempts from running back Khairi Dickson. Dickson came into the day leading all of FCS in rushing yards, and averaged 5.6 yards per carry in the game.
Red Flash quarterback Zack Drayer finished 15-of-22 for 179 yards and two touchdowns.
The Colonials used a two-quarterback system throughout the afternoon. Brumbaugh finished 7-of-19 for 52 yards and two interceptions, while Marcus Prather ended on 4-of-9 passing for 34 yards and an interception.
"We felt that [Luke] was okay, and we wanted to go with him. He got hit a couple times and obviously that affected his play," Banaszak said. "It's not what we wanted, that's for sure. We had some things in for [Marcus], but the game flows the way it does and we end up turning the ball over a couple times at the end of the first half and just never got back into it."
Nic Lamica led all receivers with five catches for 46 yards.
Ryan Thermil rushed for 100 yards on 17 carries. He nearly recorded a touchdown in the third quarter, when he rumbled down to the SFU one-yard line before the ball came loose. The Red Flash jumped on the loose ball in the end zone, signifying how the entire afternoon went for the Colonials.
Defensively, Mike Stojkovic led all tacklers with 12 total stops. Ryan Richards Jr., Austin Trgovcich, Antwan Eddie and Gerald Ferguson each had nine.
Robert Morris concludes the 2014 season next week at Duquesne on another noon kickoff.
About the Writer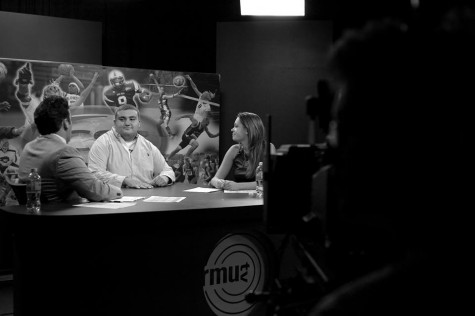 Chris Mueller, Sports Reporter
Chris is a junior Communications major at RMU with an applied concentration in journalism. He is Sports Editor for RMU Sentry Media.  As current Sports...