Injuries, turnovers doom Colonials in season opener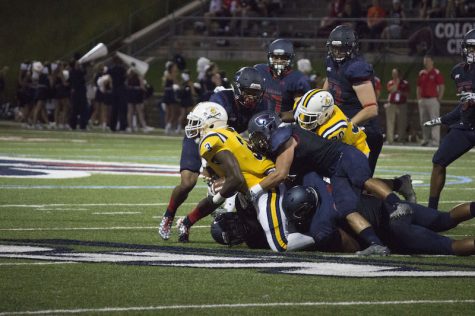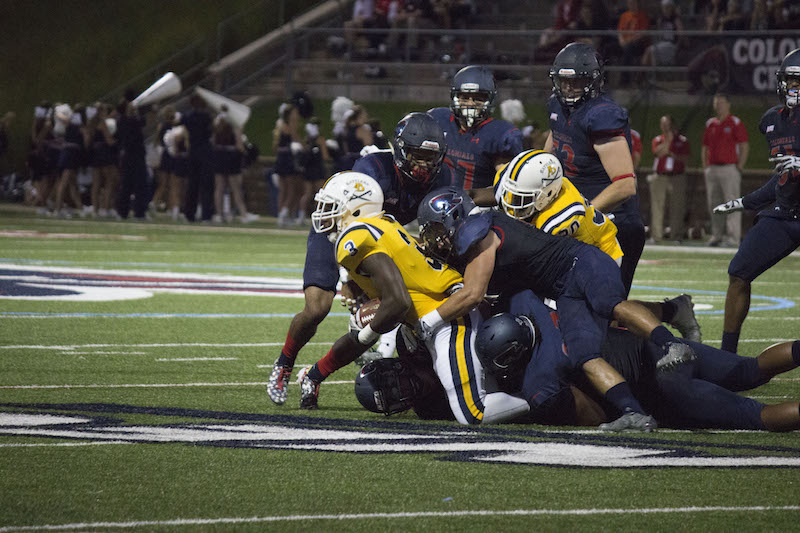 On the first play of Robert Morris University's 2016 football season, sophomore running back Dante Satcher received the opening kickoff on the near sideline around the 1-yard line.
By simply following the large gaping hole his blockers created for him, Satcher cruised to the end zone untouched. Thirteen seconds after the Colonials' season began, they found themselves leading Div. II opponent Alderson Broaddus, 7-0.
"I thought we were gonna just (roll)," redshirt-senior cornerback Marcelis Branch said. "50-0 game is what I thought (after that play)."
The only problem with that line of thinking was the 59 minutes and 47 seconds left in the game.
"It went the other way," said Branch.
"As things went by, (there was) a tumbling effect. Everybody started putting their heads down, and that obviously took a toll on the team," Satcher said.
RMU's sole spark offensively or on special teams came from that very first play. There were other chances throughout the contest, but the only one that resulted in points happened before some fans even got into their seats.
That "tumbling effect" began with Robert Morris' first offensive drive of the season. But first, a little background:
Last season, the Colonials had one of the worst offenses in the Northeast Conference, scoring 14 points per game with an average of 245.2 yards of total offense. They used four different quarterbacks during the season, including this game's starter–redshirt-junior Luke Brumbaugh. And on top of that, injuries to their starting quarterback, running back and offensive linemen left the likes of Brumbaugh and Satcher to carry the load.
With all of those factors coming into play, first-year offensive coordinator Mike Miller struggled to get his side into a consistent rhythm to move the ball down the field. A three-and-out enabled Alderson Broaddus to take advantage of the short field and tie the game at 7-7 on a touchdown pass from quarterback Dakota Bruggeman to Edwin Velasquez.
The touchdown seemed to suck some of the life out of the crowd and team all at once. And each minute that flew by on the scoreboard brought increasingly, almost eerily similar feelings to the 2014-2015 versions of RMU football.
Versions that have produced five wins in that span.
"We just couldn't make consistent plays," head coach John Banaszak said. We didn't respond very well offensively (to their defense). Defensively, gave up a lot of yardage and made a lot of mistakes. Penalties killed us. All in all, it was not a very good performance by us."
Robert Morris' defense was able to get the ball back into the offense's hands on multiple occasions, but nothing seemed to go quite right on that side of the ball.
Numerous times in the first half, the Colonials made a nice play to move the chains that would have seemingly swung momentum back in their favor had it not come back because of a penalty.
Two separate drives were stalled because of penalties, which resulted in more possession for the Battlers. And just before the end of the first quarter, ABU tacked on another touchdown to take the lead, 14-7.
"Everybody was prepared," Satcher said. "The next man up did what they had to do, we just couldn't capitalize on the defense's great plays."
That would be the final score.
The already thin quarterback position was stretched even further when Brumbaugh appeared to injure his throwing arm after landing on it awkwardly three minutes into the second quarter.
"Seeing (Brumbaugh) go down, we had a quarterback in that has never seen action in a real game, so I knew he was going to struggle," Branch said. "But, that's football."
Andrew Romanchak, a 6-foot-2 redshirt-freshman out of Penn Trafford high school, was thrown into the game having been recruited by the team as a defensive back. Though he was able to spark some impressive looking drives, none of them amounted into points.
He finished 13-of-32 for 121 yards and one interception. Coach Banaszak admired Romanchak's effort, despite the result.
"Andrew came in and played as well as he could play in a tough situation," he said. "I was very impressed with his escapability, I thought that he was able to get away from some things and make some plays."
Though, Banaszak admitted turnovers and penalties were a big reason why his team could not find a rhythm.
Robert Morris actually won the turnover margin (4-2), but it accumulated almost as many penalty yards (120) as total offensive yards (149).
Brandon Jones paced Alderson Broaddus with 116 rushing yards on 23 carries, along with a touchdown reception.
After the loss, RMU (0-1) travels to non-conference rival Dayton to take on the Flyers on Sept. 10.